As Mother's Day nears, I felt like there was no better way to show you how much I love you instead of through my words.
And no, this isn't because of the story idea I get from you on a daily basis ("Write about ME"), but I am writing this because I truly want to thank you for everything, and show you how important you are to me.
My life has been full of so many twists and turns, and without you, I don't think I would be where i am today. When I was younger, you were one of those moms who let me do what I wanted, just because you wanted to give me that freedom to express myself.
Through my life, I have gone through countless phases. Growing up, you let me walk around, frizzy hair, blankie in hand and binky in mouth. Through my Halloween costumes, you let dress up based on my phase. Most Kindergarten girls were princesses, but no, I was Spongebob. In second grade, it was Vampire Scooby-Doo. In third grade, you let me dress as a blue M&M, and of course, who could forget my fourth grade costume: a cell phone?
Obviously I was a little out there, and you let me be. As a mother, you realized that my happiness, and my expression, was what mattered first. Sure, I wasn't normal, as apparent by the blue M&M running around with witches, scary monsters and of course, teenagers.
But it wasn't just my costumes. When I was growing up, I wanted to be a golfer, and you legitimately gave me access to a putter and a golf ball spitter. When I wanted to be a jazz star, you brought me a clarinet, but at the time I wasn't too excited, due to the fact I wanted a saxophone. When I told you I wanted to be a rock climber, you threw me a climbing party, and brought me and all my friends a fanny pack (all while rocking an awesome cowboy hat at the party). When I told you I wanted to be a writer and cartoonist, you let me use your computer to type short stories, and gave me sticky note pads, paper to draw on. Of course, I would resort to pieces of tape, and you'd always be asking why there were pieces of Scotch all over the coffee table.
During my preteen phase, where I was obsessed with Club Penguin and pursuing some kind of career as a Club Penguin Youtube star, you didn't give up on me. You showed me how smart I was, and you let me follow my dreams... until you found out about my YouTube account and deleted it promptly. However, when I told you I wanted to do something, you told me I could do it, and got me everything and gave me the encouragement.
After that, I turned to my hopes of becoming a singer, after you made the mistake of telling me on the car ride home that I sounded just like Vanessa Hudgens in High School Musical. However, you stuck by me, and you continuously allowed me to pursue my dream of acting and singing. Of course, that dream came to an end when I received the nonspeaking, non-singing role of Maud in "Music Man." But hey, you still came to my show, and cheered me on when I said my one line.
It was in seventh grade, after the music career didn't work out, that I decided I wanted to be Sammi the Soccer Star. So I told you, "Mama, I want to be a goalie." That same day, you and I had a talk and looked up everything I would need: lessons, gloves, shin guards, cleats... the list went on. You took me out and bought me everything, and after a few months of training, I was headed to the scariest trial I had in my life: middle school soccer tryouts.
I would come home with a huge sense of determination and pride, covered in grass stains and sweat. You told me to keep going, and told me how proud you were of me. It was then that you sent me to school and said something that I will never forget.
"No matter what happens, don't be upset," you told me. "I'm so proud of you."
Those words get me through every challenge, and it got me through the hallways down to the girl's locker room, where the positions were posted. It was that day that I became the fourth-string backup goalie for Hoover Middle School Soccer.
This dream continued on until high school, when I decided to go out for the high school team. Little did I know that the intensity would pick up, and it would be the worst four weeks of my life. It was also a time of my life that was incredibly hard, but you gave me all the comfort and love I needed to keep me going.
High school soccer was a league of its own. It was too much running for a kid like me, who loved McDonald's, and I was too slow and too inexperienced. I was cut, and after that painful decision, you took me home, brought me my favorite food and sat with me. Then, you changed my life.
You told me that I didn't need to be on the soccer team, and suggested that I take advantage of journalism, and writing for the school newspaper. That one comment has changed my life, pushing me to become editor of my high school paper, graduate with above a 4.0, head to college and pursue my dreams of becoming a journalist (even though it doesn't bring in the big bucks, you keep faith in me).
It's all thanks to you that I turned out the way I did. Many people do not have mothers who care so much about their children, but thankfully, I was fortunate enough to have you.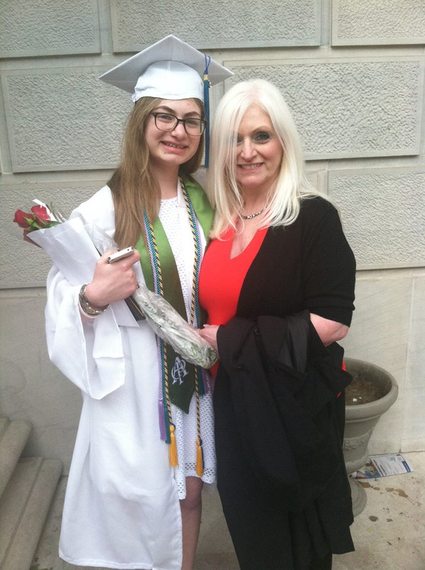 Also, thank you for your love, support and sacrifice as our family had to overcome a lot of personal challenges. You stuck by our side through it al. We stumbled upon a lot of adversity, but you held our hand and always managed to cheer us up.
Mom, Your strength inspires me; no matter how tough times got, you kept a smile on your face for the sake of me, along with my sister, Alex. I will never forget that.
You were the parent that stuck by us. You were the one who never left, and the one that fought for us, and sacrificed everything, just to get us by. Each day, you wake up, put on a smile and work so hard for us.
There is no mother out there that loves her children as much as you do. You put me and Alex before yourself, and you bend over backwards and would do anything for the sake of us and our family.
So to you, happy Mother's Day, from the bottom of my heart. I love you more than you will ever know. Each day, you are the one that inspires me. You help me through every every adventure, and you make me go that extra mile.
Not to mention, you are one of the funniest people out there. You raised me and Alex with a sense of comedy, and having a sense of humor makes me realize that there's always time for work and play.
From the time you dressed us like a McDonald's supersize meal to when you told us what the BFG really stood for, you always made us laugh and gave me the sense of humor and view of life I have today. Not everything has to be serious.
Thank you for also being my endless supply of stories for my friends. You are so funny, and every single moment and memory is one of laughs and happiness. My friends all know you as "Patty," and they think that you are much cooler than I am. Unfortunately for me, that's the case.
"How's Patty?" is the first question that all my friends ask me upon meeting.
"I'm good, too," I reply with with a whisper...
Thank you for the life lessons and for my life. Thank you for making me me, and please, never stop being you. I love you so much, Mama.
Related
Popular in the Community