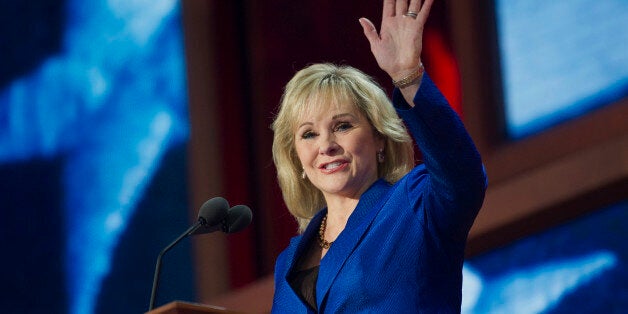 I hope that this letter finds you well, and that your day is off to a great start. You may not remember me, so allow me to reintroduce myself to you. I'm Dillon Peña, a former friend and acquaintance of your daughter Christina. I've been to your house in northwest Oklahoma City. I've been to a festival at the Oklahoma River with you. I've broken bread and had dinner with you at Red Rock, and you have even been to church with me. Although I am currently a New York City resident, Oklahoma remains the home of my heart.
I am an Oklahoma fan through and through. I cheer for the Thunder as well as OU and OSU. You see, Governor, I would love to move back to Oklahoma someday. However, today, Governor, in the eyes of the great state of Oklahoma, my two brothers and I are not equal. When you recently ordered that same-sex partners of servicemembers in the Oklahoma National Guard not receive the spousal benefits that their partners earned and that their heterosexual counterparts enjoy, you boldly declared that people like me are not equal in your eyes. Today I have a job in which I am excelling, but in Oklahoma I could be fired simply for being who I am. I could walk into any restaurant and be denied service for being who I am. Worst of all, if I were in the Oklahoma National Guard, I would be reminded that my sacrifice was not equal to that of my fellow servicemembers, solely because I love a man and not a woman.
I was born and raised in the red dirt fields of western Oklahoma, the same place where the seeds of the American dream were planted for both my parents' families. My mother hails from tough stock: farmers who braved and outlasted the Dust Bowl and the Great Depression when so many of their neighbors threw in the towel and headed west. With sweat and blood they endured many droughts to raise their family on the land they loved. First-generation Americans, my father's parents were careful to maintain a connection with their Mexican heritage while instilling in my father a deep love and appreciation for their new home country, which gave them an opportunity for a better life, and a great pride in being American. While raising a dozen children, my grandparents chopped endless rows of cotton until they'd saved enough money to open our family restaurant. Although my two sets of grandparents were culturally different, they both believed their families to be the bedrock of their success. Being in Oklahoma, close to my siblings and extended family, would be a dream come true for me.
Governor, it pains me to recognize that when you didn't know I am gay, you considered me equal. It pains me to know that my beloved Oklahoma appears to be like Alabama of the 1960s, not moving forward but stagnating in prejudice and inequality no longer suited for our country. My prayer for you and the state of Oklahoma is that you move forward on civil rights issues and certainly not take steps backwards. I pray that in future news I read and hear, Oklahoma is not a state of condemnation but one of acceptance.
I've heard it spoken from the church pulpit that when you stand for nothing, you fall for everything. I also know that when hate is spoken from that same pulpit, the words are no longer anointed. So in closing, because the great state of Oklahoma regards me as less than equal, I would like to remind you of Matthew 25:40; in which Jesus says, "Truly I tell you, whatever you did for one of the least of these brothers and sisters of mine, you did for me."
I pray that in the future you remember, because you are a Christian, to think of Jesus. How would he treat someone? I know that in his eyes I am created just the same as you. And maybe someday I, along with many others who have fled the state, will be able to return to the place we call home.
Related
Popular in the Community