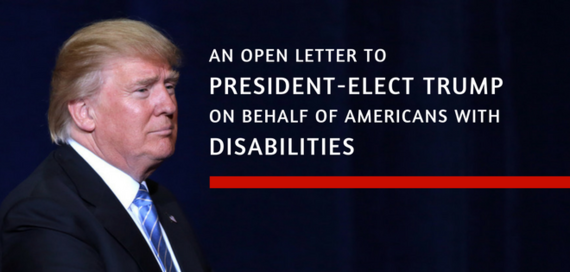 Congratulations, President-elect Trump.
Thanksgiving is less than two weeks away. It is a time when families come together. It is a time for rest, reflection and renewal.
Never in my lifetime has there been a post-election Thanksgiving quite like this one. Finger pointing, uncertainty, "the end of the world as we know it," has been declared by many. There is anger, joy, drama and bewilderment. There is the non-stop analysis of winners and losers, as if it is all that simple to identify. Many are gleeful, others are traumatized by your election.
However, there is one universal truth: Too many Americans cannot make ends meet and endure the indignity of poverty. In this "vote for change," there are some things that simply don't need to change for many Americans defined by their diversity and disability. And there are other things that do need to change for the one in five families nationwide who are part of this demographic.
The public benefits of Social Security, food assistance, and Medicaid for healthcare and home and community-based services provide an essential safety net for survival for millions of Americans with disabilities.
Vulnerable populations have depended historically on the federal government to protect them from discrimination, segregation, isolation, physical assault and violence. Laws and courts set out expectations of democratic principles that apply our value system of equal opportunity, fair treatment and protection against harm, with the rights of full civic participation and full community inclusion for citizens across the diverse spectrum of disabilities.
We all have individual differences that define us, strengthen us and shape our identity. As President, it will be an important challenge of your vision and leadership to help remind all Americans to embrace inclusion as a core value regardless of age, gender, race, sexual orientation and disability.
What doesn't need to change?
The Department of Labor needs to continue to monitor federal contractors' obligations under Section 503 to recruit, hire and retain workers with disabilities. Working-age adults with disabilities need your Administration to create equal opportunity for their skills development and career pathways when you move forward with your economic stimulus proposals.
A Justice Department that continues to safeguard the right to a free, appropriate, public education for students with disabilities under the Individuals with Disabilities Education Act (IDEA). A parent of a child with a disability needs to know their child will be able to attend their neighborhood school and have a right to a quality education, which is responsive to their individualized needs.
The continued role of the federal government as a model employer, and your commitment to the appointment and hiring of talented individuals with disabilities in your Administration in visible leadership positions.
The protection of millions of Americans with pre-existing health conditions to be able to purchase affordable health coverage as a non-negotiable element of the Affordable Care Act reforms.
What does need to change?
Protection of youth with disabilities against bullying and harassment in and outside of school as others too often mock their individual differences. This unacceptable conduct needs attention from you and the first lady.
Amendments to the Achieving a Better Life Experience (ABLE) Act should increase the age of onset of disability in order to be eligible to open an ABLE account and increase the amount of annual contributions to help cover the extra costs of living with a disability. ABLE amendments should be part of your tax reform package if these amendments are not approved now during the lame-duck session.
An end to federal authority to pay workers with disabilities sub-minimum wages under Section 14c of the Fair Labor Standards Act.
Most important of all, legislative and regulatory changes that create a new federal paradigm for working-age adults with disabilities that does not accept a life sentence of poverty and that encourages and supports incentives to work, save and build assets.
Make America the land of opportunity for all, including individuals with disabilities who want to work, be contributors to the economic mainstream and be part of the vibrancy of community life.
Your presidency will be defined by your ability, in words and actions, to build pathways to a better economic future for all, including individuals with disabilities.

We need your commitment to not turn back the clock to an era before the Americans with Disabilities Act (ADA), which denied access and opportunity to individuals who were defined by individual differences rather than their talents, contributions and abilities.
Why does it matter?

With so many challenging issues needing your immediate attention, why people with disabilities? It is because your leadership can reaffirm the meaning of "liberty and justice for all," the most critical enduring values of our democracy.
Since its inception in 2005, National Disability Institute (NDI) remains the first and only national nonprofit organization dedicated exclusively to designing pathways to economic stability and mobility for persons with disabilities. Through public policy research and development and customized training and technical assistance, NDI has become a recognized leader nationwide demonstrating that individuals across the spectrum of disabilities can work, save for the future and advance their financial capability and economic stability.
Related
Popular in the Community