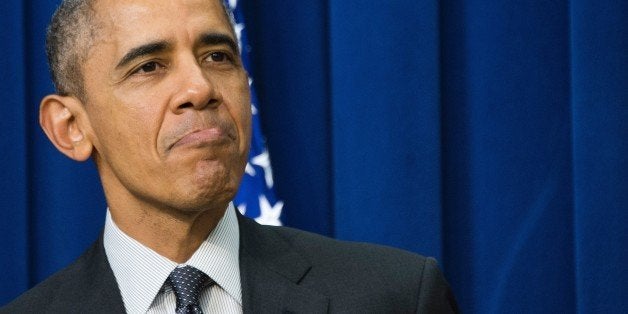 TO THE PRESIDENT OF THE UNITED STATES:
I voted for you--twice. Many Iranian-Americans did. In fact, nearly one half of Iranian-Americans in the U.S. identify themselves with your political party, and turned out in large numbers to support you--twice.
As President, you have demonstrated revered leadership in standing up for peaceful diplomacy with the Iran nuclear deal, the preservation of your signature health care law, the affirmation of same-sex marriage rights nationwide, sealing the Pacific trade agreement, and your own role as a voice against the stubborn remainders of racial injustice in American life.
Despite all of this, I am disappointed in you, Mr. President. Disappointed that you have given the House your blessing regarding the Visa Waiver program which will bar Iranian-Americans from a 38-nation visa waiver program that allows visits to signatory countries for up to 90 days without a visa, along with dual nationals from Iraq, Sudan and Syria, as well as anyone who has been to any of these four countries in the past five years.
With all due respect, why are Iranian-Americans on this list, when others from the region are not; namely Saudi Arabia and Pakistan? To this date, there has never been an Iranian-American convicted or tried as a terrorist. As Ahmad Sadri recently reported for the Guardian, "Iranians had nothing to do with 9/11 while the Saudis supplied 15 out of 19 hijackers of that bloody Tuesday".
According to Census 2000, 50.9 percent of Iranian immigrants have attained a bachelor's degree or higher, compared to 28.0 percent national average. The Small Business Administration (SBA) conducted a study that found Iranian immigrants among the top 20 immigrant groups with the highest rate of business ownership, contributing substantially to the U.S. economy. According to the report, there were 33,570 active and contributing Iranian-American business owners in the U.S., with a 21.5% business ownership rate. The study also found that the total net business income generated by Iranian Americans was $2,559,450,000. Almost one in three Iranian-American households have annual incomes of more than $100K (compared to one in five for the overall U.S. population). We are hard-working, law-abiding citizens.
This week, I called and tweeted Senators Dianne Feinstein and Barbara Boxer urging them to oppose any Visa Waiver proposal that discriminates against Iranian-American dual nationals, and I urge you to please retract your blessing of this discriminatory bill and to stand against the dangerous xenophobic rhetoric gripping our political system.
REAL LIFE. REAL NEWS. REAL VOICES.
Help us tell more of the stories that matter from voices that too often remain unheard.