Anybody can do it, but not everybody can say it and have it become a part of one's lifelong aspiration. Over the past eight years, you have inspired millions of people around the world to believe that one's wildest dreams are in the realm of possibility. You have demonstrated that with hard work, dedication, persistence, and determination that one could truly turn a mere dream into reality.
After watching your farewell address, a sea of tears rolled from my eyes. I did not want to accept the fact that in just a few short days, your time as Commander-in-Chief will be over. However, you will forever be my president.
I keenly remember you running for president in 2008. I was a student at Florida A&M University and a legislative assistant at the Florida House of Representatives. It was during that time that I had an opportunity to meet both you and First Lady, Michelle Obama on your visit to Florida A&M University.
Since that time, I have been a staunch supporter of the Obamas. You were the very first president that I was eligible to vote for, and am proud to say that I did it twice, and if there were no term limits ― I would enthusiastically do it all over again.
Your presidency inspired me to zealously pursue my goals. It is partly because of your example that I found motivation to apply to an Ivy League institution. It was your countless messages of hope that invigorated and sustained my spirit all four years while pursuing a theological education at Yale. Each and every day that I wake up I am encouraged by your presence in the Oval Office. It gives me the incredible strength and confidence to persevere and to believe that greater is inside of me.
As an African American male, you are the quintessential role model for many young men like myself ― who fall under the crushing yoke of a myriad of societal setbacks. You have been a consummate exemplar par excellence. You have literally destroyed the glass ceiling, and defied statistics― in that it does not matter where one comes from, or what one looks like, one does not have to be imprisoned by one's historical circumstances.
You and your wife, Michelle, have left your mark on this world in a way that very few leaders have, and you both have inspired an entire generation of young boys and girls alike to dream bigger dreams, and to passionately engage the democratic process. My life will be forever changed. Your departing of the Oval Office does not denote an end to your legacy, it is only the beginning. You have planted infinite seeds of hope and resilience into millions of people across the globe, and I am confident that you will perpetually see the fruit of your labor come to fruition for decades to come.
You have been such a powerful and positive influence to this nation. You brought a profound sense of intelligence, wit, grace, class, and integrity to the White House. In fact, you are the coolest president to grace the political stage. You stood firm at a time when our country was experiencing the worst economic crisis since the Great Depression. You transcended criticism and opposition from all sides, and you modeled what it truly means to be a leader that represents "all people," regardless of political party or political ideology.
You fought long and hard to put millions of American families back to work. You were able to cut unemployment by less than half of what it was during the depths of the economic downturn. You fought against foreign policies that would have set the American people back for decades. Your signature healthcare law has expanded insurance coverage for those who would otherwise be uninsured. You closed the unfair healthcare loophole that prevented millions of people with preexisting conditions to now be able to see the doctor. You fought for LGBTQ rights and championed the cause for equality and justice for all.
You protected the rights of millions of women and children, and fought to safeguard the rights of the elderly. You were successful in drawing down our military operation that placed thousands of our soldiers in harm's way. You were successful in the fight against Osama bin Laden. You fought against al-Qaida and ISIS and used the very best counterterrorism intelligence to help prevent another attack like Sept. 11th. You have efficaciously restored many broken relationships with other nations around the world. You fought indefatigably for commonsense immigration reform, and gun-safety legislation. But, more importantly, you restored the values and principles of America.
While there is still much work to be done, you should be proud of the many accomplishments you made in the face of radical resistance. You are my hero, Mr. President, and I would like to wish you and your family a personal farewell. It is because of you that I, too, one-day hope to run for the highest office in this land. Because like you, I believe in a more "inclusive" America and the "unwavering belief in the ability to unite people around a politics of purpose and transformation;" instead of fear and trepidation.
Yours in Service to Humanity,
The Rev. Herron K. Gaston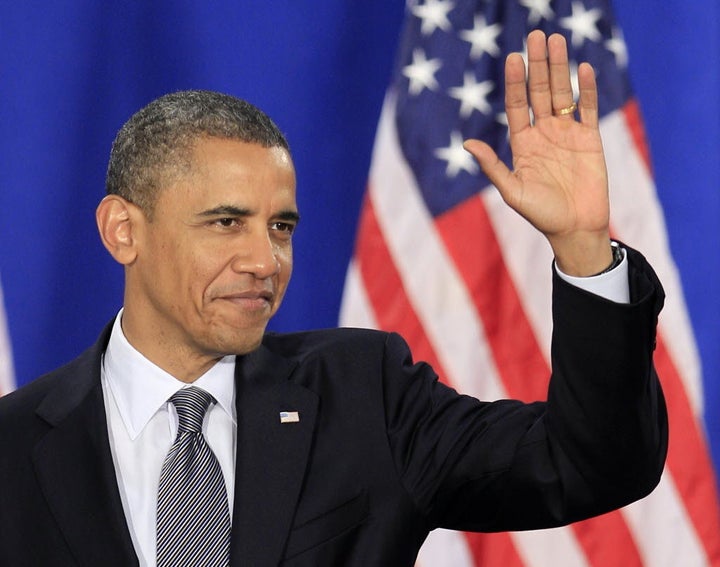 Calling all HuffPost superfans!
Sign up for membership to become a founding member and help shape HuffPost's next chapter