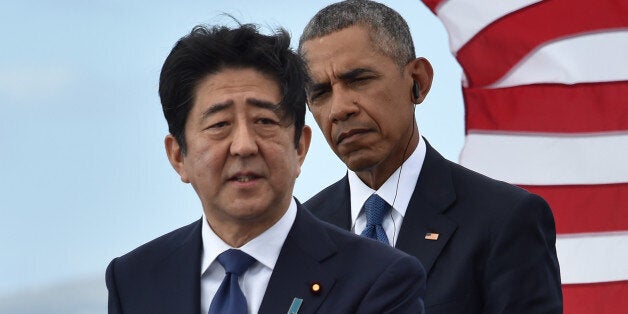 My name is Ari Beser. I am a 28 year-old photographer, filmmaker, and first time author. For the past six years, I documented the testimonies of the survivors of the atomic bombings -- or Hibakusha as they are called in Japanese. They are the last remaining eyewitnesses to nuclear war, and I believe we can learn a lot from them. My work culminated in a Fulbright grant from the U.S. and Japanese governments, and the National Geographic Society.
People should know that your government and mine allowed me, the youngest grandson of Jacob Beser -- the only U.S. serviceman aboard both planes that dropped the atomic bombs on Hiroshima and Nagasaki -- to live in Japan and document the stories of those who were exposed to the atomic bombs, and to teach Japanese and American students.
I watched President Obama make history as the first U.S. president to visit the city that a predecessor of his had tried to destroy. I stood in the makeshift White House pressroom and watched in awe as both of you spoke of the dire need for a world without nuclear weapons.
Now, Prime Minister, I applaud your historic visit to Pearl Harbor, and the military base that your predecessor ordered to destroy.
However, I do have some questions.
A disclaimer: I am not writing to you as an expert on social issues, nuclear issues, or politics. I write as a concerned global citizen with a unique and intimate experience with survivors of a nuclear attack. For the better part of the past decade, I have been learning from them, listening to their stories, and most of all, to their concerns.
The world is changing rapidly and unpredictably. Following my experiences with the survivors, I would like to ask you the following:
-- What are these visits to Pearl Harbor and Hiroshima meant to symbolize? You have visited the site of one of the worst attacks ever committed on American soil. Your office has said that you aim to "send the message that the calamity of war must not be repeated." But it is no secret you want to amend the constitution's Article 9, giving you the power to build a military. Further, Mr. Prime Minister, you have asked President Obama to refrain from adopting a "no first use" nuclear-weapons policy. This is clearly intended to protect your people under the so-called nuclear umbrella. Moreover, Obama signed off on $1 trillion to modernize the U.S. nuclear arsenal over the next 30 years, seemingly contradicting his narrative in Hiroshima and Prague.
In May, I had the chance to interview Obama's former White House Coordinator for Arms Control and Weapons of Mass Destruction, Dr. Gary Samore. He told me: "The president said he is committed to a world without nuclear weapons, and I believe him. But everyone seems to forget he also said it would not happen in his lifetime. The conditions simply do not exist where we can securely eliminate them. We have to achieve and maintain regional stability first."
I believe, Mr. Prime Minister, that if you revise Article 9, it will take your pacifist country on the path to war. It will antagonize your neighbors and move us farther away from a nuclear free world.
-- How will you show that you are committed to a long-term investment in East Asian relations? In Germany, educators have consistently taught their youth about the horror of Nazis and the perils of nationalism during World War II. Germany enjoys peace within its region and with the rest of the world's powers. In Japan, modern history is an elective, with more of an emphasis placed on the dynastic history. Japanese youth are increasingly apathetic and unaware of their history. Can more be done to engage them? Can Japan one day be as close with China and South Korea as Germany is with the U.S., the European Union, or Israel?
Japan's relationship with United States is nothing short of a miracle. We have grown from bitter enemies to closest friends. It is clear that while our cultures are vastly different, our governments are able to work together extremely well. However, the current security situation in East Asia is far from friendly. Will you bring this historic spirit of reconciliation to your neighbors? Your visit to Pearl Harbor sends the message of your commitment to reconciliation with the United States -- but it can also be criticized as being disingenuous.
-- How will you maintain this reconciliatory spirit with President-elect Trump? You were the first head of state to visit our new President-elect. Masayoshi Son has planed to invest $50 billion in the United States. While Trump raises consumer confidence like we haven't seen in years, he shows a serious lack of nuance when it comes to global politics. In fact, he mocks it. It will be difficult, to say the least, to navigate regional stability if the U.S.'s relations with China sours. If this escalates, no one can be sure what it will lead to.
One day, I will tell my grandchildren: "My grandfather was the only man in the world on both flights that dropped the atomic bombs, and their grandfather lived to see the President of the United States visit Hiroshima for the first time, in the same year that the Japanese Prime Minister came to Pearl Harbor for the first time."
What kind of world will I be telling my grandchildren this in? Will it be a safe and inclusive world? Will we work out our differences and achieve a world free of nuclear weapons? Will we live in a dystopian future plagued by atomic bomb blasts, global famine caused by nuclear frost, and a new global population of Hibakusha?
I believe that you have the best interest of the Japanese people at heart. I believe you are committed to peace, but I also believe these historic visits must be followed by policies that reflect them. I hope you stay committed to reconciliation. As you said, "the calamity of war must not be repeated."
Calling all HuffPost superfans!
Sign up for membership to become a founding member and help shape HuffPost's next chapter