It's me again, and according to my kids I have been "acting out." They tell me I need to reach out to you and confess to being naughty lest I face some real "consequences." I tried to come see you at the mall but the contrived mirth of your entourage of obsequiousness was too much for me so I came home to write you this letter.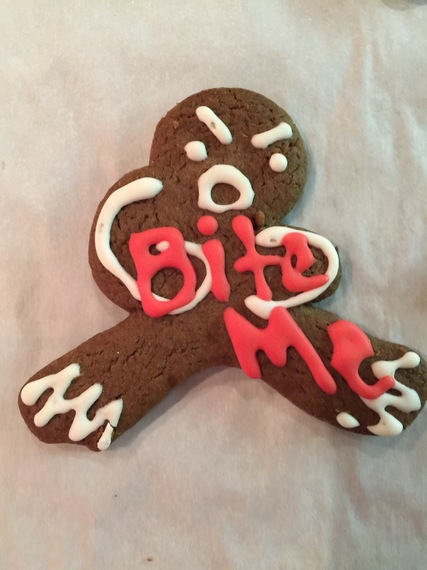 You see, all this pressure to decorate and give perfect gifts, bake cookies and spread tidings of comfort and joy has me feeling a bit... um... postal.
Because here's the thing Santa: I struggle with the holidays. I do enjoy them but they are also melancholy for me. Holidays are about family, home and loved ones. If some of those ingredients are missing, well, then the holidays aren't so filled with comfort and joy for many of us. A lot of us are stuck going through the motions and counting the minutes until January. We learn to cope. To fake it. Some of us act out. That's why I felt the need to reach out to you. For the past few years I've been up to no good. No good at all.
It happened innocently enough. One too many of your mirthful minions wished me tidings of comfort and joy when I brought the kids to visit you at the mall a few years ago. It was the first year after losing our daughter and I was profoundly sensitive and vulnerable. Frankly, I was in no mood for cheer of any sort. My inner scrooge reared her ugly head and I was overcome with the urge to kick each and every one of your elves in the shins. I'm sorry Santa. They just bothered me. Rather than make a scene I headed home and decided that malls were off-limits to me until December 26th. Santa, you and your elves do good work. I know you do not need a crazy bereaved mother kicking them or verbally lobbing vulgarities at them while they control the crowds.
Instead of lashing out at your elves I decided to bake cookies in an act of contrition for my un-jolly thoughts. What could go wrong with baking cookies? It's a family tradition, after all, and the holidays are about tradition, right? And family? Even if ours is shrouded in loss? I'm a fighter Santa, and I had to find ways that worked for me to get through this high stress time.
The kitchen quickly filled with the aroma of ginger, clove, allspice. I felt a great sense of accomplishment when they were baked and I had not felt the urge to use the marble rolling-pin for anything other than rolling out dough. I could feel the morning elfin encounter floating into the past on a cloud of ginger infused Bing Crosby carols.
And then it came time to decorate the gingerbread men. And, dear Santa, this is why I am writing to you. Oh, sweet Santa. Am I looking at coal in my stocking from now until 2050?
With a tight grip on the pastry bag I worked my way along the rows of cookies awaiting the final touches. I piped out royal icing mittens, curved toe slippers. Buttons up the front. Eyes. Caps. Then, perhaps by sleight of hand I made a flat line smile on one of them. Then a frown on the next. Then came a wide open circle of a yelling mouth. I felt a giggle rise up from deep down in my toes. I knew where this was going.
Oh Santa, it all devolved from there.
Before too long I was piping out "Bite Me," "Eat Me," "You wanna piece of me?" and other unmentionables in red and green frosting on the cookies. I was in a madwoman's decorating frenzy.
When I finally stood back to admire my handiwork I must say I felt great.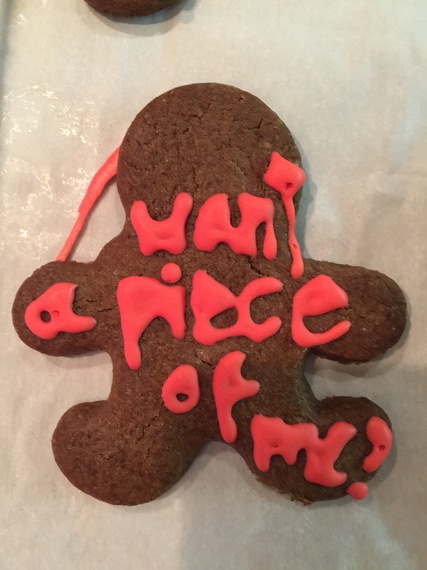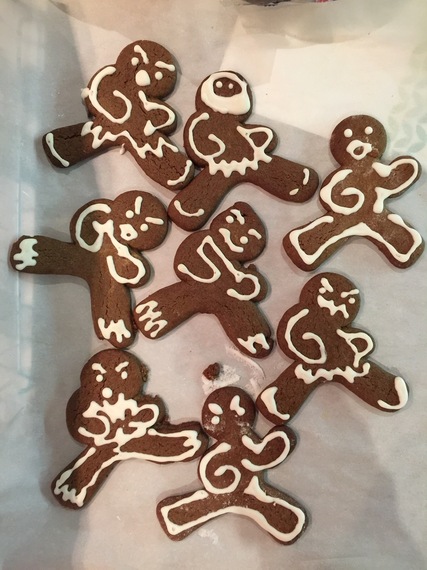 Humor is my way of coping sometimes. Enough time has elapsed since that first year without her that I've gotten good at finding ways to be present and yet also honor what is lost. Santa, I know these cookies are a tad naughty. But we all do what we can to get through the blue parts of this holiday. Showing up is important for our children, for our loved ones, and even for ourselves.
It's a small act of defiant compliance that allows me to feel in the flow of the holidays and yet acknowledge my inner frustrations about some of the pain that also comes with these family based celebrations. It has enabled me to "do" Christmas, albeit redefining the holiday in my own small mischievous ways. Santa, I do hope you understand. The season of sharing and all of the pleasures of home and hearth are still there. But some of us need to act out a bit as well in order to find our own comfort and joy.
Happy Christmas. Please don't hold my defiant acts against my (almost) perfect children.
I'll still believe in you if you still believe in me.