New Leaders and Members of the State Department:

The past two weeks have not made your job any easier. I cringed when I heard Sean Spicer tell foreign and civil servants, 70,000 strong, that they are "career bureaucrats" and if they do not agree with President Trump's opinions and his "vision" they should either get with the program or they can go. I can imagine those words were not well received, to say the least, by the members of the Department, those who know what the Department does and its integral role in advancing the interests of and protecting the nation, and others who understand the sacrifices one makes to serve the country.

State Department personnel are not easily offended or caught off-guard. Their job is to be just the opposite even in the most harrowing of circumstances. Look at Ryan Crocker's career. He was ambassador to Afghanistan, Iraq, Pakistan, Syria, Kuwait and Lebanon. In three of those postings, a predecessor of his was assassinated. He felt that made his service even more important. Or our former Ambassador to Haiti who slept on a cot in his office at the Embassy for weeks following the earthquake, while his family returned to the States. Or the dozens of other stories you will hear. The men and women of the State Department know their job involves risk. They deserve the country's respect and support. Not to be threatened by the spokesman for the country who had hardly been on the job more than a week.

I am not one for presenting criticisms without sharing some of my own thoughts and recommendations. Here are some:

The Harry S. Truman Building. the actual building, is daunting. It is not configured in a logical way and the idea of flow, well it doesn't exist. It has color-coded stripes, like you'd find in an airport, along the top of the white walls to help you know where you are. You will need help navigating it. Ask for it. Otherwise you will inevitably miss your meeting walking in circles. Needing this guidance is also a perfect metaphor for the guidance you will need to learn the Building, with a capital B, how it works and might be improved.

Patriots. You each have the opportunity to call the members of one of the finest "work forces" in the world you colleagues. Members of the civil and foreign service professionals, third-party nationals, foreign service nationals and beyond. There's little question that you care about our country, but these men and women will redefine what it means to be a patriot. Always get their take, but also learn their stories. Many will floor you.

Foreign Service Officers. Foreign Service Officers sign-up for a life that involves changing roles every two years. Often this means uprooting a family and moving to a new country. And too frequently it means living on one's own during a high risk posting. These men and women are on the front-lines every day. Their uniforms looks quite different from those in the military, but they too are service officers. Help make sure the White House understands that. A successful foreign policy requires a State Department that knows its work matters.

Alphabet Soup. Learn to love Alphabet Soup. It will soon be your favorite kind. But at first it will thoroughly confuse you and sound like an alien language. Whether your new name is simply one letter, like S (the Secretary), D (the Deputy Secretary) or your office has multiple letters like M/PRI (Management Policy, Rightsizing, and Innovation) everyone is working towards a common mission--and in the interest of the country.

Diplomatic Security. The members of Diplomatic Security put their lives on the line every day to protect Americans abroad, and some at home. They are brave. They are stoic. Show them the respect and appreciation they deserve. Too often their discretion can mask their presence. Don't let it. And don't let Congress play political games with it.

Ops, the Line and the ExecSec. Each of these are lifesavers. Sometimes quite literally so. They can get anyone on the phone at any time anywhere, even if you don't know where they are. They know the processes and how to get things done in the most efficient manner. They will make sure your trips are smooth. It is hard to grasp just how much they do. And they are true professionals.

From PRM to Pretoria, Legal Advisor to Lisbon. Your colleagues at home at Embassies and Consulates around the world have tremendous knowledge. The majority of the time, whether a civil service or foreign service member, it is likely it will be far greater than yours. Lean on them. Not doing so is in no one's best interest.
Respect the Press Corps. The State Department and the White House are the only two daily press briefings by the Government. The world is watching. Much of the press corps has been around the Department for some time. They know how things work and have a deep understanding of the issues. They get policy. But they also get the "politics" at play on the world stage. Show them respect. They are an important resource in getting your message out to the world.

Little Things Matter. Listen to Protocol. It may seem like international trips are old hat, but your trips are seen through a different lens. What colors you wear can be the difference between a successful trip and one in which tensions flair. Protocol literally designs the spaces where diplomacy happens.

Embrace Opinions and Dissent. A decision in the nation's interest requires information from people who sit in different roles, in different countries, and with different opinions. That is a good thing. Intimidating them from sharing ideas serves no one, least of all the American people. The Dissent Channel exists for a reason. The Administration must not take it personally and it must respect it.

You Will Be Frustrated. With 70,000 employees, the Department of State is not any organization to make quick changes to. It takes time. Communication about the changes one has in mind is critical. That is not to say that there aren't things that would benefit from new processes or thinking.

Crises. There will inevitably be both man-made and natural disasters during your time at State. Calm is the key. Consular officers will wow you with their abilities. The Ops Center will transform into a command post-like area. The SVTC rooms will become all too familiar. But it is in these moments that State truly shines.

The Names on the Wall. If ever you wonder whether what you and your colleagues matter, or the importance of the Department, just go to the first floor and look at the names on the wall. You are serving with people who, while knowing the risks, have chosen to serve. Many can name at least one fallen colleague and they press on.

These some of these are things I learned during my time at State and since. Working at State is a truly awesome responsibility and humbling experience. And so much of it is because of the people. Please ask for, and embrace, their opinions and suggestions. Respect their work and sacrifices. And enjoy having truly remarkable colleagues.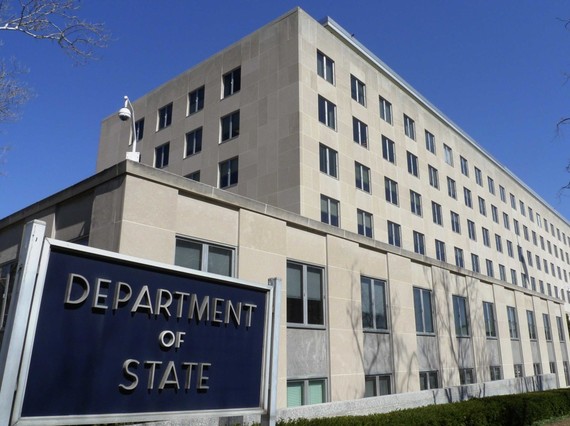 REAL LIFE. REAL NEWS. REAL VOICES.
Help us tell more of the stories that matter from voices that too often remain unheard.