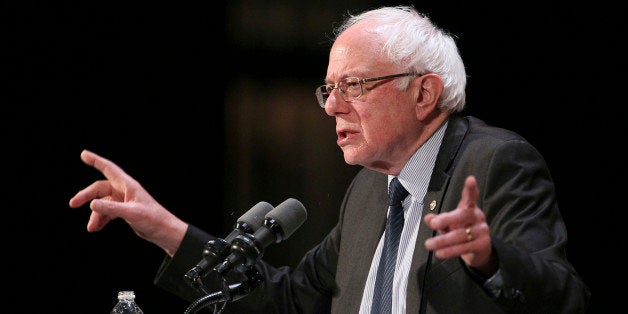 As you are well aware, Secretary Clinton apologized for her remarks stating Nancy Reagan had anything to do with 'a national conversation about AIDS'. Her second apology, the one she didn't tweet, was a well thought out strategy for nearing an end to the epidemic.
Your response to Clinton was right on. You remembered what the history of HIV/AIDS looked like in America under the Reagan administration. You felt my pain at Clinton's gaffe, and you pledged to do something about HIV/AIDS in 2016. Within days, your campaign offered a plan. I hate to sound unappreciative, but your plan seems a little thin.
Instead of a roadmap, you offered a three billion dollar prize for better antiretroviral medication. We have excellent antiretrovirals, Senator, and we have an excellent prophylaxis for HIV infection in Truvada (PrEP)--what we don't have is a candidate on the left who acknowledges this. What we don't have is a candidate who can coordinate with my community to hash out a better policy on HIV/AIDS. I am asking you to do this, go one better than what you've done, and meet with us.
You may not know yet, but a group of AIDS organizations and important community leaders wrote a letter asking Secretary Clinton to do more. What we need are the demands met in the above letter, and a few other things like reformed HIV laws. We need you to understand that ending the epidemic is far more complex than medication. If it were all about the medicine, we would have done it by now. You touched on this briefly, but I'm asking for more support, and more details then what you've provided.
Do you know what my community--which includes: long-term HIV survivors, the 50,000 Americans who get HIV every year, the 1.2 million Americans living with HIV, and their families--needs most? We need more than a promise for better antiretroviral medicine, even more than free healthcare. We need you to spend more on the NIH, more on community AIDS Service Organizations, more on educating and treating at-risk populations, and you will need to shake out the cobwebs at the CDC too. That's going to take a decisive, nuanced, and definable commitment, and a much better roadmap then what you've offered so far.
We don't need this three billion dollar prize as much as we need the things on the community to-do list, Senator. I am expecting you to know your policy is unacceptable to me, because this prize will likely land in Gilead Science's hands. And drug pricing, which I asked Secretary Clinton to combat in an open letter here, isn't the only problem. Effective negotiating means you must be willing to walk away from the table. Fighting the drug companies is great, but what is your strategy, and your end goal? A reduction in prices is absolute for the health of the nation--access is also key--so how will you do it? With community involvement, I hope--so please, read the letter and respond.
I want to tell you I saw a button that said 'Fuck Her', mimicking Clinton's 'I'm With Her' logo, worn by Sanders' supporters. I want to take this time to tell you if 'Fuck Her' is your message, and an antiretroviral prize is your big solution to end HIV/AIDS, I'll use my best Brooklyn accent and my vote to say--'Fuck the Bern'. I'm kidding here, Senator. But I'm not either. Misogynist crap like this is making the epidemic and the country worse--women get AIDS, and I'm with them. Will you be? Denounce the hate, then scoop them off your staff's lapels--we have to win in 2016, not divide the vote.
There's still time. My state hasn't held it's primary. But I am with you and Secretary Clinton all the way. I am a Democrat with HIV, Senator. And I believe we shall overcome the Republicans. Mainly, because our leaders have a better plan--Obama has a better plan. We need to improve and add to it. So, please take a moment to read the community letter, embrace the science that surrounds HIV/AIDS, then work with us to destroy the epidemic in America and across the globe.
Calling all HuffPost superfans!
Sign up for membership to become a founding member and help shape HuffPost's next chapter