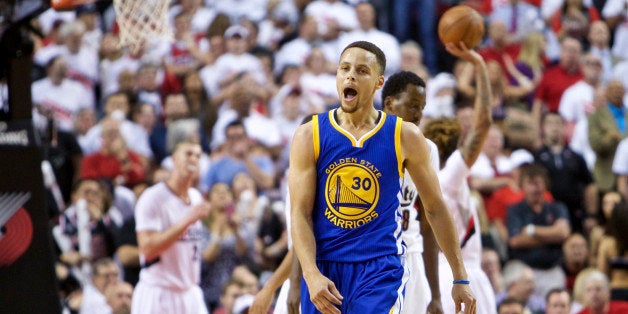 I have not written a fan letter to an athlete since I was a young girl and wrote to one of my personal heroes, Jackie Robinson.
But decades later, after watching your incredible performance Monday night coming off a tough injury, I felt compelled to openly praise your extraordinary accomplishments, your indomitable spirit and the lessons you are teaching millions of young people.
In my adult life, I have looked at sports as a metaphor for life. The intense focus you must bring to every game, the ability to work respectfully with others as part of a team, and the toughness to overcome adversity are skills that are as just as important off the basketball court as on it.
Steph, you have shown us all how it is done. You have demonstrated it with your relentless work ethic. You have demonstrated it with your leadership, which is reflected best in the way your teammates talk about you. You have demonstrated it with the passion and sheer joy that you bring to every game.
It is no surprise to anyone who follows basketball that you earned your second straight MVP award today -- the first time in NBA history that a player won with a unanimous vote. You shattered the league record (which you set just last season!) by shooting 402 three-pointers this year. You led an amazing group of players and coaches to a historic achievement -- winning 73 games this season.
Your fans in the Bay Area and around the world are in awe of your athletic skill and your impeccable character. You have made the people of California, and their Senator, very proud.
These playoffs are not over -- and there is much more that you and your team have yet to accomplish. But it is not too soon to say this: congratulations and thank you for your unforgettable performances on and off the court this year!
Related
Popular in the Community