To all the moms out there drowning in a slew of little ones...
When I was perusing my Facebook feed this morning, after a workout that I never had time to do when my four sons were little, I saw a few posts from some moms who were doubting their parenting skills.
And then I walked by this picture in my living room...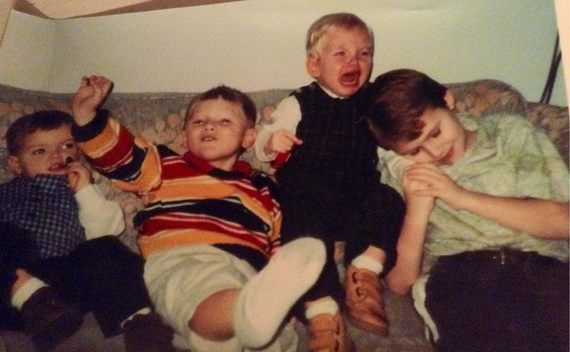 The twins were 2, my middle guy was 5, my oldest was 8, and I was hanging onto my sanity by a thread.
I remember that day vividly. I was trying to get a "nice" picture of the four of them for the Christmas card. After about fifty attempts, tears, some colorful metaphors from me, and lots of wrestling, there wasn't a single photo of all four boys sitting still. I ended up using the picture above because it accurately reflected our life at the time.
For many years, our world was organized chaos and the volume level was always at or near 10. Going anywhere with them was a loud messy production. Nothing strikes fear in the heart of a waiter or sales clerk like four boys under the age of eight.
I worried it would be that way forever. There were numerous moments I doubted my parenting ability and I had genuine concerns my children would never become civilized human beings.
Would they remember to put the seat up?
When would dinnertime not become a battle of wills?
Would I ever get a full night's sleep again?
I know, it doesn't seem possible, but your tiny demanding humans will grow up eventually. When you're in the thick of it, and surrounded by cheerios, juice boxes, and temper tantrums, you can't imagine anything else and life seems to move at a snail's pace.
Then one day, you turn around and... it's over.
Challenges remain with teenagers and college aged kids but they're different. They'll be asking for car keys instead of cookies, spending more time with their friends than with you, and you'll be left wondering how on earth their childhood went by so quickly.
Eventually, they will sit still for a picture. Instead of fifty attempts it will only take two or three. There won't be tears or temper tantrums and you might even get all of them to smile. But the crazy picture, the one with your children crying or climbing out of the shot?
That will be your favorite.
Stop doubting yourself and don't worry about what other moms are doing.Do what works for you and your family. Everyone struggles and questions their parenting choices at some point, but that's part of the learning curve. There isn't a book out there that can prepare you for raising kids. It's trial and error from Day One and we all do the best we can.
You're a good mom and you're doing a good job. Give yourself a break. Your children will eventually be civilized human beings and someday, you will actually get to use the bathroom by yourself. Although, if you have sons, the seat may still be an issue.