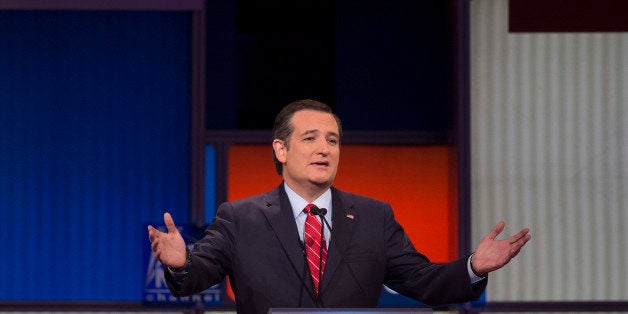 This is Sammi Silber. I am an 18-year-old freshman attending University of Maryland; however, today, I want to address a remark that you made about a different state. It is the statement everyone is talking about: your comment on New York Values.
Senator Cruz, I recognize that you may have been referring to the state's liberal values when you spoke so brashly; however, I want to ask this: did you think before those words came out of your mouth? And do you really apologize for what you said?
All my relatives, ancestors, and close-knit family come from different parts of New York -- Brooklyn, Queens, New York City, Northport, Catskill Mountains, you name it. One of my good college friends comes from just outside the city. Even my first-choice college roommate is from Long Island. Let me tell you, sir, what their values are.
They are caring. Loyal. Respectful. Hard-working. Independent. Determined. Friendly. Responsible. Loving.
Are these the oh-so-terrible New York values you are referring to? Because I don't see one thing wrong with any of those words.
Although I was still just a toddler when the September 11 attacks shook our country, I remember the stories from my family; all of them remember where they were at that exact moment and the sadness they felt watching those towers come down. I remember being pulled out of school and later learning about it in the classroom, watching the planes strike the towers and wondering what kind of human being could commit such an atrocity.
The scene I will never forget is the one where strangers banded together to save each other's lives. Office workers who had never met were pulling walls and beams off of each other, holding hands and running back into the collapsing buildings to rescue others without a single hesitation. It is a scene that paints the true colors that New York represents, and those colors are love, care, respect, dedication, and perseverance. This one moment in time sure speaks louder than the words that came out of your mouth, Senator Cruz.
In addition, I am a young college student -- raised by an amazing mother and wonderful grandparents -- who knows to treat others the way I want to be treated, to say thank you after someone does me a favor and that, in life, you must work for the things you want. I am an aspiring writer, and I worked to get where I am and respect those around me. I have to thank my family for my positive attributes, as well as their values, which stem back to the Big Apple, considering that's where generations of my family have come from.
These "New York values" turned me into a young, successful woman, even though I was not raised in the state of New York. Though I am not offended by much, this struck a chord with me. Using it as an attack method? Donald Trump can be a little outlandish, but, Senator Cruz, this is a low blow for you.
So, what are New York values?
Sure, sometimes the air reeks of cigarettes and people push and shove on their way to work. The typical New Yorker can talk fast with a heavy accent and take the cab you worked so hard to hail. Underneath all of that, they are people who are smart, confident, caring, respectful, classy and, overall, hard-working and strong in the face of adversity.
You have made a truly classless comment, Ted Cruz, and I hope you realize your ignorance. If you want to reconsider what New York Values are -- better yet, if you want to make another comment about New York -- take a trip up there and see the city for itself. Hopefully, that will make you realize how off-the-mark and offensive your remark was.
Calling all HuffPost superfans!
Sign up for membership to become a founding member and help shape HuffPost's next chapter