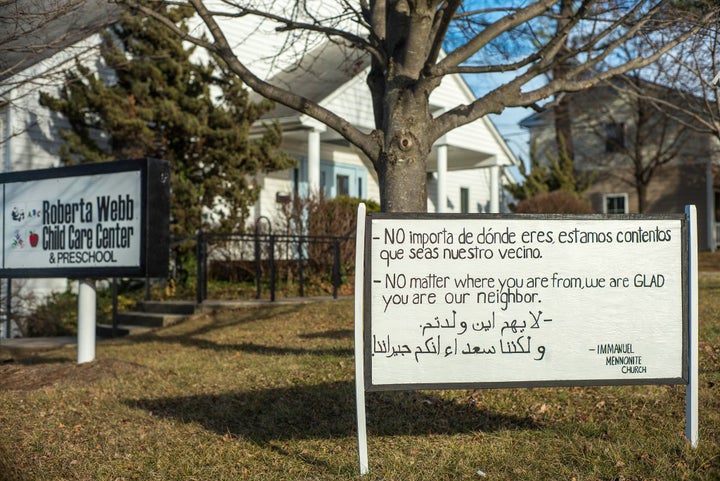 Yesterday I attended a wondrous event: democracy in full-throated action.
Congressman Bob Goodlatte chairs the Judiciary Committee of the US House of Representatives. It's a position of considerable power, for good or ill. Congressman Goodlatte also represents Virginia's Sixth Congressional District, which just happens to include Harrisonburg, Virginia, where I live, the home of the national Welcome Your Neighbors movement.
At a monthly "open-door" meeting sponsored by Goodlatte's local office and normally attended by two or three people, more than fifty concerned citizens showed up yesterday. Unfortunately, Goodlatte himself was not in attendance, only a representative from his office. ("Where's Bob?" asked the buttons worn by many grown accustomed to an inaccessible representative.) Nevertheless, although polite, informed, and amazingly articulate, the attendees were relentless in their criticisms of the disastrous executive orders of President Trump and of Mr. Goodlatte, who has become one of Trump's staunchest enablers.
Here's the (edited) essence of what I had to contribute:
The Immigration Ban Does Not Represent American Values
Dear Representative Goodlatte:
My name is Dave Pruett, and I live in Harrisonburg, Virginia, a city with a long track record of welcoming refugees and immigrants from diverse corners of the world.
Harrisonburg is among only thirty-three cities nationwide in which Church World Services has a refugee resettlement office. It is reported that fifty-six languages are spoken in Harrisonburg, and ESL is taught to more than fifty percent of public-school students. My daughter's public pre-school class was truly international, which might help to explain why she is now majoring, as a college senior, in international relations. Before I retired, I was blessed to have colleagues from China, Bangladesh, Nepal, Ireland, Lebanon, the Philippines, India, Palestine, England, Australia, South Korea, and New Zealand, beautiful people all.
Our Statue of Liberty is inscribed: "Gives me your tired, your poor, your huddled masses yearning to breath free." A rich diversity makes America unique, and great. In Harrisonburg, we take pride in that diversity. For two decades, on a Saturday in September, our small city holds an International Festival at Hillandale Park, drawing thousands in joyous celebration of our diverse cultures, customs, and cuisine.
It therefore feels like a slap in the face to our community when the POTUS imposes an arbitrary ban on refugees and immigrants. It is doubly troubling that that ban blocks refugees from countries like Iraq that were destabilized by US-initiated wars, and that persons who faithfully served American forces in those wars are being returned to countries where their lives are in jeopardy.
Our community considers this executive order so egregious that on Sunday, January 29, hundreds and hundreds of people gathered at Harrisonburg's courthouse to protest the immigration ban and to stand in solidarity with refugees and immigrants in our community. It was perhaps the largest protest in our town in decades.
It is even more troubling that you, our representative, would allow your staff to help draft this ill-conceived ban. You chair the House Judiciary Committee, which is supposed to provide oversight of the Executive Branch in many judicial matters, including immigration. By allowing collaboration between the staff of the Judiciary Committee and the Executive Branch, you have helped undermine governmental integrity.
If the Judiciary Committee were really doing its job, it would pay heed to the one thousand career State Department employees who have risked their careers to sign a dissent letter expressing dismay and outrage at the ban. These long-term diplomats have concluded that the presidential order will have little or no benefit to American security, yet it will have many negative consequences. Soured relations with the Muslim world will undermine cooperation with allied countries in the fight against terror, and the ill will created by these measures will alienate citizens in the affected countries and fuel radicalization of the young.
Moreover, these diplomats oppose the ban simply because it "runs counter to core American values of nondiscrimination, fair play, and extending a warm welcome to foreign visitors and immigrants."
Like our misguided internment of Japanese Americans during the Second World War and our return of thousands of Jewish refugees to Nazi Germany, many of whom would perish in concentration camps, this ban is a stain on the American conscience.