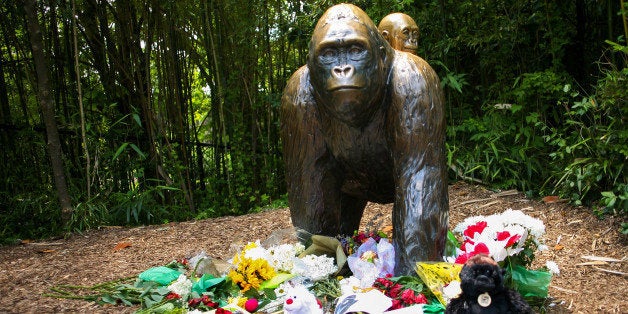 There is nothing I can accuse you of that you haven't already heard. There are no harsh words I can type that you haven't already read and etched into your mind, there has already been enough shouting to keep you up at night. So let me say something that isn't being said enough.
If things had gone differently that afternoon and the headline read "4-year-old boy trampled to death by 450lb gorilla at Cincinnati Zoo," maybe people would have responded with more sympathy and less blind blame. But that isn't what happened. In less time than it will take to read this letter, your little boy climbed into a gorilla enclosure, and an innocent animal was shot and your son survived. So here you are, on the receiving end of rage. Animal rights activists are furious, parents are scowling from behind screens, people who have never had the responsibility of keeping a plant alive, let alone a human being, are petitioning authorities to deem you an unfit parent.
Bad mothers don't take their children to the zoo. Bad mothers do not watch on as their son's life is in very real danger and calmly call out to them, "Mommy's right here, mommy loves you." If you're a bad mother, I am too.
I have 4-year-old boy and every week we go to the Central Park Zoo, I could have easily been you. I am familiar with the rush of panic that washes over a mother as she turns to see that her child is not where he was only a moment ago. I am accustomed to the double heartbeat that happens when a child disappears into a sea of matching curls and dirty knees. I know the frustration of telling a child for the fifth and sixth and seventh time, with patience growing thin, honey don't climb on that, baby don't go in there, sweetie you're not allowed to do the thing you are set on doing.
Many people say that you should have been watching your child and maybe you were. Or maybe you were watching another child and lost sight of your son for just one minute in an overcrowded zoo, or maybe you were bent down tying your shoelace or maybe, God forbid, you were doing the thing that apparently no parent on the internet seems to have ever done before -- maybe you were looking at your phone. Judging from the comments I've read its as if you pushed your son into the enclosure and pulled the trigger yourself.
The good news is that it isn't too late for people to tap into their empathy. You can still mourn the loss of a beautiful creature and celebrate that a little boy did not have to die that day.
A lot of the criticism comes from those that don't have the first hand experience of parenthood, but the good news is that they can pull from their first hand experience of being a child.
We have all outsmarted our parents: eaten the candy we weren't allowed to, pinched our siblings when no one was looking (most of us have done so much worse). We are each guilty of climbing over and under and through any fence (physically or metaphorically) that was put up for our own safety. And thankfully most of us got away with it and never faced a life-threatening or unbearably public consequence.
You were standing right next to him when this happened and this is not your fault.
This is not the first time that a human (child or adult) has entered (intentionally or accidentally) an animal enclosure. This is not a one-off. If we, as a society, insist on putting dangerous and endangered animals on display (and judging by the fact there are 10,000 zoos in the United States, we do), then we need to focus on how dangerous interactions like this can be prevented.
Security measures need to be revisited and updated, not to allow a better view of the animals, but to allow a safe experience for both humans and animals at the zoo.
There needs to be a response system in place that does not offer one poor soul just two terrible options.
There needs to be a more realistic maximum capacity at zoos that has safety and not profit in mind (currently the Cincinnati Zoo taps out at 15,000).
We can set a one parent per two children limit in order to ensure maximum supervision as opposed to the one adult / five child membership that is currently offered at many zoos.
There are a dozen other directions we can aim our anger that would result in a positive changes to how we experience animals in captivity.
But I refuse to stand on the other side of that glass and judge you, shame you and put the blame on another mother. This is not your fault.