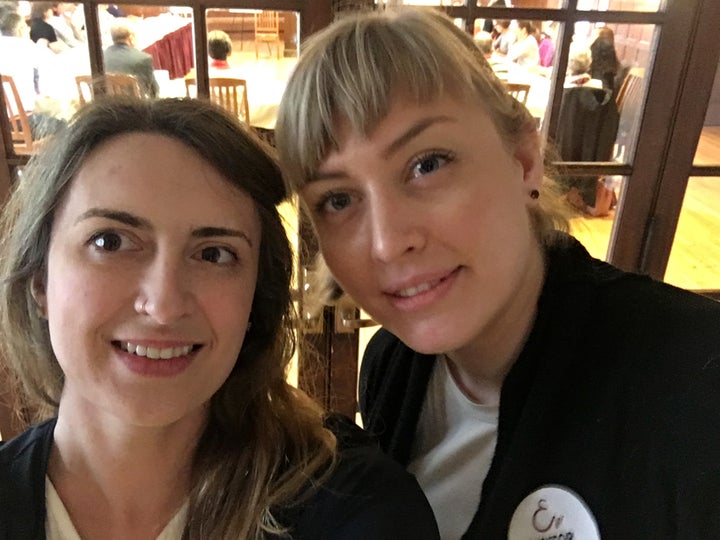 Dear Emma Willard School Board of Trustees,
I am writing to you today regarding the reception Martha Deeds (Class of 1999) and I received on the Emma Willard School campus this weekend. We came to campus—Martha traveling from three hours away and staying in a hotel—to attend the Alumnae Advisory Task Force Report presentation at the Board of Trustees meeting (which was on the public-facing calendar).
Martha and I came in support of the three members of the Task Force, who have carried a large volunteer burden. We also came in a gesture of hope for Emma Willard School's future. And you, quite literally, closed a door in our faces, without apology or explanation. Standing on the other side of these doors I felt I was living the perfect metaphor for all that the alumnae community has felt is wrong in this process. Martha and I could see and hear much of what you said, so we listened and watched as you gave nothing more than the most cursory welcome to three women who have given hundreds of hours of professional volunteer time over the last ten months…Three women who traveled at your invitation, but their own expense, for 30 minutes of your time and zero substantive discussion.
Here is the thing EWS Board of Trustees: Emma Willard alumnae are one of your most important resources. Those among us who are still shouting about this issue do so out of devotion. We are offering, over and over, in our own ways, to show you the way forward…the way to honor this institution that we hold dear. And over and over you are shunning our offerings. Perhaps you hope that in time, if you continue to ignore us, we will all quiet down and leave you alone. But at what cost? Who will proudly send their daughters there for multiple generations—as Martha's family has? Who will meet with potential students and their parents and talk about what opportunities Emma Willard offers—as I have? Who will donate their time and expertise to you—as the Task Force has?
You can already see the results of your posture toward us this year in your own bulletin. The most recent Class Notes showing an entire decade, classes 1992-2002, of former students who are unwilling or uninterested in telling Emma Willard about their lives. A year ago these were vibrant columns. This isn't an organized protest; it is organic disengagement. That should worry you. These classes may not be your biggest donors, at least not yet, but they could be soon. They have daughters. They have networks of friends and colleagues. So, even if you do not listen to these women out of some obligation to the mission and history of Emma Willard, you may want to do so out of concern for your endowment and your enrollment.
Our expectation, which has been reiterated time and time again, is that Emma Willard do more than just the bare minimum in the name of the health and safety of girls and women. We expect Emma Willard to lead the way in as a model of how progressive schools respond to their disturbing past transparently and compassionately. We believe that Emma Willard is worthy of reports that don't just detail the events of the past, but of reports that also the systems in place that allowed and perpetuated these events—especially, when those events are difficult to face. Your Cozen O'Connor report on the school's history of sexual abuse is not such a report.
And we expect Emma Willard to include Alumnae actively and openly—because we are Emma Willard. Emma Willard is not a collection of beautiful buildings or a Board of Trustees or an administration or a group of your largest donors. It is bigger than that. It is an idea. It is a promise by our founder. Emma Willard is all the women who carry the legacy of Emma Willard in our minds and our hearts—the good and the bad—every day.
What we want is to see the strengthening of a bastion of women's rights, women's power, women's education in these days where such things seemed more threatened than ever. We want to see you step up and take responsibility, with honesty and vulnerability. If each of us as alumnae carry the guilt of children who did not know what to do or who to turn to in order to help our friends, you too can also shoulder your share of culpability as the representatives of the institution who should have protected all of us.
However, rather than our institution rising to this occasion, we see more of the same from our beloved school: secrecy, an inability to compromise, narratives driven by and to protect those with power, and an eroding of the trust of girls and women.
I do not think that you understand that it is loyalty that propels us forward. I do not think you understand that despite our anger and frustration, you have alumnae who are trying to show up for our school. This is what devotion looks like.
Yet, you, time and time again, shut us down. And that—that is what a culture of secrecy looks like. It is what earned us both our history and our present condition. It is what will stifle Emma Willard School's future.
Still, even in the absence of your leadership, even in the absence of your truth and reconciliation, Emma Willard continues to give us an amazing gift. We alumnae of Emma Willard are organizing, coming together, and supporting each other in ways we had not one year ago. We are reminded of our strength and power. Your scandal has been our rallying call…the result is that we are carrying forward the spirit of Emma Willard—just perhaps not within the gray walls. We may not be giving to the school, but we are giving to each other. We are joining forces in exciting ways. We are using our voices to push back against systems of power that are unjust—at Emma Willard and beyond.
We are Emma Willard. You are still welcome to join us.
Related
Popular in the Community