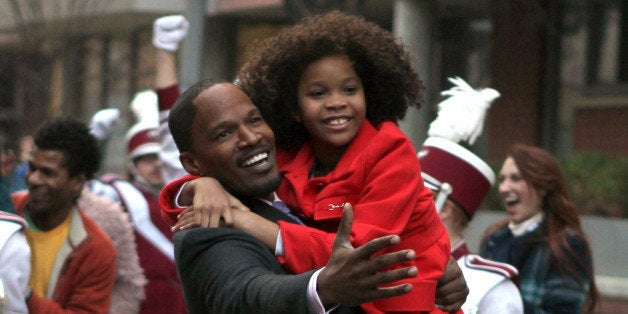 Dear Will Gluck, Jay Z, Jada Pinkett Smith, Will Smith, Quvenzhané Wallis, Cameron Diaz, Jamie Foxx and everyone else who was involved in the making of the Annie remake:
I've wanted to write about this movie since I heard it was going to be made. People have told me that a remake isn't a big deal, and that the movie has been made over a million times. I've read and heard comments from people who have a problem with the titular character being portrayed by a black actress.
I've also read comments that aren't even about this film.
If I get to see myself on screen, then I know that I exist.
Well, when I was 9 years old, Star Trek came on, I looked at it and I went screaming through the house, "Come here, mum, everybody, come quick, come quick, there's a black lady on television and she ain't no maid!" I knew right then and there I could be anything I wanted to be.
And so I hope that my presence on your screens and in the magazines may lead you, young girl, on a similar journey. That you will feel the validation of your external beauty but also get to the deeper business of being beautiful inside. There is no shade to that beauty.
What do all of these quotes have to do with anything, you ask? All of these ladies once believed that they weren't good enough. That their dreams weren't valid -- like their dreams weren't even possible. And now these women are the inspiration for the young girls of today.
Geena Davis says "if she can't see it, she can't be it."
If girls can't see themselves on screen, they'll feel like their dreams are impossible.
Quvenzhané Wallis is 11 years old. She's currently the youngest person to ever be nominated for an Academy Award. She's the face of Armani Junior, Giorgio Armani's line for children. She was nominated for a Golden Globe for her performance in Annie.
And she makes me incredibly excited. She's three years younger than me, but I'm not afraid to admit that she's an inspiration for me.
There are barely any black actresses on Disney Channel and Nickelodeon shows. There used to be That's So Raven. There used to be ANT Farm. Now there's have Dog With a Blog and Nicky, Ricky, Dicky and Dawn.
The original version of Annie is just fine. I could dare to call it a classic -- it feels like almost everyone has seen it. But the best part of this remake is that it has the potential to become a classic for my generation.
Little girls will be able to look to this movie and see themselves -- even older kids will be able to see themselves. They won't be left wondering why they don't see themselves on screen while their other friends can.
Thank you for making this possible. Maybe it doesn't seem like such a big deal to you. Maybe it was just a movie idea you thought sounded interesting, a project you just jumped onto for the fun of it. But it's so much more than that to me.
To see the incredibly talented Quvenzhané singing "Tomorrow" in the trailer gives me hope. Maybe we'll see more starring roles for people of color in the future. Maybe a little girl will see the movie and see herself. Perhaps this will be the start of her career.
Quvenzhané Wallis can be anything she wants to be. She's proved that dreams can be achieved, that little black girls can be movie stars. She's made it known.
Other little girls can follow their dreams.
And every time I see her smiling face in the Annie trailer, I know that I can, too.