I'm a well-published novelist, college professor, writer of serious nonfiction, book buyer, reader of poetry. I mention this because your assuming a person such as I should be counted among your loyal subscribers is not a mistaken one. I've read the New York Review of Books since I was in grad school and working in an art-film movie theater as a ticket taker, paying for my subscription when I very literally could not afford to buy a coat. Over the ensuing 30 years, I've regularly given subscriptions to family and friends, particularly my daughter and daughters-in-law.
Because -- to paraphrase Tom Stoppard -- life is short but the march is long and the march itself is the only thing important. You'll remember that this speech is from "Arcadia" and it's being delivered to a 13-year-old girl by her tutor. It's my passionate wish that all young women of intellectual promise understand their place in this march, and that whatever I have to add to the greater conversation is being respectfully addressed to them as much as it is to you, Mr. Silver.
I also need for you to know that I have never allowed my own work to appear in a collection where it was chosen solely on basis of gender, caste, class, "race," or ethnicity, as these matters -- as important as they are in telling the larger story -- are never reliable predictors of who's doing the best and most interesting writing, as you and I surely must agree.
None of us is race blind, gender neutral, nor is our work.
And it's to seek solace from the idiocy of a nation where the rights and dignity of women and girls across this country are being assailed by fundamentalists, where an archaic and terrifying misogyny is again on the rise, I'll open a publication such as yours where thoughtful people are carrying on the important conversations about art and life in the largest sense.
You can imagine my shock, therefore, when I read down the Table of Contents of the New York Review of Books' most recent issue and thought, "Really?"
I mean REALLY? Well, in point of fact, as Stoppard might say: eg or Don't look down or you'll see what lies below.
Really? the only woman contributor among your 25 is April Bernard, reviewing Frank Bidart's new book of poems? Really? the only female "author" the NYRB exhibits any interest in this time is the unfortunate Amanda Knox, where the theme of the review seems to be which lines are this poor girl's and which belong to her work-for-hire ghostwriter?
From your archives you have managed to find a Joan Didion piece to reprint from long ago. I'm sad, angered, missing Elizabeth Hardwick and Susan Sontag. I am missing them, even as I'm wondering too what have you become.
CORRECTION: An earlier version of this post indicated that Renata Adler was deceased. The post has been edited to reflect this error.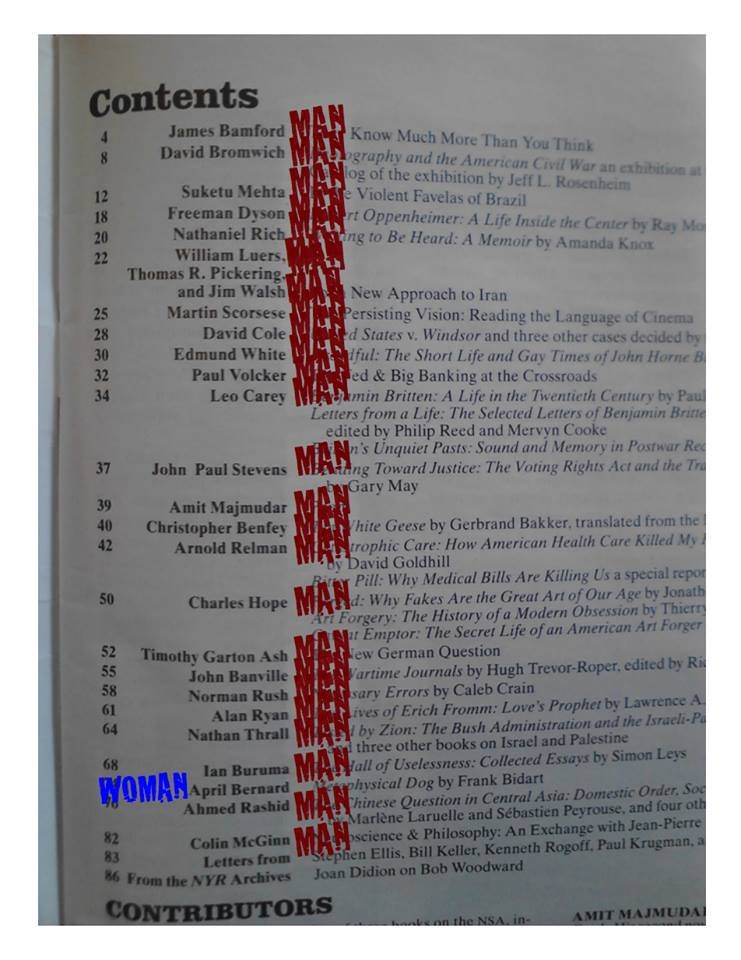 Photo Credit: Internet image, origins unclear, crowd-sourced credit to come
Related
Popular in the Community