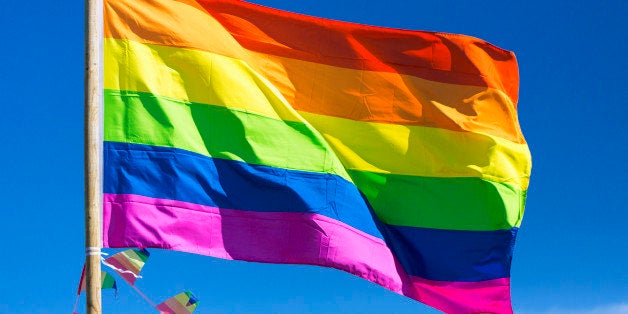 An open letter to the queer community (and the straight world we live in):
This letter is for all the queer people out there who are angry, shocked, scared, depressed, nervous, anxious, terrified, and in tears; it for those who find themselves unable to function normally in light of recent events; it is for the friends, families, and significant others of those affected; it is for the 49 victims of the Orlando massacre as well as the many who were held hostage, wounded, traumatized, and/or hospitalized.
This letter is written primarily for the queer community, but straight and cisgender people should read it well, for if this event has taught us anything, it is that the straight world has a lot to learn. For all non-queer people out there: this massacre is not about you. Do not appropriate this tragedy. Do not use it for your own means. Do not claim ownership over it. Do not show shallow support. Do, however, become educated and involved--right now your silence is very loud.
We are saddened and outraged (but sadly, not shocked) by the homophobic massacre that occurred in Orlando this past weekend. As if the tragic events at Pulse were not horrific enough, much of the media coverage has only made this situation worse. Initially, it was only reported as a shooting at a nightclub. Later, it was noted that this is the largest mass shooting in U.S. history. Early coverage emphasized the shooter's religion, his former place on a terrorist watch list, and his last-second pledge to a terror organization. Soon, it became all about Islam; it became an act of terror; it became a hate crime. Then, the focus shifted to gun control, with people critiquing the government for refusing to limit access to guns, especially in light of the staggering number of mass shooting this year alone.
But in reality, this isn't about religion, it isn't about guns, it isn't about clubbing. This is about being queer. It is about hate. The shooting was most certainly a hate crime, but not against alcohol, or Americans, or Christianity; it was a hate crime against queer people, queer and trans people of color especially. Pulse is a gay club that was having a Latin night with headlining trans women of color scheduled to perform. The mainstream media is choosing to ignore many pertinent facts. They are whitewashing, erasing the queer and trans reality of the events, and hiding the nature of the hatred. Newscasters and politicians are not telling the whole story; instead, they are using this tragedy as a political event, as a springboard for endorsements, legislation, and election campaigns.
This is not about them. This is about victims--and they should not be talked about in the abstract, or have major parts of the identity and life ignored. We need to have vigils for them; we need to cry for them; we need to remember them; we need to say their names:
Stanley Almodovar III, 23 years old
Amanda Alvear, 25 years old
Oscar A Aracena-Montero, 26 years old
Rodolfo Ayala-Ayala, 33 years old
Antonio Davon Brown, 29 years old
Darryl Roman Burt II, 29 years old
Angel L. Candelario-Padro, 28 years old
Juan Chevez-Martinez, 25 years old
Luis Daniel Conde, 39 years old
Cory James Connell, 21 years old
Tevin Eugene Crosby, 25 years old
Deonka Deidra Drayton, 32 years old
Simon Adrian Carrillo Fernandez, 31 years old
Leroy Valentin Fernandez, 25 years old
Mercedez Marisol Flores, 26 years old
Peter O. Gonzalez-Cruz, 22 years old
Juan Ramon Guerrero, 22 years old
Paul Terrell Henry, 41 years old
Frank Hernandez, 27 years old
Miguel Angel Honorato, 30 years old
Javier Jorge-Reyes, 40 years old
Jason Benjamin Josaphat, 19 years old
Eddie Jamoldroy Justice, 30 years old
Anthony Luis Laureanodisla, 25 years old
Christopher Andrew Leinonen, 32 years old
Alejandro Barrios Martinez, 21 years old
Brenda Lee Marquez McCool, 49 years old
Gilberto Ramon Silva Menendez, 25 years old
Kimberly Morris, 37 years old
Akyra Monet Murray, 18 years old
Luis Omar Ocasio-Capo, 20 years old
Geraldo A. Ortiz-Jimenez, 25 years old
Eric Ivan Ortiz-Rivera, 36 years old
Joel Rayon Paniagua, 32 years old
Jean Carlos Mendez Perez, 35 years old
Enrique L. Rios, Jr., 25 years old
Jean C. Nives Rodriguez, 27 years old
Xavier Emmanuel Serrano Rosado, 35 years old
Christopher Joseph Sanfeliz, 24 years old
Yilmary Rodriguez Solivan, 24 years old
Edward Sotomayor Jr., 34 years old
Shane Evan Tomlinson, 33 years old
Martin Benitez Torres, 33 years old
Jonathan Antonio Camuy Vega, 24 years old
Juan P. Rivera Velazquez, 37 years old
Luis S. Vielma, 22 years old
Franky Jimmy Dejesus Velazquez, 50 years old
Luis Daniel Wilson-Leon, 37 years old
Jerald Arthur Wright, 31 years old
We as a community need to help to spread the word about the true nature of the crime, about the lives of the victims, and about the effects this will have on the entire community. We need to make the world understand that this was an attack on our community--on a community that has been repeatedly attacked, threatened, abused, arrested, and raped by the hating majority. We have endured--and will continue to do so--more hatred, bigotry, and acts of violence than our hetero and cis counterparts. We cannot forget the lessons taught to us by pipe bombs in Atlanta, London, and other places, the gruesome torture of Matthew Shepard, or the grim reality of the repeated raids at Stonewall--more importantly, we cannot let the world forget all the violence we have endured and the battles we have fought.
Just because legislation has passed, we are not equal; we and our advocacy groups still have a great deal to fight for. We have never been equal, and abstract laws cannot change the fact that society treats us as inferior. We must inform the world that we do not feel safe; that our homes, our places of work, our schools, our clubs, and our "safe spaces" offer us no protection.
It is not that we do not feel safe "anymore" for violence against queer people is nothing new; we all have been harassed, assaulted, bullied, or threatened in some way. Just because queer bashings, job discrimination, arrests over bathroom usage, and sexual assaults due to queer appearances and clothing are being hidden from media coverage--more example of the homophobic censorship of the media--does not mean that they have stopped. Although we've made progress towards equal rights (with a very long way to go), we still are being victimized by an us-versus-them mentality. This tragedy proves that we are being physically victimized, that regardless of what the press says, we are not safe. Even if we did previously feel safe, in light of Orlando, how can queer people feel safe? How can we not fear every day that we may end up a victim of a queer-targeted mass shooting?
Even worse, how are we supposed to feel comfortable in our "safe spaces," our affinity locations, our jobs, our homes, our bathrooms, our LGBTQIA+ centers, our sanctuaries, our gay clubs? How are we supposed to assume that we are physically safe while attending a pride event? The timing of the massacre was no coincidence. To murder a group of queer people during pride is an extremely hateful act, purposefully done to inspire fear in queer people everywhere, during a time in which we are supposed to be celebrating and reveling in our queer identities.
But pride will go on, and so must we. We should not hide in our houses, we should not skip the parade, we should not avoid the clubs, we should not stop public displays of (queer) affection, we should not go back to acting straight or wearing "normal" clothes, we should not give up on pride. We cannot give up on our queer identities. Now more than ever, we need to be proud. We need to show the world that we will not give up, that we will not be silenced, and that we are strong.
So please, go to pride. Don your sequins and rainbows and glitter and heels. March in the parades. Wave your flags. Cheer at the rallies. Help raise money at the fundraisers. Attend the performances. Most importantly, go to the clubs, and the dances, and the parties; stay out late and dance your heart out. In honor of the victims of the Orlando massacre--may they rest in pride--show that you are proud to be queer and that you refuse to back down.
With hope in our hearts,
Christian and Derrick
two upset queers
Christian J. Lewis
Editor-in-Chief, Queer Voices
Contributor, The Huffington Post
Derrick De Lise
Publisher, Queer Voices
Contributor, The Huffington Post
Calling all HuffPost superfans!
Sign up for membership to become a founding member and help shape HuffPost's next chapter