Dear Adorable Young Couple:
A little while back, our paths crossed on a rock in the middle of San Francisco Bay: specifically, Alcatraz, the federal-prison-turned-federal-park that sits, foreboding yet irresistible, just off the shore of San Francisco. I was there with my family and two visiting nephews from Upstate New York, whose wish list of Bay Area sites was topped by a visit to the famous jail.
You were there with his and hers selfie sticks.
I had actually only seen my first selfie stick about an hour earlier, while we were milling around Tourist Central in San Francisco, a.k.a. Fisherman's Wharf. Near where the sea lions and their eau de poo scent entrance foreign visitors, people were attaching their cameras and smartphones to extendable metal rods and taking pictures of themselves with the barking pinnipeds in the background. Guess it's easier than asking someone else to take the shot, though you meet fewer people, and you're probably trading the risk of someone making off with your camera with the risk of your camera falling off the selfie stick.
At any rate, we probably arrived on the same Alcatraz ferry, at which point my kids and their cousins scampered away from us to explore the island. My husband and I have visited Alcatraz enough that all we really wanted to do was sit in the warm bay sunshine for a while, on a bench near the lighthouse that overlooks the city. That's where we observed you and your dueling selfie sticks (two different lengths) and the thirty minutes you spent in an American national park taking pictures of: yourselves.
You pouted, you shrugged, you extended the selfie stick back and forth for various depth ranges. Sound effects were made. The wind that ruffled the beautiful wildflowers in the Alcatraz garden also blew your hair across your faces, and you liked that so much you snapped even faster. You were filling up that camera card, moving toward a railing, up a step, near the lighthouse, and back again to capture every angle of: your own faces.
Our favorite move, though, was one that you must have practiced in your hotel room repeatedly. It was almost like a pas de deux. First, you'd squeeze together and reach your arms forward to layer your palms onto the camera, covering it. Then, on cue, you'd both pull your arms back with a wiggly finger move, then blow kisses to the camera. That's when the real fun started, because you would then spin in a 365 degree circle waving and blowing kisses while capturing the arc of scenery behind you: the city skyline, the Golden Gate Bridge, the tourists on the bench and the lighthouse. You did this spectacular selfie stunt at least five times, spinning and giggling and blowing kisses. It was impressive.
Anyhoo, the point of this WHOLE note is that I thought it might be helpful if I'd described to you what you missed on Alcatraz because you were busy memorializing your own faces. My goal is to round out your vacation memories so that when people ask, "What did you do in America?" you have a better answer than "Took selfies from a metal stick."
The sight of the San Francisco skyline from Alcatraz is really special: You've got a sweeping view of the Embarcadero, from the Ferry Building past Ghirardelli Square and on up to Fort Point. It takes only a little bit of head swivel to see both the solid red of Golden Gate Bridge and the showy single tower of the new Bay Bridge, each connecting like a Tinker Toy to other parts of the region. It was such a gorgeous day, blue skies with just a few white clouds scudding across. You would have liked it.
I doubt you made it into the cellblocks because the selfie stick lighting there is suboptimal, what with the weathered windows and light-swallowing concrete walls, but there's something undeniably eerie about peering into three floors of cells and the visitor stations. Our favorite part is always the cells made up with the actual dummy heads that fooled the guards during the real Escape From Alcatraz back in 1962. Take my word for it, it's cool. As is the exercise yard and the abandoned Officer's Club.
The biggest thing you missed, though, was the temporary exhibit called @Large, by Chinese dissident artist Ai Wei-Wei. Since he's not allowed to leave China, he conceived of a wide-ranging temporary exhibit that celebrates and contemplates prisoners of conscience, just for Alcatraz - get it, a jail? It's displayed in buildings like the infirmary and New Industries building that are normally off limits to tourists; worth going just to see what those buildings are like inside.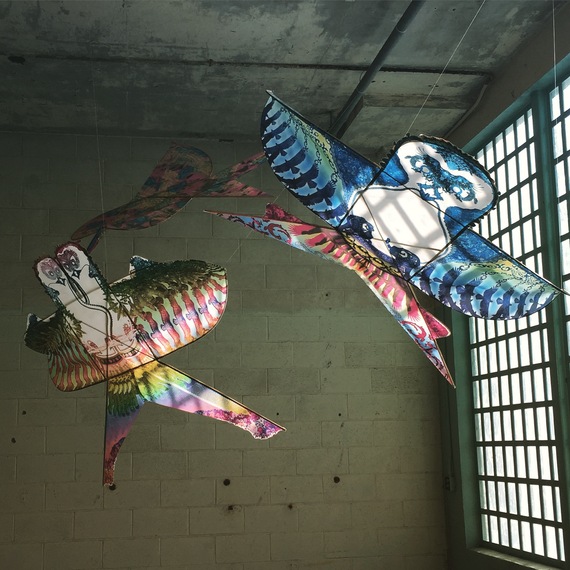 The artwork was gripping, disturbing, thought-provoking, about the jails we see and the ones we can't see, how freedom is taken from us and how we sometimes give it away.
A selfie stick that prevents you from experiencing what's actually happening around you could be a kind of jail, now that I think about it.
I assume you went on to Joshua Tree or Vegas to capture pictures of yourselves after your day at the Rock, but I hope this helps round out the San Francisco version of your trip. And there's no need to thank me. If, however, you're wondering who I am, just look at the spinning Alcatraz panorama shots on your camera card. I'm the blond in the black leather jacket doing the Birdman of Alcatraz Salute with my middle fingers every time you spun past my bench.