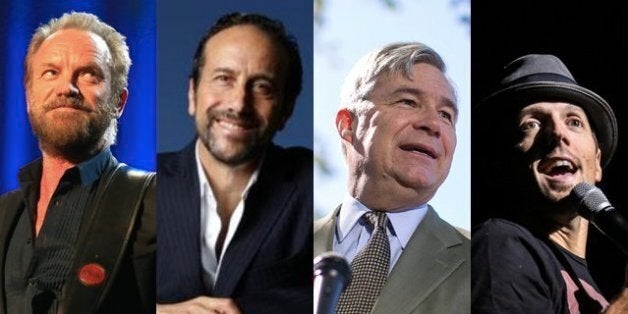 As negotiators struggle in the last few days in Paris, we, the undersigned, would like to suggest the incorporation of a simpler approach to deal with the existential threat facing life on this planet.
Instead of asking, or even begging, corporations and countries to please reduce their greenhouse gas emissions, we would like to agree with Pope Francis that the core issue is, indeed, a moral and ethical one.
We ask the world leaders and their delegates add just one sentence. A sentence that will end the root cause of the pollution of the planet, a sentence that will end the overt and covert subsidies that artificially encourage the emission of greenhouse gases, a sentence that celebrates true, full and honest "free market capitalism" and a sentence that will restore morality to the conduct of governments and corporations around the world. That sentence would read something like this:
"We hereby agree to phase into effect, as quickly as practically possible, measures to fully and transparently account for the costs of developing, producing, transporting, selling and consuming those products generating greenhouse gases and to honestly and fully factor the costs and impact of all such emissions, including all future downstream 'negative externalities,' into the costs of these products."
And why wouldn't the health care costs from inhaling fumes from burning fossil fuels, the military costs of protecting fossil fuel supplies in foreign and hostile countries, the irreparable loss of biodiversity from cutting down rain forests to raise cattle or grow palm oil and even the price of the extremely harmful methane emissions coming out of both ends of cows and pigs on factory farms be included in the cost of coal, of oil, or natural gas and even the meat we eat?
All of these together, and more, are the "negative externalities" that have, until now, been almost completely ignored. They do, however, create enormous changes to our climate and are enormously costly -- stronger storms costing billions of additional dollars, extreme drought costing billions of dollars of damage to food supplies, food shortages causing hunger and increased costs to obtain food elsewhere, increased wildfires costing billions, destruction of coral reefs and other sensitive ecosystems causing current damage to fishing supplies and untold damage to our very web of life well into the future, the devastation of entire islands and many other devastating effects.
Not to include the costs of such "negative externalities" into the cost of the products that produce greenhouse gases actually subsidizes pollution and allows corporations and utilities to privatize profits while, at the same time, socializing the costs. It is not moral and it is not ethical to continue this form of incomplete accounting and to require others, especially poor people and poor countries, to shoulder the destructive burdens of climate change as a result.
It's simple accounting. It's honest accounting. It's what a true "free market" requires ... and it is the right and moral thing to do.
This one sentence, alone, can change the course of our climate, permanently, from this point on. Whether it begins with putting a price on carbon, or "Cap and Trade" or "Cap and Dividend" or any number of other solutions that have been suggested, what is required -- even beyond a potentially historic agreement on reductions and targets -- is an immediate and total commitment to core human values as we take on the urgent task of saving humanity.
And thus we call on all world leaders at COP 21 to embrace Pope Francis' pleas, to adopt just, honest and transparent accounting practices and, after hundreds of years of giving companies and governments a free ride, to finally and simply require that those who pollute our planet pay for the damage that they cause.

Sheldon Whitehouse, Member of The United States Senate
Alan Grayson, Member of The United States House of Representatives
Lord Anthony St. John of Bletso, Member of The British House of Lords
Sting, Musician and Environmentalist
Dr. Jane Goodall, DBE, UN Messenger of Peace, Founder, The Jane Goodall Institute
Graham Nash, Musician and Environmentalist
Jason Mraz, Musician and Environmentalist
Richard Greene, Author and Communication Strategist
Lisa Ling, Television Journalist
Paul Song, Physician
Chevy Chase, Actor and Environmentalist
Jayni Chase, Environmentalist
Thom Hartmann, Author, Radio and Television Host
Louie Psihoyos, Documentary Film Maker, "The Cove", "Racing Extinction"
Marshall Herskovitz, Producer and Writer
Richard Schiff, Actor and Environmentalist
Aimee Christensen, Environmentalist
Chiara Greene, Film Maker, Wildlife Conservation Advocate
Felix Finkbeiner, Student, Future Environmental Activist
Larry Schweiger, Fmr. Executive Director, National Wildlife Federation
Kevin Surace, Environmental Entrepreneur
Andy Lipkis, Founder, Tree People
Louie Schwartzberg, Nature Cinematographer, Moving Art
Zoe Alexander, Television Producer
Scott Harris, Founder, Innovative Artists Agency
Kathleen Rogers, President, Earth Day Network
Wyland, Marine Life Artist
This post is part of a series produced by The Huffington Post, in conjunction with the U.N.'s 21st Conference of the Parties (COP21) in Paris (Nov. 30-Dec. 11), aka the climate-change conference. The series will put a spotlight on climate-change issues and the conference itself. To view the entire series, visit here.
Calling all HuffPost superfans!
Sign up for membership to become a founding member and help shape HuffPost's next chapter