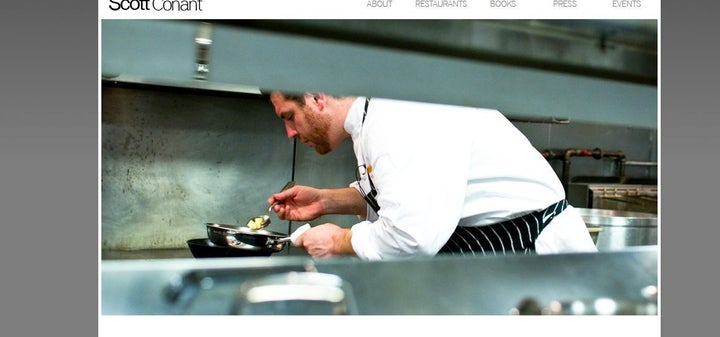 Dear Toronto (or, "T-Dot", as I've learned you're affectionately called):
You don't really know me -- and that's okay. I'd just like to introduce myself. My name is Scott Conant and I'm a chef.
I've been fortunate enough to open a few of my own restaurants, and even more fortunate that people actually like going to them. More than I could have ever imagined. It's really unbelievable. I'm a lucky guy.
I have this restaurant in New York City, where I live. I call it "Scarpetta." I don't know if you're into etymology or anything like that, but in Italian (that's the kind of food I cook) Scarpetta means "little shoe" -- but it's also Italian slang for when you take a little piece of bread and sop up all the sauce left up on your plate.
I like the name, because that's what I'm always trying to do -- make food that people will really want to enjoy down to the last bite, drop, whatever.
Just good, honest food, Toronto -- cool?
The people in New York City really took to Scarpetta. So then I decided to spread the love a little bit, and we opened up another Scarpetta in Miami Beach, and the people seemed to like it there as well.
Miami is really beautiful, T-Dot. You should check it out sometime.
Anyway, then some other people came to me and asked me if I would ever entertain the idea of opening one of my restaurants in Toronto -- that's you.
So, before anything else, an apology. I grew up in the northeastern United States and I've made New York City my home for nearly twenty years. For a lot of that time, I hadn't had the chance to make it over to you for more than a day or two.
Then, a while back, I hopped on a flight that was shorter than most crosstown cab rides I've been on, and I arrived. I'm sorry I hadn't come sooner.
After a short time bouncing around Ontario, I've realized that the Niagara Peninsula has been about sourcing and presenting their local bounty for far longer than we have in America. The undercurrent of passion -- from farmer, to purveyor, to my fellow cook, was amazing. Everyone whom I encountered had a love of food, and especially of their food -- which I love.
Most important, they shared my philosophy: if the Earth was good enough to give you that perfect something, just let its inherent goodness shine through.
I was truly amazed: I sampled robust, tangy lamb from a bit up north. Well-marbled and impossibly flavorful beef from Alberta. Better charcuterie inspired by both the French and the Italians than I have had in either country. Peaches and strawberries with a depth of flavor I have never experienced. Stunningly tender, sweet lobster, cod, and mussels from just a short bit away. More mushrooms than I could identify or even begin to think about using.
I don't think I need to tell you how great the wines are, either.
So there I was, Toronto. Eating some of the best culatello and prosciutto I've ever had, amongst thoughtful and kind people, I decided -- I've got to come to this city. It just made sense. Your people love food -- and that's really all I need.
I know, I know, I'm an outsider. It's stressful enough opening up a restaurant around the corner from my apartment, and here I am in another country. Of course I'm worried, but at the end of the day, I simply try to make honest, delicious food. My other basic principle is to simply make the customer happy.
Related