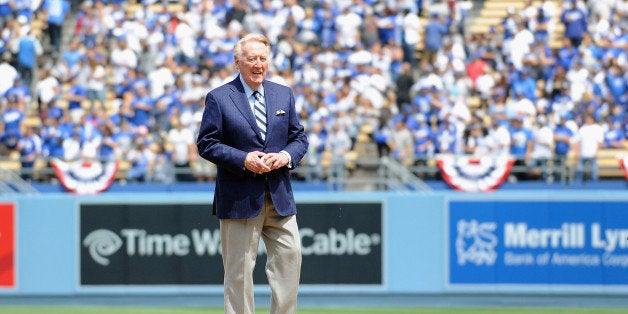 I'm originally from New England, but have been following the Dodgers and attending their games since I moved out here in 1982. I have always had the utmost respect and appreciation for what you do, and it will be a sad day in this land when you finally hang up your golden microphone.
It will be a sadder day, however, if the current, seemingly unending squabble between the Dodgers, Time Warner Cable and DIRECTV over the rights to the Dodger network TV broadcasts is allowed to continue much longer. As you know, two thirds of the Los Angeles market was shut out of watching the games virtually all of 2014, which included masterful no-hitters by Josh Beckett and Clayton Kershaw, a triumphant Western Division pennant race with the Giants, and another season listening to your classy, informative tones for entire games.
It was unbelievably aggravating. For Dodgers fans truer and bluer than I, it must have been a nightmare. The entities with the power to end this stalemate have now had an entire offseason to take care of business and ensure this never happens again. So far, they have accomplished nothing. The issue has been written about in the Los Angeles Times and elsewhere, discussed (though likely not enough) on local sports radio, yet no solution even seems to be in sight.
In my mind, it is only a matter of time before angry Dodgers fans stop attending the games altogether. I certainly intend to be one of them. The Dodgers are more than just a team and a corporation; they are a public trust. Older fans who first attended Dodgers games at the Memorial Coliseum, then moved on to Chavez Ravine and supported them for decades, merely want to relax at home now and watch them on TV with your wonderful announcing. Depriving them, even more than the rest of us, is a selfish, unacceptable crime.
Therefore, I am asking if you would do the one sensible thing that may finally put an end to this quagmire. Just pick up the phone, call the Dodgers, and say "Either fix this thing now, or I walk." Sure, there's likely no legal or contractual way this could even happen, but boy, would you ever be more of a hero to Dodger Nation than you already are. There would be a Vin Scully statue in every Southern California town.
You may say I'm a dreamer, Vin, but I can assure you: I'm not the only one.
Jeff Polman writes about baseball for various Internet publications and writes "fictionalized" historical replay novels. Mystery Ball '58, his latest one, will be available on Amazon in a few weeks.
REAL LIFE. REAL NEWS. REAL VOICES.
Help us tell more of the stories that matter from voices that too often remain unheard.