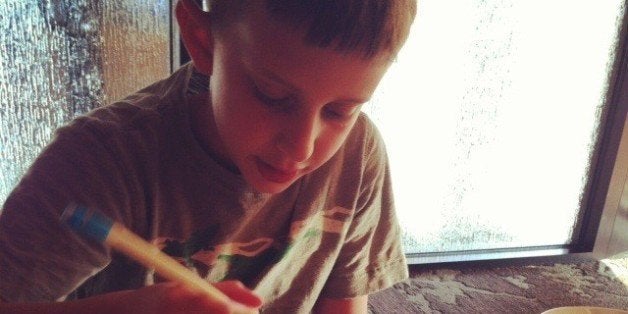 A rushed evening. With kids aged 9, 5 and 2, all of my evenings are, it seems. But that night was particularly rushed. Not only was it Curriculum Night at the kids' school, but my husband was flying in from a work trip, our dining room ceiling was torn up from a suspected bathtub leak above and the floor was littered with post-vacation laundry (never mind that the vacation was two weeks earlier). Back-to-school papers and leftover birthday cards bumped into each other on the kitchen table and I scurried around trying to get the kids fed before picking up our babysitter.
Pretzel dogs -- it's what for dinner! I threw down a cup of mandarin oranges, a glass of soy milk and a microwave-steamed bag of green beans. We've covered all the food groups, right? It's not our usual, but would have to do for that night, anyway. Now, if I was able to just get them eating, I'd get a minute to make sure I didn't have stains on my shirt. I still had to organize the papers that my role as Kindergarten Room Parent required me to arrive with in the classroom that night and baths to give.
Plop, plop, plop, swish, swish, swish. Three plates filled with food and three plates distributed via a push across the countertop to three hungry kids.
"No, I don't know when Daddy will be home."
"Yes, the babysitter is coming tonight."
"Well, go potty then"
"What's wrong, why are you crying?"
As they usually do, my 5-year-old and 2-year-old daughters claimed the energy of the room with their requests and chatter. My 9-year-old son, with a bit more maturity (a bit!) and the appetite of a boy his age, fist-pumped the air when we saw the pretzel dogs and let out a "For dinner, really?!?" I sighed and nodded. He enthusiastically responded with a "Yes!" before digging in and taking a bite.
Despite the chaos of his little sisters, the house and the to-dos for the evening, a thought managed to present itself to the front of my mind. Shoot! I didn't double-check the ingredients on the pretzel dogs when we purchased them at Costco the past weekend. We've had them many times before, but in the craziness of the Sunday afternoon family shopping trip, I didn't remember to actually read the ingredients this time.
I've been reading ingredients on everything we purchase for the past nine years, ever since my son, Jack, at just 15 weeks of age, went into anaphylaxis in response to his first sip of formula. Since then, our household has been free of his allergens -- dairy, egg and nuts -- in order to keep him safe.
"Wait!" I said to my son, "I have to check the ingredients!"
Obedient and respectful, he paused immediately, "But I've had them before, Mom"
"I know," as I pulled open the freezer door, "it's probably OK, but sometimes, the ingredients can change." I only saw pretzel dogs in plastic bags, but no exterior box with the ingredient labeling. In order to make freezer space, I hadn't saved the box.
"Just wait a second" I asked and went out to the recycling bin, where I flipped over box after box and couldn't find it.
I hurried back in and told Jack that I couldn't find it. I reassured him that it was probably no big deal, but we needed to check. He was getting a bit more concerned now and reporting that he just had one bite, but didn't feel itchy or anything. He followed me around and I pulled up the Internet browser on the laptop.
"What was the brand? What was the brand?" He and I did an image search and our detective work was rewarded when we recognized the black box and red writing.
"That's it!" he declared. I could tell that he was very hungry and really wanted to eat the pretzel dogs... and I could tell that he was getting a little worried and really wanting to know that the ingredients were safe.
"Good, here it is," I said as I scanned the ingredients. Suddenly, I landed on the words "contains milk" and my body stiffened. I started thinking about how I wasn't sure that this was the same box online that we had purchased... how in the past they had been fine... how he said he felt fine... but most importantly, how we needed to confirm.
Jack sensed the quick change of pace, as did the girls. Everyone was suddenly alert.
"Jack, get your EpiPen and come with me! Stay close. Girls, stay right there." Jack grabbed his EpiPen and I grabbed my cell phone, poised to dial 911. We ran outside to the alley behind our house and tore open the garbage can. It was hot and humid, still 90 degrees at 5:30 p.m.
Dressed in white pants for a meeting that started in just 30 minutes, I flipped over the garbage can and began digging through food scraps and bathroom tissue. Jack kept reporting that he felt fine, he'd just had one bite.
"It only takes one bite, Jack," I responded as I tore through the garbage.
Halfway down, I located the box and together, we read the ingredients on the back. I started laughing out loud and said, "Whew! Its all fine, Jack... same ingredients as before. You can go eat dinner."
We started walking back towards the house and his fussing little sisters. Sweating, I wiped the hair off my forehead as Jack patted my back and said, "You're a good mom!"
We made it through Curriculum Night and the busy days that followed. With everything going on, I didn't think about the chain of events surrounding the pretzel dogs again.
In fact, I didn't remember anything about the pretzel dogs until two days later, when I watched the interview with Natalie Giorgi's parents. Natalie is the 13-year-old who died at a family camp after accidentally taking a bite of a dessert with peanut butter in it, despite being administered three EpiPens and practicing a lifetime of diligence. Her parents spoke out last month about the need for allergy awareness in hopes of starting a national discussion. As I watched them, I cried. I wept. The floodgates opened and out came my fear and sorrow as I wept for Natalie and her parents, siblings and friends. And I also cried for all of us living with the everyday fear of food allergies, be it in a convenience-based pretzel dog dinner or a celebration-focused camp dessert.
I vowed to follow the Giorgi's example and their call for increased allergy awareness. I am encouraging friends and family to watch the documentary, Food Allergies in America: An Emerging Epidemic narrated by Steve Carrell and airing on The Discovery Channel. My son created a team to support food allergy research and awareness by joining a FARE Walk for Allergies at the end of the month. I have re-promoted a piece I wrote last spring about what its like to be an allergy mom and recalled the pretzel dog story to family and friends and now, to you.
The events surrounding our pretzel dog story may seem unremarkable because of their (thankfully) happy ending. Yet this story is important because it showcases a snapshot of what life is like when you have a child with food allergies. In fact, these fleeting moments of panic, interwoven between everyday life, are remarkable because they are so unremarkable.
You can learn more about supporting food allergy research and education at www.foodallergy.org. This post originally appeared on www.carissak.com. You can read more by following Carissa on Twitter @CarissaK and Facebook at www.facebook.com/carissakwriter.