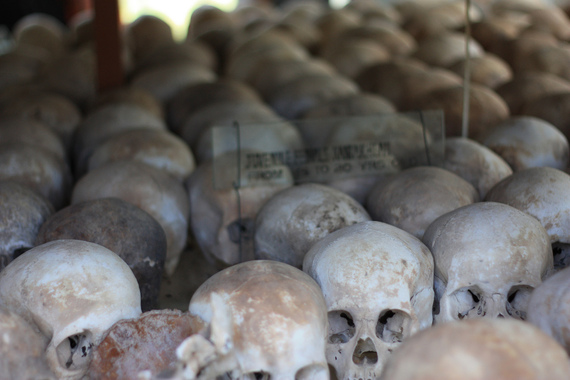 (Photo: Leo Fung / Flickr Creative Commons)
Co-authored by Dan Sullivan, Director of Policy and Government Relations at United to End Genocide. Follow Dan on Twitter @endgenocidedan
Millions of lives. Billions of dollars. Countless horrors. We're not talking about Syria, or Rwanda, or even the Holocaust. Rather, these are the statistics for the genocides and atrocities that have not happened.
They haven't happened because of early efforts to prevent them.
The violence today in Syria, Sudan, South Sudan, Burma and other places are all too clear reminders of the consequences of failed prevention.
We lament them, point fingers, worry about the threats to our national security that stem from the power vacuums they create, and pour out billions of dollars in humanitarian aid to do SOMETHING in the face of unspeakable suffering. But too rarely do we stop to reflect on what could have been done to prevent these atrocities from happening in the first place.
Enter the Genocide and Atrocity Prevention Act, a bold new effort that would train U.S. foreign service officers to see the early warning signs of genocide and atrocities, provide the flexible funding needed to start early programs known to mitigate the risk of violence, and ensure that the risk of atrocities, anywhere in the world, gets the attention and cooperation of the highest levels of government, across a dozen agencies.
This bipartisan effort, introduced by Senator Ben Cardin (D-MD) and Thom Tillis (R-NC) with several others builds on a history of cooperation toward preventing the tragedies of war and the worst crimes against humanity, from President Ronald Reagan's signing on to the UN Genocide Convention to President Barack Obama's establishment of an Atrocities Prevention Board to ensure better high-level coordination and tools to stop this scourge against humanity.
These efforts have seen real success. USAID has used new flexible funding (the Complex Crises Fund or CCF) since 2010 to support prevention efforts ahead of elections in Kenya in 2013.  In Kenya's previous election in 2007-08, some 2,000 people were killed and tens of thousands displaced by violence as the United States struggled to find funds to support African-led mediation efforts that would eventually end the crisis.
Similarly, the CCF has been used to stop a cycle of escalation in Guinea through programs to build social cohesion on the ground, and to fortify Jordan amidst an unprecedented refugee flow from Syria (including water management programs and conflict mitigation trainings in 135 communities).
The Atrocities Prevention Board, set up in 2010, has brought together high-level officials from numerous agencies (including the Departments of State, Defense, Homeland Security, Justice, and Treasury) on a regular basis to scan the world for risks of atrocities and respond before violence escalates, notably drawing early attention and resources to Burundi and the Central African Republic (CAR). While these efforts did not prevent all acts of violence, they have allowed far better preparation and tools for the United States and the world than have been available in the past.
As U.S. Assistant Secretary of State for Africa Linda Thomas-Greenfield testified at a recent Senate Committee on Foreign Relations hearing, in CAR "a lot of people died but more people could have died if we weren't as proactive". She credited the Atrocities Prevention Board with ensuring early attention and identifying key tools for addressing atrocities in CAR as well as in Burundi.
Additional appreciation was echoed by Special Envoy for the Great Lakes Region of Africa Tom Perriello, who noted that proof of success could be seen by increasing requests by U.S. ambassadors closest to the atrocity risks for Atrocities Prevention Board support.
Similarly, Lee Feinstein and Tod Lindbergh, in a recent Foreign Affairs piece exploring the work of the Atrocities Prevention Board, found that the Board "has done a significant amount of atrocity prevention work" including succeeding "in elevating awareness of risks of atrocities in Burundi when little attention was focused there." Specifically, they noted that the Board's high-level attention to Burundi, as early as 2012, has helped to provide additional resources for the U.S. Embassy in Burundi and to generate programs to counter-escalation including carrying out youth outreach and trainings in human rights monitoring and violence mitigation that have reached thousands.
The Genocide and Atrocity Prevention Act builds on these successes. It reverses the trend of a declining budget for the Complex Crises Fund. It more securely establishes the Atrocities Prevention Board and training for those who are best positioned to recognize risks and identify options early on. And it improves early warning and attention by adding a requirement for the Director of National Intelligence to identify the countries at greatest risk for genocide and atrocities in his annual intelligence briefing to Congress.
This approach saves lives, saves money, and saves the ink from newspaper headlines displayed with the tragedy of too little, too late. In short, it is something that everyone can get behind.
Calling all HuffPost superfans!
Sign up for membership to become a founding member and help shape HuffPost's next chapter