To underscore this point, we are calling on friends, supporters and everyone who is outraged that my brother and friends remain imprisoned for no legitimate reason to protest by organizing events throughout the US and the world for a weekend of action starting on July 30th.
Update on the Hikers' Case
The last public comment from an Iranian official about the hikers case was on June 11 by Mohammad Javad Larijani, a senior member of the judiciary and head of Iran's High Council for Human Rights. Below are a few quotes from that statement:
"The issue of detainees should be pursued on the humanitarian level and not be muddled with other issues."

"I think [a trial] should not be very far from now."
Javad Larijani made similar statements on February 15th, Iran's Foreign Minister Mottaki made similar statements in early January and President Ahmadinejad made similar statements last September. We continue to wait for some sign that their case is indeed coming to a conclusion and that these promises are not totally empty.
Josh, Shane and Sarah have not been able to see their lawyer, Masoud Shafii, and have had no contact with the outside world since their mothers' visit in late May, a visit that was inexplicably cut from seven days to two (and this one hour before they departed for Tehran and after waiting for over five months for one-week visas).
Clearly the excuse of an ongoing "investigation" and the repeated reassurance that their case is being treated within a legal framework is an excuse for the fact that Iran is treating my brother and his friends as bargaining chips. If Iran had the thinnest thread of evidence it surely would have publicized it extensively by now. When the mothers were in Iran, Josh, Shane and Sarah told them that they hadn't been interrogated since early December, when Josh and Shane were finally placed in the same cell and the conditions of their detention eased a bit. However, Sarah still sits in solitary confinement and is only able to see Shane and Josh for brief periods. This extreme isolation risks inflicting lasting damage to her emotional and psychological well being. Her medical records have not been made available to her family, raising fears that the medical tests contain troubling information about her gynecological condition.
All of this for what? The Nation magazine recently reported that my brother and friends were not even on Iranian territory when they were detained. While this report is unsubstantiated, it highlights the fact that the charge of illegal entry still needs to be proven in a free and fair court of law.
From the hikers' lawyer, Masoud Shafii, I understand that according to Iranian law the investigation period needs to end within four months; obviously, that has not happened. Mr. Shafii informed our families that another Iranian law stipulates that prisoners who have spent the minimum sentence in jail without seeing a judge must be freed immediately. The minimum jail sentence for illegal entry is one year, although the standard punishment is a $50-$300 fine. If Josh, Shane and Sarah are held beyond a year without any semblance of justice their detention will reach a new level of illegality, a new level of immorality, a new level of inhumanity.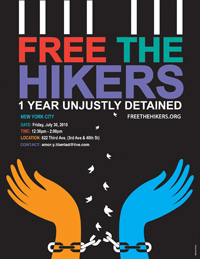 A year ago, as I skipped stones into the Baltic Sea with my brother (he was visiting me in Sweden) he shared with me his plans for the future. He was leaning toward going on to graduate studies, not going on to languish in Iran's notorious Evin Prison.
Josh, Shane and Sarah are talented and caring individuals who have worked to improve our world by advocating for social and environmental justice. They need to get back to their lives, get back to bringing joy to our families and their friends, get back to their noble pursuits.
So far Iranian authorities have been deaf to humanitarian appeals from the likes of Desmond Tutu, Ela Gandhi, Mairead Maguire, Fernando Henrique Cardoso, Noam Chomsky and many others. They need to hear from all of us together. Join the mobilization to tell Iran that enough is enough on the one-year anniversary of the hikers' detention. Flagrantly playing politics with the lives of innocents is unacceptable. Iran, let them go now!
•Join the hikers' mothers, human rights activists, friends and supporters in a protest outside of the Iranian Mission to the United Nations (40th St. and Third Ave.) in New York on July 30 between 12:30 and 2pm
•Attend a protest event on July 31 that is already being planned in Philadelphia, PA; San Francisco, CA; Los Angeles, CA; Duluth, MN, Washington, DC; Boulder, CO; Lunenburg, MA; Birmingham, AL; Elk Grove, CA; Seattle, WA; Cottage Grove, OR; Frankfurt, Germany; Paris, France; Marbella, Spain; New Delhi, India; Vancouver Island, Canada; Vancouver, Canada; Toronto, Canada
•Organize a protest event wherever you are and contact Farah Mawani to let us know about it: farah@freethehikers.org
•Wear a white ribbon or other Free the Hikers gear to spread the word that their unjust and illegal detention needs to end
•Join our Facebook group and invite all of your friends to do the same
•Write to Ayatollah Ali Khamenei calling for the hikers' release

Popular in the Community