Ask someone "What is one thing I must do in Ireland?", and you're sure to get a range of answers, from the stereotypical (but absolutely worth it) visit to Guinness Storehouse, to kissing the Blarney Stone, or watching a hurling match. As an expat currently living in Dublin, I would unequivocally tell you, however, "Go to a session."
The Irish trad session ("trad" being short for traditional, which took me an embarrassingly long time to realize) is a musical event like no other and one that no visitor to Ireland should miss. They run the gamut from contrived to completely organic, and while organic is always preferable, the quality of music in Ireland is such that even a touristy gimmick in the Temple Bar area has the potential to be a fun, lively evening full of rollicking tunes and showman musicians quipping with the audience in their lilting, Irish brogue.
Pubs in the city center become full to bursting by the time the music starts, so get there early if you want to sit, but seats with a view of the musicians are in high demand. Options in the Temple Bar area abound, including The Oliver St. John Gogarty (the mouthful of a name of which comes from an Irish writer, doctor, and politician who was immortalized as a character in James Joyce's Ulysses), The Auld Dubliner, and of course The Temple Bar itself, a stereotypical classic (although beware the crowds).
It's hard to predict just what instruments you might hear, as a session can spring out of anything. There's usually at least one fiddle, often accompanied by guitar, banjo, mandolin, and if you're extra lucky, flute, bodhrán, uilleann pipes, or concertina (a small accordion-like instrument). Many musicians in Ireland are skilled on more than one instrument (sometimes as many as six or seven), so you'll often see them passing instruments around or choosing a different one for each song.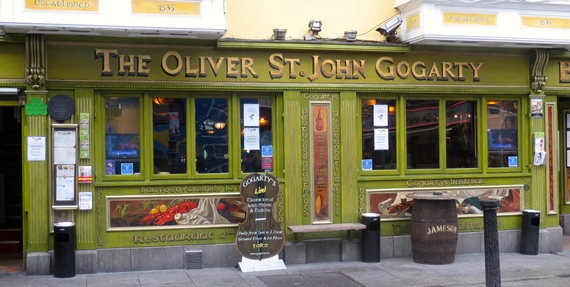 One of the main differences between planned sessions in tourist areas and organic sessions in local pubs is the attitude of the performers to the listeners. Temple Bar musicians put on a show, and, to be fair, it's usually a good one. They ask the crowd where they're from, joke with the audience, and encourage requests for particular songs. They also generally play the crowd-pleasers that the international audience might know: "Galway Girl", "I'll Tell Me Ma", "Fields of Athenry" and "Dirty Old Town", among others.
This is in contrast to the musicians who pull out their instruments on a whim at a local session; you're less likely to hear familiar songs unless you're an aficionado, there might be more instrumental pieces, and, if you're lucky, an audience member may pull out a guitar and play an original piece or stand up with a mesmerizing sean-nós performance (Ireland's traditional, highly ornamented style of singing).
There is also more focus on the music, and the musicians seem not to care, or often even notice, that anyone is watching them. It's clear from the lack of show that they're doing this for the music, not the performance. They gather in a group around a table covered with half-drunk pints of Guinness and discarded guitar picks, and often many of them have their backs to the listeners.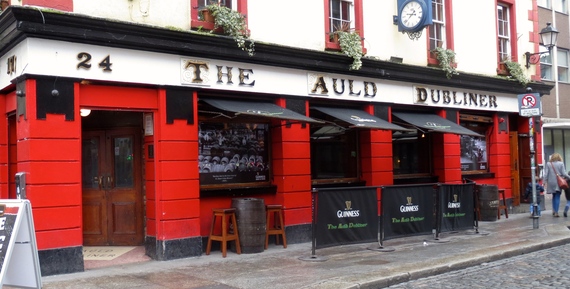 An excellent example of this happens weekly at Walsh's, in Stoneybatter. A local duo, Ye Vagabonds, plays every Monday, along with any other musicians who show up and care to join in. Everyone gathers around a table in the corner, paying virtually no attention to the observers, who range from captivated onlookers to casual bystanders more interested in their own conversation (although the latter is not advised: if you're in a pub to hear music, don't try to loudly talk over it).
Of course, as almost anyone in Dublin will tell you, the best place to go for world-class trad music is The Cobblestone, advertised on their website as "A drinking pub with a music problem." In addition to being the quintessential venue for experiencing Irish music and the place where you're most likely to hear uilleann pipes in a session, The Cobblestone is dedicated to promoting Irish culture and the traditions surrounding the music. They host regular sessions in trad music, folk, bluegrass and country, in addition to set dancing, sean nós singing and dancing, and local talks about history and culture.
Regardless of what pub you step into, be prepared to share a table with your neighbors; seating can be so hard to come by that nobody is picky, and the friendly atmosphere encourages sharing and camaraderie. However, you may also have to stand, especially if you want a good view of the musicians.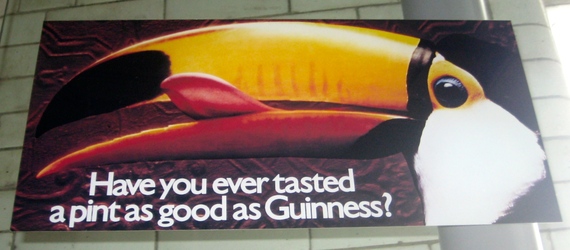 Order a glass or pint of Guinness. There's often a fine line between stereotypical and cultural, and in this case, Guinness falls on the side of cultural. Embrace it. Ireland has many other quality beers, but in such a traditional setting, you don't want anything else.
But, more than anything, don't order a light beer. I once saw the beleaguered bartender at The Temple Bar rush to the back room just to grab a dusty bottle of an American light beer. You're in a land that prides itself on its beer, and for good reason. Don't be that person. However, if you don't imbibe, it's completely acceptable to order juice, soft drinks, and, surprisingly (or maybe not, this is Ireland), tea. I've seen many an individual enjoying a hot cup of tea during the most boisterous of sessions.
Lastly, unglue yourself from your phone. We all want to constantly take pictures and videos; it's just a facet of the time we live in. Pics or it didn't happen, right? Take a few pictures or a quick video if you must, but don't try to film every song or sneak around the musicians trying to get the perfect instagram shot. You can't clap along to the music if you're holding your phone.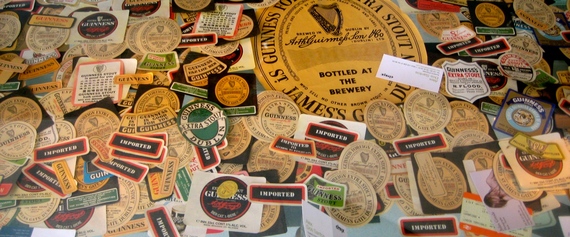 You could spend years in Dublin, let alone the rest of Ireland, and never make it to all of the pubs, but it's hard to go wrong no matter what type of session you find. If you're in Ireland for more than a short trip, try out a few pubs and find one you like; although you will always be warmly welcomed as a visitor, there's nothing like becoming a regular. Who knows? Brush up on your skills and you may be asked to share a tune.