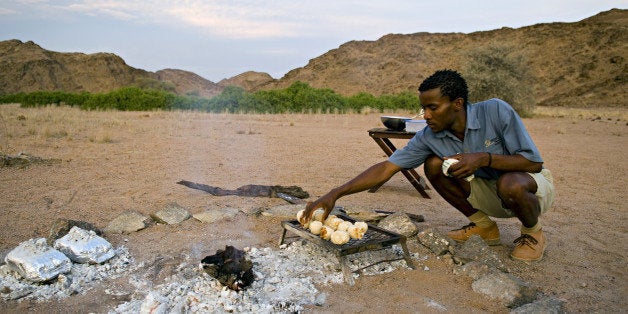 Parents everywhere want their children to grow up safe and healthy -- but more than 1 billion people face health risks simply because they don't have modern energy services.
Around the world, roughly 1.2 billion people have no electricity, and more than 2.6 billion cook, heat, and light their homes with solid fuels like charcoal, wood, and kerosene. That's more than a third of all the people on Earth.
Behind these numbers are real people facing real dangers:
•The woman in Sierra Leone who suffers from pregnancy-related health complications and gives birth in the darkness of night at a rural health clinic without electricity;
•The mother in China who spends hours each day cooking over an open fire, using fuels like charcoal and wood that produce toxic smoke in the house where her children play -- the type of smoke that is responsible for 4.3 million deaths a year;
•And the girl in a refugee camp in Ethiopia who is vulnerable to violence when she has to walk around the camp in the dark to use a toilet.
At the same time, the way we now use energy in the world -- burning fossil fuels like coal and oil -- is causing our climate to change in ways that are disproportionately hurting the poorest, many of whom are women and children. Drought, disease, and extreme weather put their health and safety at risk.
While these challenges are serious, so are the opportunities. Sustainable energy solutions can help women and children stay healthy while protecting the planet.
For example, off-grid solar technologies can provide the power that health facilities need to turn on the lights, sterilize medical equipment, and keep vaccines cold. Solar lamps can help girls walk more safely at night and study in the evenings. And clean cookstoves and fuels can prevent women and children from inhaling deadly smoke.
The benefits of sustainable energy extend beyond health. Safe, clean lights enable children to study after the sun goes down. Clean cooking technologies reduce the time spent on cooking and fuel collection, allowing women to pursue economic opportunities. And clean energy is essential to the fight against climate change, which affects our economy, our security, and our health.
There is good reason for optimism: Clean energy technologies continue to improve while their costs decline. In fact, many of them are affordable today and cost less than the dirty and dangerous fuels in use now.
We have solutions, now we need action.
The United Nations, under the leadership of Secretary-General Ban Ki-moon, launched a Sustainable Energy for All initiative in 2011 to ensure everyone has access to modern energy, to expand the use of renewable energy, and to promote energy efficiency.
This week, leaders are gathered for a forum at the UN where they will discuss action to improve women and children's health through sustainable energy, among other topics.
The UN Foundation, in partnership with the World Health Organization and UN Women, is supporting this initiative through a new effort on energy for women and children's health, focused initially on bringing electricity to health clinics that don't have it, especially in Africa.
These steps are important -- but we must make sure they are the start, not the end, of our efforts. We need strong commitments from governments, businesses, and advocates to support increased access to sustainable energy. And we need people all around the world to raise their voices in support for action on these issues.
If we act, we can improve the lives of women and children while safeguarding the planet: a win-win opportunity we can't afford to miss.
Popular in the Community