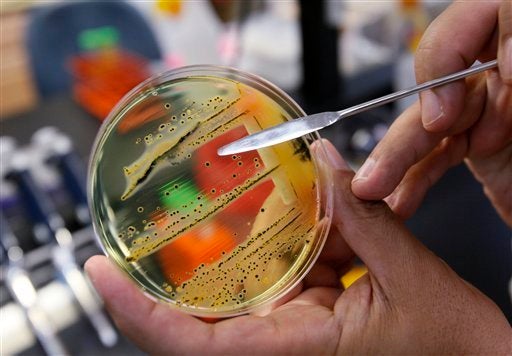 A sex parasite that causes one of the most common sexually transmitted infections is nearly twice as prevalent in women 50 and older, according to new information presented at the International Society for STD Research Tuesday. It raises questions about whether estimates suggesting the highest number of cases of trichomonas vaginalis are among women age 16 to 35 are accurate.
Investigators looked at a pool of more than 7,500 women, age 18 to 89. Prevalence of the parasite, which causes the infection trichomoniasis, was lowest in women age 18 to 39, but it increased with age: 9.8 percent of women age 40 to 44 had the infection, while 13.4 percent of women age 45 to 49 did. Some 13 percent of women age 50 and older were infected with "trich," as it is sometimes known.
"We usually think of STDs as more prevalent in young people, but our study results clearly show that with trichomonas, while too many young people have it, even more older women are infected," senior study investigator and Johns Hopkins School of Medicine professor Charlotte Gaydos, M.S., Dr.P.H., said in a statement.
The parasite, which is spread through intercourse or vulva-to-vulva contact can result in itching, discharge and odor in women and men. It is treatable with antibiotics, but left untreated, can lead to complications in the cervix and can also increase a woman's susceptibility to contracting and transmitting HIV. According to the Centers for Disease Control, some 7.4 million new cases of trich occur every year.
Part of the problem in combatting spread of the infection has come in screening; until recently, physicians have relied on methods experts say are not particularly sensitive in terms of detecting the disease. In April, the Food and Drug Administration cleared a nucleic acid test aimed specifically at detecting trichomonas, which researchers hope will help remedy this challenge.
But Gaydos argues that another issue is that older women are simply not getting screened, particularly because they are often symptom-free. Many older women think they are not at risk, which Gaydos said is not true.
"Older women have more exposure to sexual partners and sexual acts," she explained. "Simply put, they could be at greater risk just because they've had more sex."
While Gaydos cautioned that further research is necessary to determine what exactly is behind the increase, she offered several possible hypotheses explaining the STI uptick in older women, saying that older women might be less likely to use condoms if they are with stable partners and citing the pool of older women who re-enter what she dubbed the "sexual arena" after a divorce.
The study's authors also cited the role of the CDC. Unlike with chlaymydia and gonorrhea, confirmed cases of trich infection do not have to be reported, which Gaydos says keeps officials from accurately tracking the disease. (The CDC did not immediately respond to a request for comment.)
But Dr. Jeanne Marrazzo, a professor of medicine at the University of Washington and medical director of the Seattle STD/HIV Prevention Training Center, said that while mandatory reporting could theoretically help officials better grasp the scope of the disease, it could also place an additional burden on the healthcare delivery side, with providers and labs needing to take extra steps and learn new techniques.
Another important issue to consider, Marrazzo said, is what an STI diagnosis in older women does to them personally.
"How do these women react when they get this diagnosis?" she asked. "How are their sexual partners going to react when they hear this news? Many of them are at a point in their life where they have been in a monogamous relationship for a while. We are going to have a lot of infections in people who do not consider themselves at risk for STDs."
Related