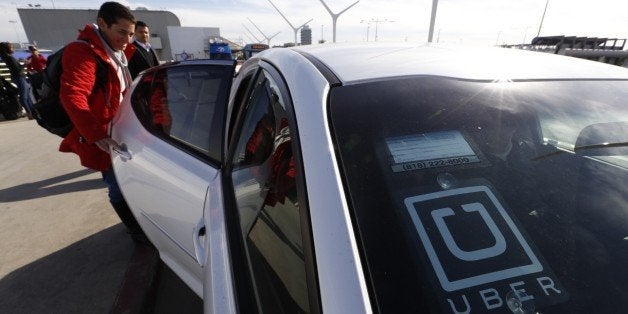 I drive an Uber. I know that it's my one year anniversary this month, but I don't remember the exact date I started. Carlos was my last rider tonight. He was already a bit high at 7:30 on a Sunday evening but wanted to get out of the house, I suppose. He asked to go to a bar only about two miles from home but before he got out he made sure I knew how much he loved me and finally asked if I could give him some advice on women. Of course I can't really, but I threw him a bone about not being too needy. Carlos was a well spoken, well dressed and handsome young man. I couldn't figure it out, but he is just one of many.
My 72 years have not put me in a much better place than Carlos. My husband moved to the wilderness of the northwest years ago and I stayed put with an ill mother to care for, and to keep my little business going and our children and grandchildren close. I still don't care for the idea of a long distance marriage but it has become our normal.
After Jim left and my mother passed, I sunk my life into work and grandchildren. By 2002, after ten years in business, I negotiated for a darling old house on Main Street in the best coastal town in Southern California. I could use it for an office and living space, enough to include my small dog. The house is almost a historical monument; it was built in 1928, which was then the eastern most part of town. Now known as Midtown the area is a desired part of the city and the Main Street section I landed on is a mere three blocks from the sand.
I put up my large handmade wooden sign and reveled in my good fortune. I dug in to spruce up the house and made the living room into my office. I could sit at my desk and tend to the world of my making and watch how the rest of the universe was doing. It was a happy life filled with children's trips to Disneyland and coaching my one daughter's advances in her nursing degree -- a busy life by any measure. I rarely missed the Saturday farmer's market along with thrift store treasure hunts and a lot of hauling kids to and from Montessori and play dates during the week.
By 2008 I reached my 65th year and was officially signed in with Medicare after my birthday in August. I do remember August, 2008. It was singularly calm and comfortable. Summer is not a rushed business season so I was doing a lot of fun things and pretending I didn't care a whit about the number on the calendar.
The axe fell, of course, on September 1, 2008, and my phone stopped ringing. I spent the next month in disbelief as the economic ravages began to play out for millions of people. Finally awakened in October, I researched and applied in vain for everything I could think of that might keep me afloat. I lost more than 40 percent of my clients and nothing new was coming in.
By March of 2009 I knew I couldn't keep the house on Main Street, found a small office space in an industrial section of town, and moved in with my daughters. I had been brought low but I miraculously sold the business in a fire sale in 2011 and paid off most of my debt. I still feel a twinge when I drive by the cute place on Main Street but I realized long ago that I fell short in expanding the business when I could have; I fell short in saving enough to buffer a setback; I fell short in settling into a routine that lacked warning bells. Mostly, I fell short by nurturing expectations that my business would be my retirement and would take me into a softened grave; I would simply fall over my keyboard at my desk in my dollhouse and my children would cry a bit.
All of us who were caught in this chaos knew we had many compatriots in our misery but no one found comfort in the numbers. As the examinations and reports of the cause of this Great Recession rolled in and I watched and read whatever I could, it dawned on me that some of the greatest business minds in the world could not resist playing Monopoly with all the fake money they had. It was not unlike children given the keys to the candy store, except that they came away without even a stomach ache.
I don't look for sympathy or at least not that cloying sympathy that sickens the provider and the recipient. I would happily embrace sympathy from Goldman Sachs. There were reports that shortly after 2008 Lloyd Blankfein, the CEO, had been quoted as saying he was "doing God's work." I know neither the context nor his reasoning but he has become the great metaphor for my great loss. I don't even know that he actually said it, but it's easy to believe, isn't it?
My Uber driving is both an adventure and a rough-edged reminder of my vulnerability. I hate to admit but it seems unlikely that I can gain independence now even with a strong resume and energetic job searches. But I fill my days with writing for the local paper and I tout double green thumbs, which find almost daily usefulness in the garden. My grandchildren are approaching adulthood and exciting times that I get to share with them. I'll be on the road today from necessity and some gratitude as well. I've always been an optimist so tomorrow really does look very good.
Popular in the Community