First off, in creating a gay holiday must see list, lets set the record straight: my picks may be unauthorized (as in who deemed him queen of NY!), but they are not uninformed.
I've been swirling through gay Manhattan for two decades. Before I began writing novels, I spent a year as editor of the city's gay guide Next Magazine, and for several years contributed queer content to Access NY guide books.
Truth is, I absolutely adore Manhattan during the holidays. There's no better place in the world. It was tough to come up with a top five must do list, but I considered everything from literary lushness to naked ambition. And to add a touch of spice, I've enlisted the charming Jamie Brickhouse, a fellow Huffington Post Blogger and author of the upcoming sure-to-be-a-hit Dangerous When Wet: A Memoir (May, 2015) to name a must do. Enjoy!
Hit The Stores!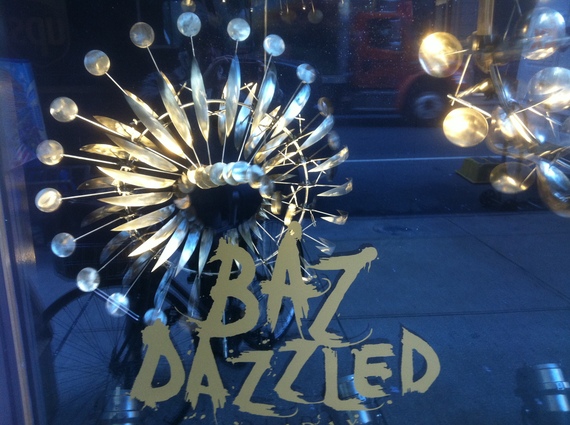 The city holiday windows are awe inspiring. Forgot botox, the years melt away every time I take in this treat. Visit the four Bs (Bergdorf Goodman, Barney's, Bloomingdale's and Bendels). They do not disappoint. It is key, however, to go at night. The windows shimmering in the dark are fabulous, plus if you go after dusk, you avoid the crowds and the gawkers. You can press your nose against the glass, sip a flask of hot cocoa (or toddy)and bask in gay glory.
And a note on the Barney's Baz Dazzled windows: Baz Luhrmann created the windows with his wife Catherine Martin and Barney's will donate 25 percentf of all sales from the limited edition Baz Dazzled Holiday collection to Room To Read, a non-profit organization for improving literacy and gender equality in education in the developing world.
The Santa Closet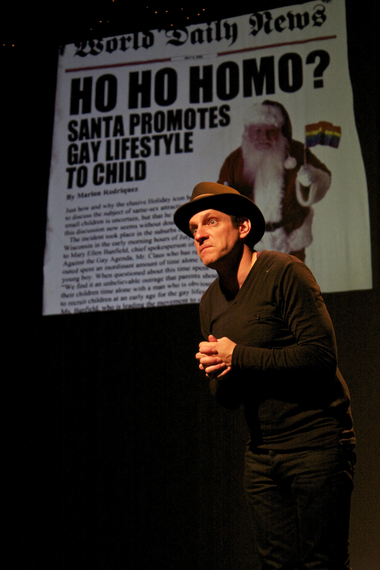 As much as I relate to Valerie Cherish in HBO's The Comeback (if you haven't seen this insanely brilliant show stop reading this and cue up season one now!) my inner holiday child wept snowflake tears over Jeffrey Solomon's wonderful solo show, The Santa Closet which has returned to the city for a very limited run. It's a multi-character smorgasbord focusing on a boy who writes to Santa Claus for a doll, and receives a truck instead. I asked for an easy bake oven and got a chemistry set. Ugh! There are only two performances so get a move on girls! November 25th and December 10 at 7pm at STAGE 72 / THE TRIAD NYC. The performance will benefit PFLAG NYC on 11/25 and Truth Wins Out on 12/10.
Get Lit!


As a writer, I had a host of ideas for a great gay literary holiday must do, including curling up next to the fire with a great book like The Stranger's Child by the Man Booker prize winning author Allan Hollinghurst. I went with poetry, as poets and their use of language never cease to amaze me. Check out the star studded poetry reading at the Bureau of General Services-Queer Division in NYC (208 West 13th Street, Room 210 Between 7th Ave. and Greenwich Ave.). The reading is hosted by Lawrence Kaplun and features Adam Fitzgerald, Maureen McLane, and Stephen Burt. Adam Fitzgerald is the author of The Late Parade (Liveright / Norton) and serves as editor of the literary journal, Maggy. Maureen McLane is the author of three books of poems, most recently, This Blue (FSG) which is a finalist for the 2014 National Book Award. Stephen Burt is the author of three books of poems, most recently, Belmont (Graywolf).
Lettuce Rejoice!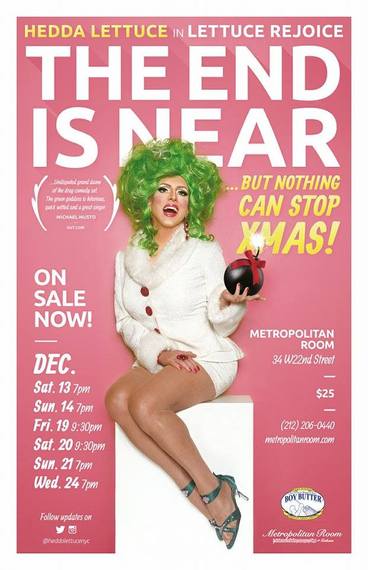 From fellow Huffington Post Blogger and author, Jamie Brickhouse: "If it weren't for Hedda Lettuce's annual holiday show, 'Lettuce Rejoice,' Christmas would be nothing but a lousy reason to give Grandma another pair of Isotoner Gloves. Hedda's jolly cocktail of live singing and comedy reminds me that Christmas isn't about Jesus." It's about Mary! "Lettuce Rejoice: The end is near, but nothing can stop Christmas" December 13 - 24 at> The Metropolitan Room, 34 West 22nd St. $25.00 (212) 206-0440. Jamie Brickhouse is the author of Dangerous When Wet: A Memoir (May, 2015)
Naughty New Year


I promised a bit of naked ambition before I closed out my list, so here it is, for those of you who want a little spice in your stocking (I confess I'm quite happily vanilla). In my single years (before I met my amazing boyfriend!), I danced many a summer night away at Daniel Nardicio's Fire Island Underwear party. What a hoot! Indeed, my dear friend Charlotte and I would toss on our 2xist and hit the Cherry Grove boardwalk. So, if all the holiday windows and eggnog aren't your gay thing, try something a touch naughty at Daniel Nardicio and Owen Hawk's New Year's Cockin' Eve! The 13th Annual NYE Masked Ball. www.dworld.us
Calling all HuffPost superfans!
Sign up for membership to become a founding member and help shape HuffPost's next chapter