On Election Day, look for a slightly better than expected day for Democrats in their race for the White House, the U.S. Senate, and gubernatorial mansions. Only the House of Representatives, gerrymandered and solidified, should remain in Republican hands.
If you're looking for the most neutral analyst in the field, it might well be me. I attended rallies for Bernie Sanders, Hillary Clinton, Donald Trump and Ted Cruz. My bag is littered with buttons for Democrats and Republicans and Libertarians, while the back of my car sports stickers for candidates of both parties. In Harvard's Implicit Association Test, I rated Trump and Clinton equally. Maybe my favorite flavor IS vanilla.
Before class, I was reading "Conservatives, Liberals and the Distrust of Science" by David G. Myers, a professor of psychology at Hope College, who shows how liberals and conservatives can look at the same data, and reach conclusions that reinforce their ideologies, using an example of hypothetical data about whether city bans on guns worked or not.
So Democrats and Republicans can look at the same poll numbers, and draw very different conclusions.
Examining the polling data from Huffpollster, RealClearPolitics, and some last minute surveys, here is my unbiased assessment of what will happen on Election Night. Unlike many pundits, I make calls (blue or red), instead of leaving many states tan, pink, green or any other cagey forecasts.
1) Hillary Clinton Will Be Elected.
My totals show that Hillary Clinton will win 326 Electoral College votes, versus 212 for Donald Trump. If the numbers look pretty similar to the 2012 election, they should. Clinton had broad support in a number of states that Donald Trump won, but it was too shallow. She made a big ad blitz for my state of residence, Georgia, as well as Arizona, and made some in-roads into Indiana and North Carolina. But all of those states will go Republican, if not for Trump. Trump's late push to win Midwestern states like Minnesota, Wisconsin, and Michigan, will be too little, too late. I feel the least confident about Ohio for Clinton and North Carolina for Trump, but there you have it. Thanks to 270toWin.com's interactive map, you can see my results.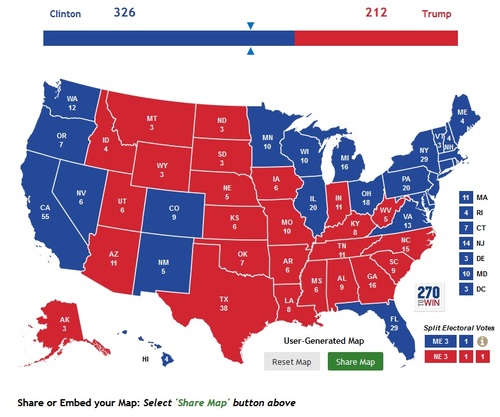 2) Democrats will narrowly take the U.S. Senate
Democrats should pick up GOP seats in Illinois (Duckworth defeating Kirk), Indiana (Bayh barely holds off Young), Pennsylvania (McGinty over Toomey in a nail-biter), and New Hampshire (Hassan over Ayotte in a near-toss-up). Former Senator Russ Feingold should win the rematch for his seat over Ron Johnson. It could be more, but I see Senators Roy Blunt (R-MO), Richard Burr (R-NC) holding on in squeakers. The deciding state should be Nevada, where Democrats keep Harry Reid's seat by the tiniest of margins. Most Republicans would have done better to follow Ohio Senator Rob Portman's example, and distance oneself from Trump early and consistently. He's sporting a huge lead for reelection over an experienced Democrat (Ted Strickland). Note, the maps were made with the 270toWin interactive maps for the Electoral College.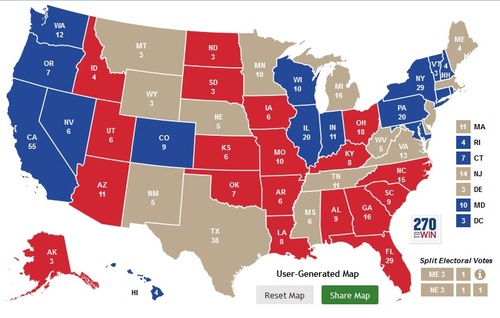 3) Democrats will slightly increase their total of Governors.
Republicans will still hold the overwhelming advantage in gubernatorial mansions. And they'll add Vermont to their haul, as Lt. Governor Phil Scott wins in a very blue state. But Democrats should win in upsets in Indiana and North Carolina, while holding on to some tough races in Missouri, Montana and New Hampshire. They'll have an easier time of it in Delaware, Oregon, Washington and West Virginia, while the GOP keeps North Dakota and Utah in the fold. As with the Senate races, the maps were made with the 270toWin interactive maps for the Electoral College.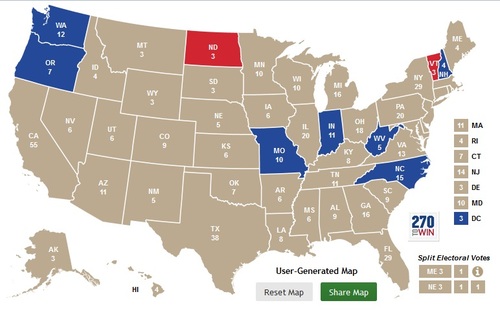 4) Republicans will hold the House of Representatives
It is important for Democrats to realize that they received a million more votes in 2012 but did not retake the House of Representatives. Even if they lead on the generic ballot, those seats have been drawn for the GOP, requiring a tidal wave election. That might have been possible earlier, but it is still six years before the Democrats can likely wield the House Speaker's gavel, barring unforeseen circumstances. That's the power of the 2010 and 2014 elections, where Democratic Party turnout was too small.

John A. Tures is a professor of political science at LaGrange College in LaGrange, Ga. He can be reached at jtures@lagrange.edu. Please post your own predictions below!
Calling all HuffPost superfans!
Sign up for membership to become a founding member and help shape HuffPost's next chapter