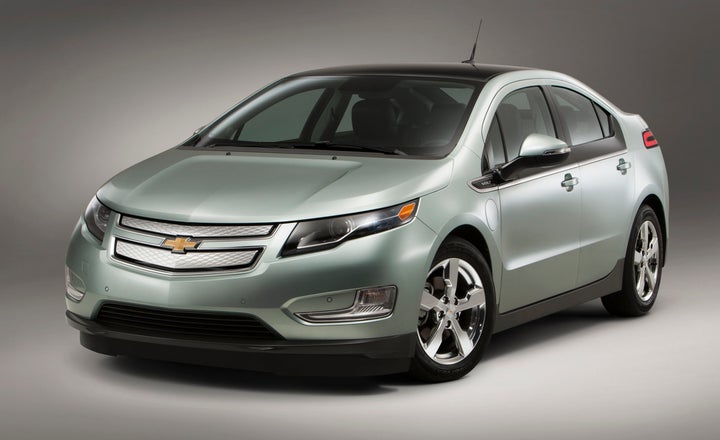 One of the best products that I reviewed last year for my "On Technology" column in the San Diego Daily Transcript was the Chevy Volt. After driving it for about a week, I found it to be one of the most innovative automobiles to come along in years, combining the best of electric- and gasoline-powered cars. It exhibited an entirely new approach to the electric car from a company that had suffered from a lack of innovation over the years, and one famously accused of having killed the electric car. Every element of the car was a vast improvement over former General Motors cars, including the interior and exterior materials, the fit and finish, and its handling and comfort.
The Volt has a range of 40 miles on a full battery charge. If you don't travel more than that each day, you'll never need to buy gasoline. But if you need to go farther, you can drive indefinitely using gasoline to power its onboard generator. What I also found so exciting about this car was that it was entirely engineered and manufactured in the United States, by American workers.
Work on the Volt began nearly a decade ago, years before GM filed for bankruptcy. Stories in Businessweek and other magazines chronicled the challenges of its development team. It faced insurmountable odds and frequent setbacks and had to solve difficult technical problems and create new inventions. The team worked with the backdrop of always wondering whether the product would be killed because of budgetary pressures, especially as Detroit auto sales suffered.
Somehow, against all odds, the Volt team prevailed, and thanks to our government's rescue of the automotive industry, GM survived to introduce the car in 2011.
"It's an exciting new vehicle on two fronts. First, it's the most technologically advanced automobile that's designed to reduce gasoline consumption. And second, it provides a sense of pride in showing that our country can still innovate in the automotive industry, an area where we've played catch-up for so many years. All the more commendable considering that the team that worked on the Volt did so under a cloud of uncertainty during the financial crisis that threatened to bankrupt their company."
Other auto reviewers heaped similar praise on the automobile, several noting its positive effect in reducing our dependence on foreign oil. Others selected it as car of the year.
Last month, the Chevrolet Volt and its twin, the Opel Ampera, won Europe's prestigious "Car of the Year" award. The 59 judges from 23 European nations described the automobile as a true technological step forward and "a mature product" that is "better suited to consumers' needs than the conventional electric car."
Earlier this year, a GM-owned Volt, while being stored in a GM facility, caught on fire three weeks after a laboratory-supervised crash test at that facility. The fire was caused by coolant leaking from the cooling system, which came in contact with the battery long after the crash and caused a short.
The National Highway Traffic Safety Administration investigated and concluded that, "Based on the available data, NHTSA does not believe that Chevy Volts or other electric vehicles pose a greater risk of fire than gasoline-powered vehicles."
At the time, Chevrolet offered to buy back Volts from any owner and provided loaner cars to Volt owners during the investigation. Chevy's behavior went far beyond what it was required to do and demonstrated a huge contrast with Toyota's abominable handling of its sudden acceleration fiasco.
But San Diego's Rep. Darrell Issa, R-Calif., was not satisfied with the NHTSA and GM investigations, and his committee recently held hearings in which it questioned whether NHTSA and GM were conspiring together to hush up the Volt's fire. Issa implied that GM and NHTSA hid the Volt battery defect to avoid embarrassment for GM's new car, a claim that runs counter to all evidence presented. And in an appearance on MSNBC, Issa compared subsidies for Chevrolet's electric car to the Iran-Contra scandal.
Issa's subcommittee's staff report, sarcastically titled, "Government Motors: A Preliminary Report on the Effects of Bailouts and Politics on the Obama Administration's Ability to Protect American Consumers," states that the administration has provided taxpayer subsidies to produce the Volt and offered buyers of the Volt a federal tax credit of up to $7,500 per vehicle.
The implication of the report was that because GM was building the car, and GM was subsidized by the government's bailout, NHTSA was somehow protecting the Volt, the showcase of the new GM. In fact, contrary to this "fact-finding" report, the $7,500 tax credit was passed by the 2007-08 Congress under the Bush administration, in the Energy Improvement and Extension Act of 2008.
So here we have elected officials doing their best to trash one of the most innovative products this country has produced, all in the name of politics.
One of our difficulties in competing with China is because the Chinese government heavily invests in important consumer industries. To compete with China, we need a government policy that builds up industries that are strategic, not tears them apart.
"Message to politicians: Your childlike behavior is numbing, and it's beginning to piss off all of America. The greatest problem with this particular witch-hunt is the message it sends to innovators in the United States, not to mention competitors abroad, when the crown jewel of a resurgent General Motors is attacked merely as a political salvo."
One would think we would all welcome and support innovative products and technologies that advance our country's capabilities and reduce the use of oil. Apparently, some in politics would rather twist the truth to point blame on the current administration. Not only is this shameful, but it also undermines the effort to create American jobs. It's behavior we'd expect more from our economic enemies than from those that we elect to represent us.
From the April 17 issue of The San Diego Daily Transcript; reprinted with permission.