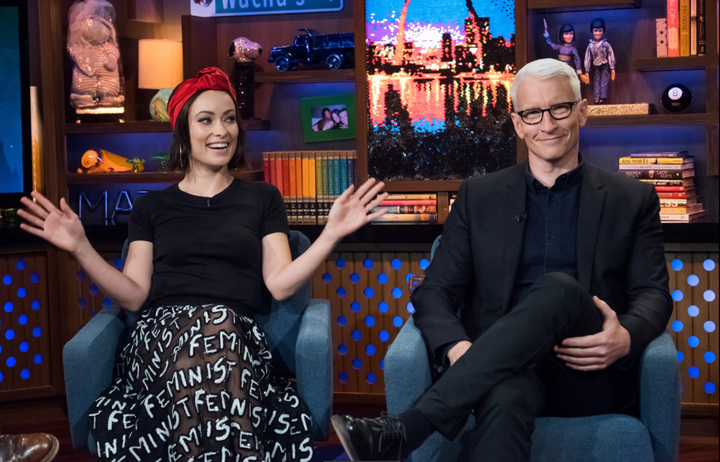 Olivia Wilde and Anderson Cooper are directly across from me and Andy Cohen just shouted out "good luck with your article," but let's rewind...
Way back in the fall of 2016, when everything still seemed possible, I tried to inquire about attending a taping of Watch What Happens Live with Andy Cohen (WWHL) something I had been dreaming of since 2009. My idea was to write about the experience of being an audience member at the live, in-studio talk show and document it for The Huffington Post. Shortly thereafter, Donald Trump became our 45th President and each day would bring crazier news than the day before. My outlook about a number of things was bleak for a while and I neglected to follow up my on request to visit the studio. Furthermore, an invitation seemed like an unattainable bucket list item. The tickets to the show are not offered to the general public and they are not given out liberally to reporters which is part of the "exclusive" aura that surrounds WWHL. Admittedly, I was a bit too addicted to the national news to feed my pop culture fascination for a period of time and to worry too much about WWHL, but that would soon dissipate.
I was reminded of my desire to see Andy Cohen in the "Club House" when I heard that Vulture's Real Housewives' recapper Brian Moylan had been granted a tour following the celebrated studio relocation in January of 2017. I listened to the podcast Bitch Sesh as Brian discussed the experience and inwardly, I felt bummed that I hadn't been on the tour with him.
I had no clue at that point just how exclusive the Club House is. In the ensuing months, I would hear about auction tickets procured by those panting to peer at Andy Cohen with his megawatt smile before a tiny studio audience (even smaller in the former location). Just when I thought a WWHL experience was less likely than "The Donald"'s 2017 impeachment, a chance encounter changed everything.
Oxygen, Bravo's sister network that is now "full time true crime," held an event for its miniseries The Jury Speaks and I was invited to attend with a few friends. It was both an informative and fun evening. While everyone was mingling, I wistfully recalled that "dream of mine" during a conversation. Two days later, to my surprise, I was invited to attend a WWHL taping. Fittingly, it was for the night after my birthday, an occasion I had done little to celebrate.
I invited the biggest Andy Cohen fan I know and happen to be related to, my younger sister, to be my plus one for the evening and the following week, we found ourselves on Hudson Street in Manhattan's Soho neighborhood approaching an unassuming building and giving the doorman our names and IDs. Slight caveat. Amidst my excitement, I had switched to a fancier pocketbook before boarding the bus and left my driver's license at home! Despite feeling idiotic and irresponsible, the attendant put me at ease as he looked up my name online to make sure I was legit. "Is this you?" he asked, pointing to the headshot on my Huffington Post profile and concluding "Yes, that is you." Luckily, this simple sleuthing act sufficed and despite the old cheesecake photo that I've been meaning to replace with a current version, I was granted access to the Club House a few floors above us.
While I was escorted backstage to meet with WWHL's Executive Producer Deirdre Connolly pre-show, my sister mingled with other guests in a small hallway by the bar. The first thing to greet the eye directly after emerging from the elevator is a cardboard Andy Cohen. Since cell phone usage is unrestricted in this waiting area, the idea is to pose for a photo with the life-size cutout. I did not get to witness audience members doing this as I chatted with Deirdre in her office. But before being whisked away, I checked out the bar where there was a large bottle of tequila and other bottles of alcohol. To the left of those was the WWHL drinks list: Fresquila (Tequila and Fresca), the Mazel (Vodka, Cranberry, Orange), the Whiskey Gingey (Whiskey, Ginger Ale).
My sister chatted with the other guests and she said they all seemed quite curious how folks had secured their tickets. There were auctions winners, people who appeared to know those who worked for the show, a beautiful Persian woman who had flown to NY for a family event and also arrived through an auction. The guests were encouraged to select a cocktail while waiting to be ushered into the studio. I'm not a fan of Fresca or Ginger Ale but took a sip of my sisters' Fresquila upon joining her after my meeting with Deirdre. With the first sip of this interesting drink, you say "eh..." then "uh?" then "eyych" until you finally settle on a thoughtful "hmmmm...OK" and keep drinking. It magically gets better with each sip. I believe there's some imaginary fairy dust (perhaps left by Lydia's mother from RHOC?) in the Club House that's responsible for that.
An ebullient, wavy-haired blonde with all the energy I probably effused in my early 20s was charged with escorting the audience into the studio and getting them psyched for what was to come. "You have paper bags under your chairs," she told us excitedly, "At some point you may be asked to hold them up." The guests, who were not yet on stage, were the movie star Olivia Wilde and the CNN host and Andy Cohen pal/performing partner Anderson Cooper. My sister, a theater director, called it right away: "The barf bags are under our chairs because Olivia Wilde is in the play 1984 and some people have thrown up from the effects in the show. I can't go see it because I get migraines." (Sorry Olivia, we really want to promote your play and we want it to succeed. Go see 1984!).
Apparently, Jennifer Lawrence vomited at 1984 herself and then didn't make it to a taping of Watch What Happens Live later that same night. Andy would go on to mention this fact during our taping. Speaking of Andy, he was the first to emerge grinning from ear to ear to say a hello to us, the "studio audience", in our few rows of chairs.The very first row consisted of two movie theater-style seats, which were gifted to the studio by Oprah Winfrey, WWHL's most sought after guest to date. I was seated right behind those chairs next to a cute gentleman young enough to be my son. There was another young man in the audience, who could have been another son (theoretically) but I think he may have been Anderson Cooper's boyfriend...or assistant ("nice save" if the former was a terrible guess).
For some reason, I had imagined Andy to be taller and that's when I realized that I had only ever seen Andy Cohen sitting down. Unbeknownst to me at that point, I would have the opportunity to stand next to Andy post-show and he does hover a few inches above my own 5 foot 6 frame.
Following Andy's greeting, Anderson Cooper and Olivia Wilde sauntered onstage and the bubbly blonde let us know "We are live!" As indisputably beautiful as Olivia Wilde is, she appeared very human, down-to-earth and approachable, wearing minimal makeup save for a prominent cat-eye. Anderson looked even thinner than I had imagined after seeing him on CNN, not that his physique is something I ever greatly reflected upon. The thing is: when you are sitting in a chair directly across from on-screen personalities, assessing their appearances and determining how human they seem is inevitable. I remember thinking: Better them than me being on TV. My hair was really starting to frizz something awful that humid NYC night and I was mentally thanking my lucky stars that the studio audience is RARELY. EVER. SHOWN. on WWHL...I mean, PRACTICALLY NEVER...right?
But remember how I mentioned those barf bags under our seats? Later that night, my friends watching at home would take screen shots of me in the audience holding up mine and hamming it up for the cameras.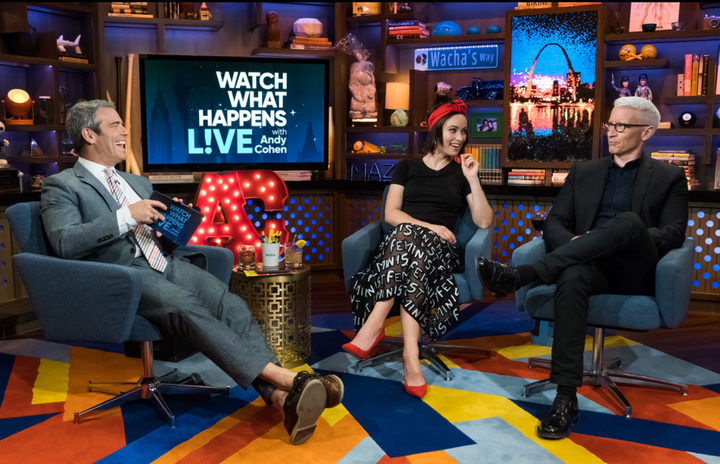 As he does each night he's on air, Andy pointed above him to the "word of the night" which viewers can know, but the guests and audience members cannot. Again, caught up in the excitement and the Fresquila, I was searching the overhead monitors for that word, forgetting that the rule also pertained to the studio audience. The idea is that each time the word is said, those at home should take a sip of their own alcoholic beverage. My sister later told me she assumed the word was "barf." Andy did discuss the Bravo show that aired previously that evening, Below Deck Mediterranean, so the word may have been "anchor," "chain", "bosun"....really, it was any audience member's guess.
I later found out, while watching the show at home On Demand, that the word was simply "news." So it's appropriate that Andy's introduction in the studio was: "He's a notable news hunk and at her play, Jennifer Lawrence notably blew chunks." We were then told that Olivia Wilde had just arrived following the evening's intense performance of 1984 (quite a feat) before Andy turned to his "pal Anderson Cooper."
"I felt like neither of you had a choice," Andy remarked to both guests about showing up that evening. Then we were off for a night of silly games and celebrities at the mercy of Andy's questions, ones their publicists had not prepared them for (in keeping with WWHL tradition), and the candor of live callers.
Lily Burns of Lily SPOTS NYC, a cupcakes place, was at the bar and Andy announced that the guests would be able to have cupcakes, but he was only talking about the guests on stage. This was a relief because there were enough no-holds-barred live calls to provide an ample late-night sugar rush. Anderson and Andy were asked if they've ever hooked up with the same person.
Another caller asked Olivia if there were any juicy hookups on the set of The OC. She responded by wondering aloud if she was just not let in on all the good gossip at that time. There were, of course, polls, a big part of the Watch What Happens Live with Andy Cohen experience. "Who would you rather," Andy asked the audience, "Andy or Anderson?" He had to gracefully admit defeat and give that one to his bestie. For the record Andy, I would have voted for you.
After the show, we partook in a short, aptly-named "after-show "(approximately 10 minutes), consisting of more live calls and a general atmosphere of late(r) night levity. Some of the auction winners and other guests were asked to stay after that and when my name was called, my sister and I stood next to Andy for a photo op.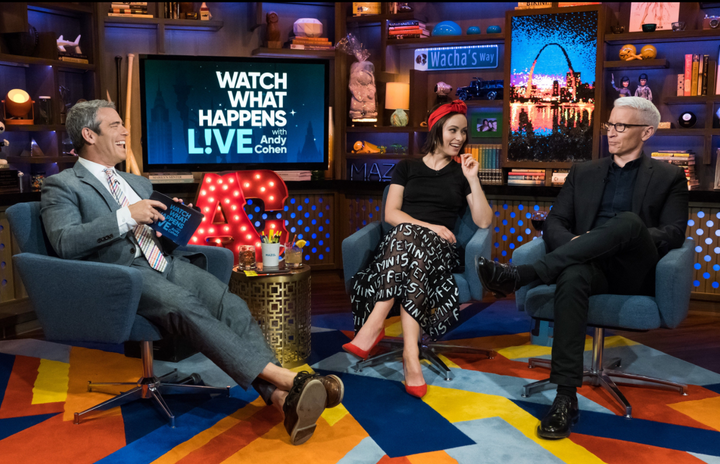 "Hi, I'm Shira Weiss and I contribute to The Huffington Post," I said by way of greeting.
"Oh yeah!" he responded enthusiastically. I have no idea if Andy Cohen knows who I am, but I am going to forever relish that "oh yeah" nonetheless in true fan-girl fashion. While posing for our photo, I told him how much I like Ashley Borders, a character given the "villain edit" on Southern Charm Savannah who I met in person and found to be lovely. I will look back at this later and wonder why I was - perhaps - babbling to Andy Cohen. However, he seemed at least mildly interested and the "oh yeah" was reiterated as "oh, yeah???!!" "Yeah, you should totally have her on IF there's a Season Two - maybe with the Sweet Home Oklahoma ladies. She loves them!" There are so many other things I could have said including "Ari Gold, your former bartender, was my elementary school classmate!" or...well, anything. Instead, there I was name-dropping the one Bravolebrity I actually know in real life and pitching a random guest pairing for WWHL.
Does anyone ever know what to say in the presence of such greatness? It's like when you were a kid and your teacher excitedly asked you: "What would you say if you were lucky enough to meet the President of the United States?!" A tricky questions for the modern day, so just substitute the latter with "Andy Cohen."
Bravo's Watch What Happens Live with Andy Cohen airs Sunday through Thursday, 11/10c.
· "Watch What Happens Live with Andy Cohen" is the only truly live show in late-night television. (Guests do not get any of the questions in advance or a chance to rehearse before the show)
· "Watch What Happens Live with Andy Cohen" is consistently making headlines with bold interviews viewers don't see anywhere else. The Bravo Clubhouse has become a nightly destination for some of the biggest names in pop culture, who stop by for a signature drink and stay for the candid conversation. Whether "Pleading the Fifth" or "Opening The Vault," countless memorable moments have been revealed as host Andy Cohen continues to go there.
· In March 2016, "Watch What Happens Live with Andy Cohen' celebrated it's 1000th episode.
· In January 2017, WWHL revealed a new, larger studio with a designated performance space for musical guests.
· In May 2017, "Watch What Happens Live with Andy Cohen' went to LA for a week of shows for the first time.
Popular in the Community