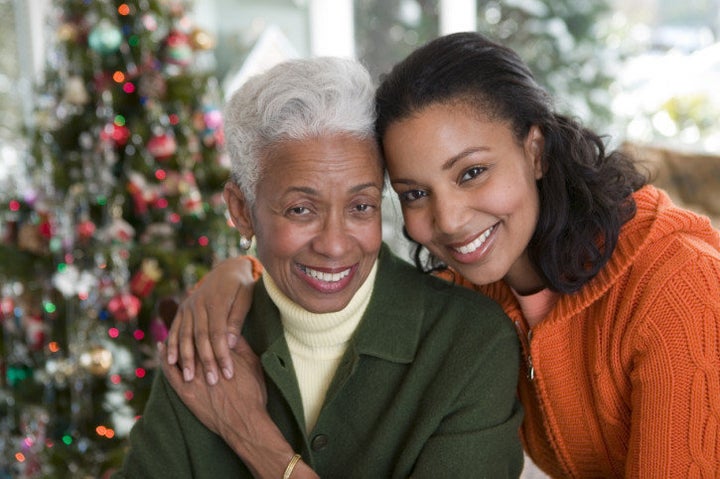 An exercise I often used in diversity training was to have participants divide a large circle into proportioned sections representing the dimensions of diversity most reflective of their current life experience. Many years ago when I did this exercise, race and gender took up at least half of the circle, with moderate sections devoted to other dimensions like class, sexual orientation, religion and mental and physical ability. I am not sure if I even devoted a small slice to the dimension of age. Yet, today, if I were to slice up that pie, probably half of it would be focused on age. It is not just because I am getting older, but more so because those around me are getting older.
Not having known any of my grandparents, I did not have the opportunity to project what the mature years had in store for me except for what I studied in developmental psychology classes and the glimpses of this life stage that I saw through the lens of my friends' grandparents. I was repeatedly warned "Don't get old" by my friend Joanne's grandmother, but I did not think the alternative was too attractive, so I dismissed her warning. I recall Mrs. Vassilou, my college Spanish professor, telling us that there is beauty in every age, but at the time I thought she was just trying to make the students of non-traditional age feel better about being in a room filled with 18-year-olds.
Unlike many of my baby boomer friends, of what is called the "sandwich generation," my sandwich is the open-face kind. I was not blessed with children, but my 84-year-old mother lives with my husband and me, having survived my father, who also lived with us prior to his death. Caring for both parents has been a real education in the aging process. My mom recently had knee replacement surgery, and after an extended stay in the hospital due to a blood clot, she came home two days before Christmas. My sisters and I were convinced that we could manage her rehab with the assistance of the visiting nurses and physical therapist, especially since my mom bounced back very well from the same surgery six months earlier. Although my sister Felicia has a lot more nurturing tendencies than I do, I have never fancied myself as a nurse. Even as a small child with a fantasy list of what I might be when I grew up, a nurse was never even close to making it onto the list. Yet, as the saying goes,"you do what you got to do," so I do what I got to do.
It meant a very different Christmas for me, not just because our surroundings are now the Boston area instead of Cleveland, but more because Mom is in that life stage of the parent who needs parenting. Our traditional Christmas Eve of Mom's Jamaican meat patties and rice and beans, with the entire family over for gift exchange and singing Christmas carols, turned into meatballs and lasagna from Arturo's, our new favorite local restaurant. My sister Nancy and I sang carols with my Mom and called Felicia and her family on the phone to join in. The voices in our family choir are now scattered across the states but are still very strong. Instead of attending Mass as a family, we went in shifts so that someone was home with Mom. "Someone must have got my recipe," Mom said when she tasted "My Grandma's of New England Coffee Cake." I had intentionally purchased the cinnamon-walnut coffee cake because it so resembled the one my mom made for family breakfast on Christmas morning. Although she pulled out the stained recipe card to make it year after year, I knew she must have had it memorized. I am glad that she loved the purchased coffee cake as much as her own; it made us all feel like we were having Christmas after all. I ordered a catered Christmas turkey dinner, and Mom instructed me from her bedside on how to "doctor up" the turkey and the stuffing.
I heard my mom say thank you more often in these past few days than I have in my lifetime. Perhaps it is because she is now more firmly placed in the role of a receiver than giver. I am grateful that my mom is here to receive. These days our gifts come in the form of loving and caring for her, yet I have received so much in return.
I am sad for my friend Kristen, who buried her mom three days before Christmas, yet took the time to call and make sure my mom was progressing toward health. I have learned many lessons on caring from my friend Donna, who was the sole caregiver for both her parents. I have been inspired by my friend Joan, who showed undaunted fortitude taking care of her parents for many years before their death.
It is not easy doing "what you got to do," but somehow we do it. In an e-mail from my friend Joan, she empathized with me, having lived the same drill of sleeping with a baby monitor listening for your parent's breathing and worrying about silent blood clots. She comforts me with these words: "In all the best ways you are doing Christmas the way it is meant to be... filled with love and self-giving. It is the tender watching and waiting. It is in finding yourself do things you never thought you could do. It is the breaking of your heart and placing it in God's."
Thirty-plus years later I am just beginning to understand what Mrs. Vassilou said. As I watch my mom get weaker and older, I know there is beauty in every age. It is an unexpected Christmas gift.