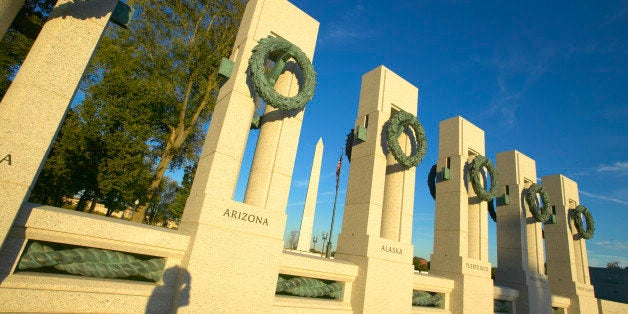 70 years ago the Allies were preparing to invade France on D-Day.
And 70 years ago, an American heroine was being born on the streets of Paris.
Her name was Virginia d'Albert-Lake. She was a schoolteacher from Florida who had always wanted to visit France. When she finally did in 1936 she fell in love with the country -- and with a dashing Frenchman named Philippe d'Albert-Lake. They married a short time later and set up housekeeping in a Paris apartment. They also had a small house outside the city in Nesles.
But by the late 1930s, it was clear that war was coming to Europe. And when the Germans overran France in 1940, Virginia and Philippe, like most other people at the time, tried to live quietly under the Occupation hoping for better days to come.
Then, in 1943, all that changed. Virginia and Philippe met three American airmen who had been shot down over France. They were being hidden by the local baker in the small town where they had a second home. Virginia and Philippe were asked to join the French Resistance, the Comet line, which ferried downed Allied pilots out of France and back to the safety of England.
They agreed to join, and it was dangerous work, especially since Virginia was an American citizen. Philippe had urged her to return to the safety of the United States when war broke out, but she refused, saying that her rightful place was with him.
Virginia would prove to be fearless. She met the pilots at the train station, and she and Philippe hid them in their apartment until they could safely get them to a holding camp halfway to the French border with Spain. She even walked them around Nazi-Occupied Paris dressed as Frenchmen. She also helped identify traitors in their midst, Germans posing as Allied pilots who tried to infiltrate the Comet line and take it down, usually killing everyone involved.
In June, 1944 with the Allies landed on Normandy, word came down that everyone hiding downed pilots, including Philippe and Virginia, should immediately evacuate Paris and get the airmen to the halfway camp. The brutality of the retreating Germans was not to be tested.
On the way to the camp, Virginia rode up ahead on her bicycle to make sure the area was clear of Germans. But she was caught when a Gestapo car pulled her over. The German officer in charge ordered her to empty her pocketbook and out fell a list of friendly Resistance fighters along the route. Virginia had violated the cardinal rule of the Resistance -- in her haste to leave Paris, she had forgotten to memorize the list and then destroy it.
Inexplicably, the Gestapo driver gave her back the list and then told her to get in the car. He then took her to Gestapo headquarters, where she was interrogated. "Where's the list?" demanded the chief interrogator. "What list?" asked Virginia. The interrogator then emptied her pocketbook but the list wasn't in it. But he did notice a small piece of paper that fell out.
"You ate the list," he said. "Yes," said Virginia.
In the back of the car, she had reached into her pocketbook and torn the list up into tiny pieces and the swallowed it despite her mouth being dry with fear. But she had missed one piece.
"You will be shot at dawn," said the interrogator.
Instead, Virginia was shipped off to Ravensbruck, a concentration camp in Germany where she and other inmates, mostly women, were meant to be worked to death. She remained there until the end of the war ten months later, and when she was released she weighed only 75 pounds, 50 pounds under her normal weight.
Meanwhile, her husband Philippe had escaped with the downed airmen and found his way to England. When he returned to Paris with the Free French after the Liberation, he immediately set out to find his wife. He didn't know if she was alive or dead, but he was determined to find out.
He intended to fly into Germany and work with the Red Cross looking for her in the concentration camps that had been liberated after the war. But before he could leave, Virginia was freed. She returned to Paris and was joyfully reunited with Philippe. After she regained her health, she and Philippe celebrated by having their only child, Patrick, who still lives in Paris.
Virginia died in 1997, and Philippe in 2000. Before she died, she was asked what kept her going through the ordeal of the concentration camp. "You could never give in," she said. "The women who cried at night were usually dead in the morning." And then she added: "And I always knew I'd see my husband again."
Virginia was honored with the Legion of Honor in France, that country's highest civilian award. She kept her American citizenship until the day she died, but she is virtually unknown in the United States. Isn't it time this heroic American woman is honored in her own country with the Presidential Medal of Freedom?
Calling all HuffPost superfans!
Sign up for membership to become a founding member and help shape HuffPost's next chapter