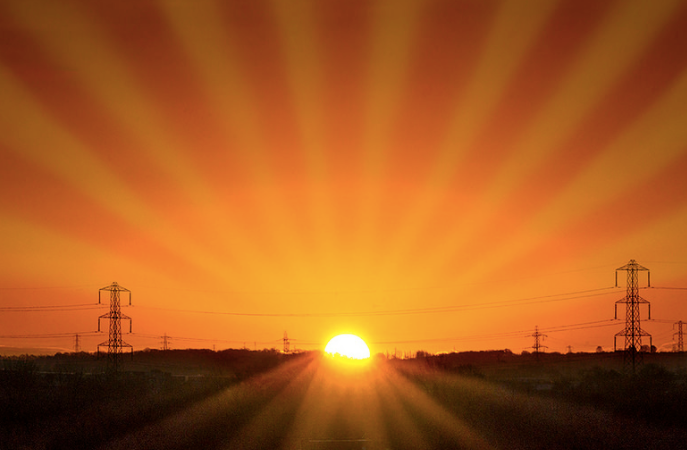 On a recent Monday evening, Danny Kennedy, the director of the California Clean Energy Fund, stood in front of a crowd of dozens of energy industry insiders in Dubai.
"Steve Jobs used to say you should cannibalize yourself every couple of years or someone will come eat your lunch," he said. "Seems like the utilities in the room have started to invite the cannibals to the crowd."
The utilities he referred to are major utility companies from all around the world that, despite deep-pockets and massive customer bases, have been slow to adopt to an energy economy that is quickly evolving toward renewable resources like wind and solar power. Moreover, those same utilities are finding themselves eclipsed by startups that are quick to experiment with new technologies that can more efficiently harness the power of renewables and while engaging with those customer bases.
In other words, legacy utility companies are increasingly finding themselves cannibalized by startups. The energy leaders who gathered in Dubai are determined to turn those cannibals into allies instead.
The Dubai event marked the kickoff of the Free Electrons project, a first-of-its-kind energy startup accelerator that began accepting applications last fall. Free Electrons is the first global energy accelerator to be sponsored and supported by major utility companies. Startups selected for the program receive all-expenses paid trips to conferences in Dublin, Lisbon, Singapore and Silicon Valley, where they have the chance to hobnob with executives from utility companies around the world, create frameworks for new partnerships and meet potential funders.
"We have built a global consortium of utilities and accelerators and we have a common goal that energy startups will drive the next generation of ideas in the power industry," said Peter Terium, the CEO of Innogy, a German utility company working with Free Electrons. "We are seeking a win-win, so the global calling starts now."
Utility companies have a historically adversarial relationship with energy startups, who are often seen as scrappy competitors with the technology to uproot existing systems and sources of revenue. But by joining forces, everyone stands to benefit.
Imagine using nimble startup technologies to reach the gargantuan utility customer bases, and then help those utilities transition to the rapidly-growing energy economy. According to Terium, the sheer potential of such a union would be limitless. "In the digital age boundaries between industries are becoming increasingly blurred," he said. "That means in principle: anyone can do anything!"
Utility companies, for their part, are fired up about the idea of working with small, innovative organizations in order to come up with new ways to use technology to reach customers and incorporate more energy-efficient practices.
"In order to be successful, utilities have no choice but to engage with startups," said Luis Manuel, an executive board member of Energias de Portugal, one of the accelerator's utility partners. "The energy industry is changing, and utility companies must anticipate the trends, constantly search for good ideas, and develop the agility to implement them."
And startups, eager for mentorship, are both thrilled by the potential resources and expertise utilities have to offer, and enthusiastic about adding their own value. "We're interested in working with large utilities because we're able to share the lessons we've learned from working with solar and energy efficiency vendors," Elena Lucas, the co-founder and CEO of UtilityAPI, a startup that helps energy clients understand and analyze customer data. "We know the data pains of energy innovators and we're able to bridge that data gap with utilities."
So far, the idea of such an unlikely union appears to be working. To date, Free Electrons has received hundreds of applications (the window to apply closes on February 28).
Kennedy predicts this is just the beginning of a long and symbiotic relationship between large utilities and small energy startups. "New ideas will undoubtedly come up, maybe earth-shaping technologies," he said. "This is the beginning of a dramatically new arrangement between the incumbents and insurgents. The two sides are becoming a team."
Learn more about Free Electrons, including the application process, here.
Free Electrons is backed by an international alliance of utilities and accelerators: AusNet Services, Dubai Electricity and Water Authority (DEWA), ESB (Electricity Supply Board), EDP (Energias de Portugal), innogy, Origin Energy, Singapore Power (SP) and Tokyo Electric Power Company (TEPCO), and accelerator partners, New Energy Nexus, swissnex San Francisco, Energy Excelerator, Powerhouse and Beta-i.
Related
Popular in the Community