Exactly half way on the road between Jodhpur and Udaipur in Rajasthan, India, where the cultures of Marwar and Mewar meet, lies Jawai, an atmospheric wilderness camp renowned for excellent leopard sightings. There are no forests nearby, no herds of cheetal or chinkara. Instead, you'll find a mosaic of farms growing millet, maize and castor, alongside small villages where temple loudspeakers air loud, energetic, often filmi-style devotional songs at dawn and dusk into the languid, peaceful hinterland. Yet, in a landscape dominated by man, where herds of cattle and goat are let loose and corralled, the spotted wild cats have bizarrely managed to co-exist for centuries and carve out their territories in the granite outcrops, the spectacular rounded foothills of the Aravalli Mountains. And that's where we saw them hunker down in caves, sun themselves in full view, and even walk majestically across the dramatic rocky landscape.
Jawai Bandh, a picturesque reservoir can be seen from many viewpoints, and from December to March it is replete with flamingos, woolly necked storks, ibis, ducks and all manner of birds.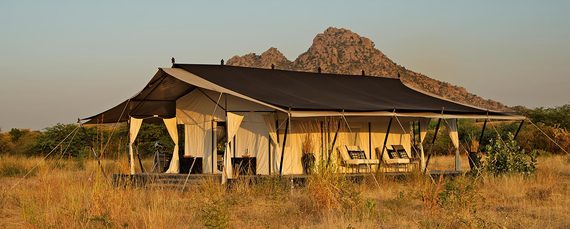 Varun Kutti, our guide attributes this unlikely cohabitation of leopards and humans to "an ancient belief that the leopards are the guardians of the temples, and they're not just tolerated, but venerated" The leopards, in turn, leave people alone and feed on wild boar, nilgai, hare, peafowl, mongoose and other creatures they find in the scrub. They take feral dogs from villages at night, and occasionally the herdsmen lose a calf or goat, but the government compensates them. While camp rangers keep track of the leopards' movements, Varun also checked with the local herdsmen every now and then, "Cheethro Dekhyo?" -Did you see a leopard?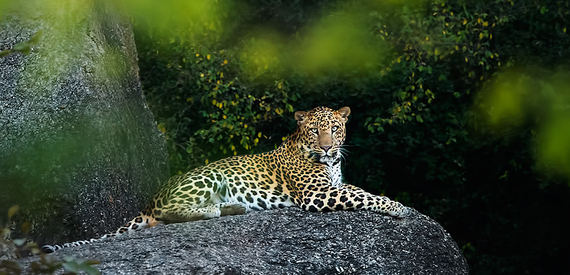 On our first evening, we drove out from the smart, tented camp past acacia groves, right through the heart of Bisselpur village where the kids waved jauntily, towards Jagthala, a rocky area, where we scrambled up an outcrop, fired up cameras and waited patiently with the trackers. A red turbaned Rabari herdsman strode homewards with a flock of goats skipping at his heels. Across from us, a short distance away, we focussed on an enormous fissure where a female leopard and her cubs had been spotted regularly. At sunset, a frisson of excitement went up as one of the cubs appeared, looked at us, and surveyed the scene. No sooner did his sister appear, they began their horseplay, cuffing, nipping and tumbling in a swirl of spots. Their mother was less relaxed, and somewhat skittish. She peered over the rocks below, craning her neck gingerly to study her surrounds before walking out cautiously, only to hide behind some bushes. Yet another titter of excitement went up- information sharing amongst wildlife viewers is always instant. Just below, their arch nemesis, a large striped hyena revealed himself, stretched, and trotted away nonchalantly into the scrub. For us, this was a rare sighting, and an unexpected one. It mattered little that the light was too weak to capture it on camera.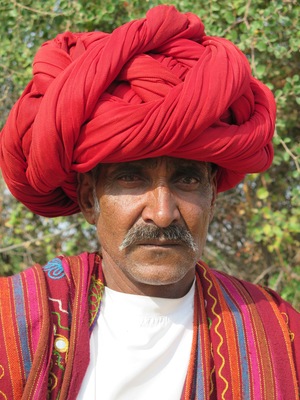 The drama rose to a crescendo as all three leopards now strode out and descended the hill, their hunt coinciding perfectly with the cloak of dusk and the clanking of cymbals of the evening arti from a nearby temple loudspeaker.
The next morning, we arrived early at Perva, another hilly outcrop in a local Thakur's private land, driving through an acacia thicket, scattering squawking peahens around a bend. A searchlight caught a leopard's eye halfway up the hill, and as the run rose we watched it meander towards a cove where he settled to chew on a monitor lizard, before disappearing into a crevasse. A European lady in another jeep had spotted a large male leopard in full view at the very top of the hill, and we could see it now, sitting sphinx-like, taking in the sun's rays. Within minutes, a third leopard was seen fifty metres away from it.
A simple, whitewashed Shiva temple stood atop the outcrop, and just after sunrise, a tall, elegant, saffron clad priest with a flowing white beard emerged from it, and began his descent down a dramatic sweep of steps, towards the village. To us, it would take a leap of faith to walk calmly past a leap of leopards, but this incredible scene was unfolding before our eyes, and happens to be a part of everyday life in these parts.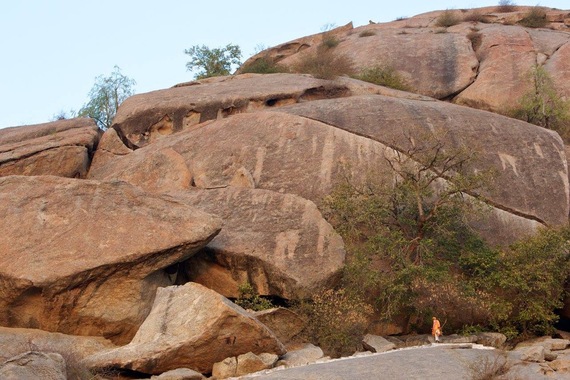 HOW TO GET to JAWAI Camp - Fly to Udaipur or Jodhpur, then drive 130 km, approximately 2.5 hours to the campsite. Or take the train from Delhi to Jawai Bandh, 20minutes drive from camp. The beautifully set, well run, luxury camp owned and run by Jaisal and Anjali Singh is open from September to April. Book directly at www.sujanluxury.com
EXPERIENCE- There are morning and afternoon jeep safaris to view the local wildlife.
Best bird viewing on Jawai dam is from December to February.
The lifestyles of the local Rabari herdsmen in their striking red turbans is fast disappearing, and truly worth viewing.
Biking, hiking and exploring the lifestyle and culture in the villages are all on offer.
THE LANDSCAPE- The spectacular formations of granite hills and rocks in the area are hauntingly beautiful, and the jeep can drive you to the tops of the Hirori hill and Black Hill. The drive through Silent Valley to Nag Giri hill is ethereally beautiful.
FURTHER AFIELD- The exquisite Jain temples at Ranakpur lie en route from Udaipur airport.
Kumbalgarh Fort, Devigarh and Narlai are some of the nearby resorts.
OTHER LODGES IN THE AREA- Castle Bera www.castlebera.com, and Leopard's Lair (www.leopardlairresort.com)
This article first appeared in the Hindustan Times