It's true -- there's a slew of different occupations on my professional CV: singer, musician, actor, dancer (uh, strike that last) composer, adult performer, house renovator. I've also dabbled in graphic design and I like to think I can plunk myself down in front of the ol' Smith-Corona and hammer out a few cherce lines. All this has led to an annual spring ritual where my father-in-law, who does my taxes, will ring up with the query, "And what are we calling ourselves this year, Thomas?"
Diversification! It's all about diversification. I've lived a rather interesting life by testing the waters over here, sampling the soup over there while always keeping one eye on the horizon to discover what other opportunities await.
There's an inherent drawback to all this, though: no one is ever sure precisely what it is I'm up to. And, if what I'm up to involves convening an audience to complete the equation, that can sometimes be a challenge.
A few years ago when I was performing my solo autobiographical play Canned Ham I was frequently asked if it was like "that Jeff Stryker show," the climax of which was, well, a climax. (It wasn't.) When I moved on to The Tom Judson Show, a straightforward cabaret act, the question I got was, "is it the same as Canned Ham?" implying that Canned Ham was now a known quantity. Straining to keep the archness out of my voice I'd reply that because it had a different title it was safe to assume that it was a different show.
All of which brings me to this past Thursday evening. I had a booking of my cabaret show Nature Boy at the elegant club 54 Below in New York City. I premiered the show there last October and I've gigged around the country with it since. Last fall I packed 'em in at 54 Below in a room that holds 120. On Thursday I played to 30 intrepid souls.
And that, my friends, is show biz.
Anyone who does anything on stage can tell you every audience has a distinct and definite personality. I've appeared in big shows before crowds of thousands who sat on their hands. Conversely, one summer in Provincetown my final show of the season was post-Labor Day. The town was deserted and twelve people showed up so I placed them on stage around the piano and we all had a wonderful time.
Last Thursday I stepped into the spotlight and, feeling I must address the fact that I had a 3/4-empty house, looked around at the unoccupied seats and asked the crowd, "Is there a game on tonight?" The knowing, sympathetic laugh that line elicited told me that my audience was willing to work with me.
Cabaret by nature is different from a concert or recital in that, ideally, there will be interplay between the performer and the people in the room. A friend of mine calls it "a conversation." Sometimes it feels to me like a game of badminton, or keeping a balloon aloft.
My personal modus operandi in a cabaret performance is sharing with my listeners not only the lesser-known repertoire I prefer to sing, but also information about those songs, their original sources, biographical info about the writers and even how the song came to be written. I think (hope!) the audience finds it interesting because I myself do. The folks last week at 54 felt more like a collection of individuals than a big anonymous mass and I was able to tailor my patter to the room. I felt at liberty to augment information I might normally keep succinct, while other things could be condensed.
For example, because we were in New York [that's a whole other conversation; the difference between New York audiences and everywhere else] I had a fairly theater-savvy group and when I sang the Sheldon Harnick lyric
"When the world began
You couldn't smell a flower
You couldn't see a tree
You couldn't hear a bee buzz
'Cause all there was
Was amoebas"
not only did they appreciate the word play and internal rhymes, I didn't have to explain who Sheldon Harnick is.
By the end of the evening I was literally conversing with the audience -- by name, in some cases -- while still maintaining the integrity of the material and the information I wanted to impart and, most of all, keeping it a performance.
I drove home that night absolutely tickled over how the show went. Would I have preferred a full house? Sure. But happily it's not always the size that counts (oh, yes he did just say that!) and an intimate audience has unique advantages that attenuate with a larger headcount.
Besides, to quote one of the original standup acts, "For where two or three are gathered together in my name, there am I."
Now, I'm not sure the guy who said that was working for a cut of the door, but I think you get my drift.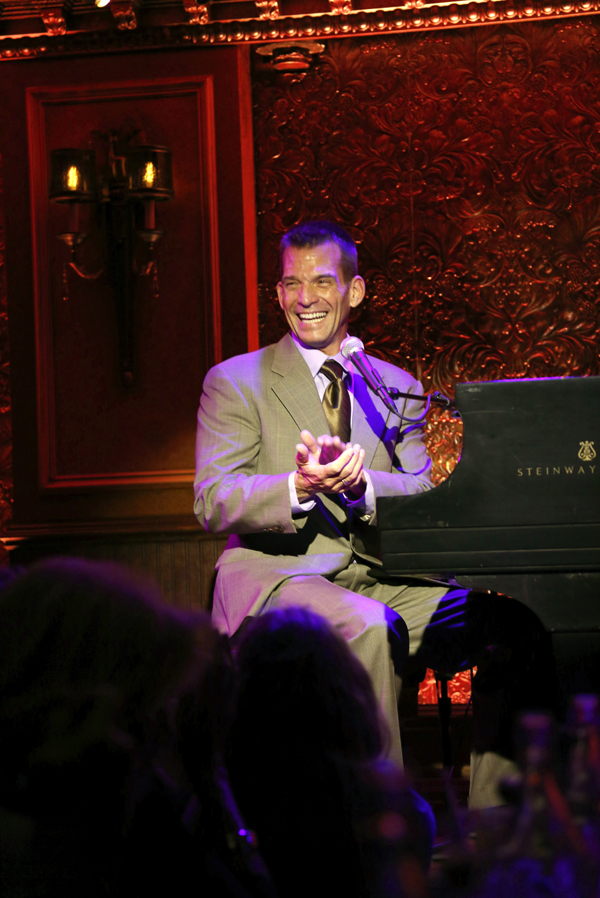 REAL LIFE. REAL NEWS. REAL VOICES.
Help us tell more of the stories that matter from voices that too often remain unheard.