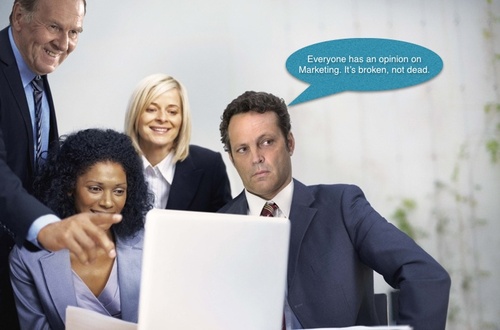 A fad is an intense and widely shared enthusiasm for something that can fade with passage of time. Marketing is dead has spawned a host of articles, often construed as 'fad' in the current times.
Marketing is not dead, its broken.
Why? It ties back to the data deafness, endurance blocking and the envious pursuit of GMOOT.
With nearly 3500 solutions that exist in the Martech space today, 2000 a year ago, the choices available to marketeers and organizational leaders has created a paradox of choice, often leading to fatigue with little to no progress. Its akin to walking into Willie Wonkas Chocolate Factory with a small stomach, a rapacious appetite and one goal - try them all.
Add to this the expanding lingua franca of new buzzwords like social media marketing, community building, digital disruption, conversational marketing, ABM, omnichannel, etc.
This combination has caused a digital bloating of marketing tools, methodologies, jargon laden vocabulary and an imbalance of experimentation vs building of repeatable, sustainable, measurable and predictable, marketing programs.
There are three key reasons contribute to broken marketing.

DATA DEAFNESS - LISTEN TO YOUR DATA
Experimentation is the foundation of good marketing, but we find that too many marketers spend time testing new approaches in a 'speed dating' format which lends itself to a cascading effort of failures vs. learning from and listening to the data collected. We are not opposed to experimentation, but gambling on the other hand often comes with a hefty price tag.
Paddling in the pool of new awesome marketing toys can bring short term excitement, at the expense of true data analysis. A no-nonsense marketing analytics function that would say what really works and what doesn't work - is missing in many organizations today. Marketing needs geeks who are fascinated by the data versus shiny objects, new designs and ad layouts. The challenge is that many marketeers believe its important but don't invest time or resources on it.
A recent survey by the Direct Marketing Association (DMA) found that 53% of marketers admitted that data-driven marketing increased their revenues, yet only 39% increased their spending for data-driven approaches.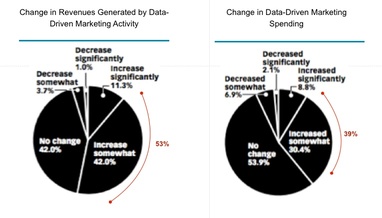 Data overwhelms marketeers, yet it is the very foundation required to build sustainable, repeatable, and predictable marketing programs.
In a study conducted by ExchangeWire Research, only 48% per cent of media buyers and sellers employ a data management platform, despite the proven advantages they can provide. The same survey indicates that 91% of those using a data management platform experienced positive returns on investment within 12 months of use. 91 percent!
Ironically and often, there isn't a single person responsible for data management within marketing. There are loose threads of website rankings or social media analytics etc. but often no centralized system where it all would come together for marketeers to draw insights, ideas and action. Campaign effectiveness is rarely measured, often because operational elasticity is missing from marketing organizations, that are chasing one campaign after another - often interrupting what people are interested in, rather than becoming what they are interested in.
"The challenge marketing faces in understanding its data is that as a discipline we basically only capture data at the very end of the process. By that I mean, marketers focus their attention on the performance data that comes back from their marketing campaigns (views, clicks, leads) and forget all about the operational data that went into creating those pieces of marketing communications. How can we hope to get better if we don't understand the work that went into producing effective work?" - Noah Brier, Co-Founder, Percolate
To address this start with making data the fountainhead of your marketing conversations, meetings, discussions. And while listening to your data, be aware that between 'tell me what you know' and 'tell me what you think' is an important step - often missed.
Tell me what you know, tell me what you don't know and only then, tell me what you think. Your data, is ready to be heard.
ENDURANCE BLOCKING - LIFE IS SHORT
Organizational expectations are high, as they should be, that senior marketers deliver on core business objectives and drive growth. Research from Rajdeep Grewal, Professor of Marketing at UNC, with Frank Germann at the University of Notre and Peter Ebbes at Hautes Etudes Commerciales, Paris, breaks suggests that firms with CMOs perform about 15 percent better than firms without a senior marketer in the C-suite.
The marketing landscape has changed at lightning speed in the past five years. So, too, has the definition and skill set of the marketer. - Marketing Team Vitals
Endurance and enthusiasm of driving Vitamin R (revenue) which, I have often said, is the core output of a well functioning Marketing organization, can be cut short. There are various reasons and the impacts reverbetrate.
Marketing is multi-dexterous and to drive change CMO's need time to understand the customer, the product, the business, build a marketing strategy, build alliances and in some instances build/refresh the team. Most of the time a CMO hire is a catalyst to inject new marketing initiatives and to drive change. It could take the form of increased awareness, enhanced demand generation efforts, branding and messaging push, partner marketing, or a combination of all of these and more.
So is the short shelf-life of CMOs a Kenneth Branagh 'Much Ado About Nothing'?
Quite the contrary. Any CMO today needs to be able to improve the 'today', while building the capability to win for the long run.
Mike Linton, CMO at Farmers Insurance, formerly CMO at EBay and BestBuy has said it well - "Turnover is inevitable, and I'm not arguing against change when it's appropriate. But just like a sports team manager, be sure to look at the real issue before concluding that hiring a new marketing leader is the answer. Changing managers every two years is rarely the path to a sports championship, and it's not the way to great marketing either."
High turnover has negative consequences in a team and organizational performance. In marketing, a CMO turnover can also lead to instability in the brand strategy, customer facing marketing programs and ultimately partner/customer satisfaction. Also the replacement costs are high, not to mention employee disengagement and turmoil it can create.
Perhaps the turnover occurs because there is no shortage of opinions and the notion that marketing can be driven with a collection of opinions and using market leading tools. Organizations should consider the difference between 'marketing leading this-and-that' and 'leading the market'.
CMO's should consider prioritizing their impact on the organization. A boil the ocean strategy seldom works and getting intune with the organizational needs of 'today' is critical, as much as, building the future. A candid conversation 45 days into the role of your findings, proposals and priorities can go a long way.
CEO's can foster the right connections between the CMO's efforts and those of other parts of the organization and be a 'thought partner' for the CMO. Provide executive partnership as he/she transforms the marketing organization and most importantly take the time to understand what's happening with customers. Eloquently described by David Court from McKinsey & Company.

ENVIOUS PURSUIT OF GMOOT (Get Me One Of Those)
"GMOOT" syndrome, short for "Get me one of those," the basic command from CEOs to CMOs or CMOs to their agencies. It sounds oversimplistic, but is an existential reality where someone read something in Ad Age or saw that a rival company was doing it or was told by another executive the he/she had to get into the game, etc. GMOOT puts the best laid marketing plans in awry. I am a strong proponent of experimentation in marketing, but when GMOOT takes the form of Gollum (or Sméagol) it can hurt your marketing spend, team dynamics and your brand. Experimentation is good, envious pursuit of GMOOT is what you want to stay away from.
Marketing is the catalyst, the inter-relational glue that binds your multi-function business into a symphony of ideas, insights and innovation, which culminate into your brand, ie. the promise you make to your customers.

To understand and leverage it to its best, we need to listen to our data, introduce 'lineage' into marketing and experiment but stop chasing shiny objects. Awe-inspiring marketing happens when the alchemy of Awareness, Brand, Creativity, Data and Emotion blend together into a single fabric.
Marketing is not dead and would love to hear your ideas on making it better.
_________________________________
REAL LIFE. REAL NEWS. REAL VOICES.
Help us tell more of the stories that matter from voices that too often remain unheard.