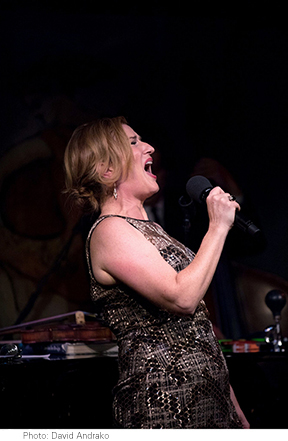 Fans who loved Ana Gasteyer's Saturday Night Live teacher trip with Will Farrell will find her cabaret show at the Café Carlyle a reminder, it's just acting, or maybe just acting out. In the intimacy of this premiere supper club, located, as Gasteyer redubbed the neighborhood SoDal, that is South of Dalton, invoking the city's most famous prep school, you know this funny woman, --remarking "It's very fancy up here," --is going to violate something sacred. That may be a response to her mother's judging she's developed into a "handsome woman," whatever that means, and so she explains her act: "I'll be working out my issues with you."Wicked: "Defying Gravity." As to that violin, don't let her fool you: she can play.
Fortunately we learn early on that her husband brings her coffee every morning, "A Proper Cup of Coffee," a good thing as she launches into "One Mint Julep" and the damage that can do for Harold Arlen's "Satan's Little Lamb." Under Julian Fleisher's able direction, and backed by a first-rate jazz band: Ted Firth on piano, Jeremy Chatzky on bass, Richard Feridun's guitar, David Berger's drums, and Greg Thymius, borrowed from Broadway's "Something Rotten," on saxophone and reeds, Gasteyer not only sings recalling some deep dame traditions, but she threatens to play the violin.
If a performer shows an instrument, she'd better be able to play. Teasing, Gasteyer segues from "Tacos Enchiladas and Beans" to a very cool rendition of "Before He Cheats," closing with a few bars of "Fever's" ("Never knew how much I loved you, Never knew how much I cared,") yeow! Then she shimmies like "My Sister Kate," leaving the stage and returns for the dynamite finale from Wicked: "Defying Gravity." As to that violin, don't let her fool you: she can play.
REAL LIFE. REAL NEWS. REAL VOICES.
Help us tell more of the stories that matter from voices that too often remain unheard.