"Change your records. One day you will wake up with your own licks. It's a promise." ~ Ana Popovic
Belgrade, Serbia is not known for being a city that churns out blues musicians. But this is in fact where a young Ana Popovic was introduced to the blues and the guitar. Jump to twenty years later and she is one of the most popular female blues guitar players in the world. In this interview we talked about the first time she played on stage, collaborating on an album with her father, and being part of the Experience Hendrix Tour.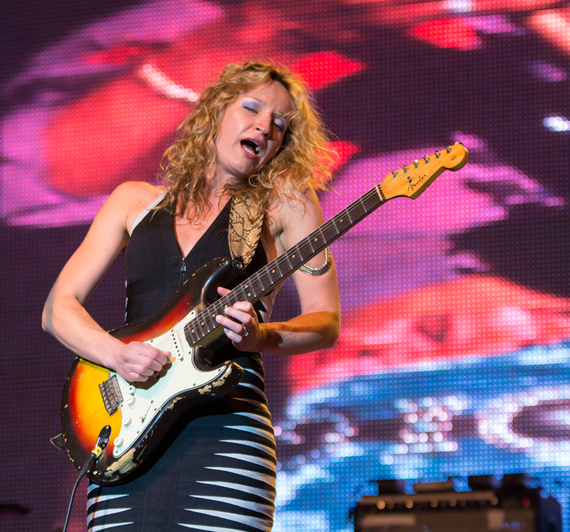 Photo courtesy Leslii Stevens | Studio 23
So, you got into the blues through your father. Was the blues a popular genre in your native Serbia?
AP: No...Not at all. There were a few bands that were doing it at that time, and I was really drawn to it at a very early age. I would go to the nightclubs to listen to some of the blues bands. I was twelve or thirteen at the time, so I could listen to the first two songs, and then it would be time to go back home because it would already be midnight. My father was really supportive. He would drive me there, wait for me, and drive me back home just so I could hear some blues. I really started to listen to blues at home because he had such a large collection of blues records. And I also listened to him jam with friends--I thought it was an excellent way to spend a Sunday evening.
And you started playing guitar in your early teens? What did your friends think?
AP: You know, I always wanted to keep those two worlds separate. I had friends that I had through guitar lessons, and we would hang out and listen to blues, but my school friends, I never wanted to force the blues onto them. It was really just my world. Later on when I started to play in clubs, they would ask me to invite my friends, but I never did. I never talked about what I do.
Can you describe the feeling that you had the very first time you played on stage, and do you remember where it was?
AP: Of course....I'll never forget it. I was eighteen I think, and finally got an invitation to play in a club in Serbia, Belgrade called Vox. They were blues lovers and gave me one Friday to come and play. We put all of our equipment and gear in a car and left my house and then the car stopped at the first traffic light, and didn't want to move. We were stuck--the car was broken. We called some people and got to the club after a two or three hour delay--and the club was packed and they were all waiting for us. We played our first show and they loved it. The owner came to me and said, you know what, lets make a deal here--we want you every Friday night. And that was our beginning.
Does your personal experiences from being from Serbia and the past situations in your country show up in the lyrics in your songs?
AP: Yeah. I've found place and space for different lyrics and stories that have gone through my life. Specifically all of the political stuff I put on one record, which is called Still Making History. That record talked about the student demonstrations, Milosevic's regime, and difficulties that young people growing up in a regime like this faced on a daily basis. Then I have a record that talks about freedom, and talks about love, and the most important things in life, which a lot of musicians tend to forget. A lot of them tour 300 days a year, and that is not really, in my opinion, the way to lead a good life. If you have children, you need to be there. You can't just leave it all behind. You can combine these things. Especially as a successful business woman, a successful band leader, and a successful wife, and a good mother. You can do it--you just need to have some support from your family.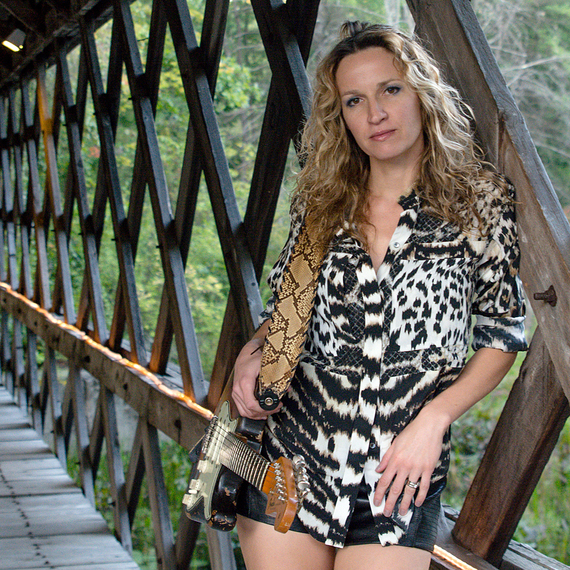 Photo courtesy Leslii Stevens | Studio 23
As one of the most popular contemporary female blues artists in the world, do you ever go out of your way to help inspire younger girls into playing guitar, or to listen and play the blues?
AP: It's beautiful when they come to me and say, you're the reason that I play. There are so many women coming up, and so many girls picking up the guitar now. I talked to my friend who was planning a festival in Colorado and he always encourages young kids--he always has a children's stage. This year, there were a lot more girl guitar players.
Do you approach writing instrumental songs differently than you do with songs with lyrics?
AP: I do. I haven't written a whole lot of instrumentals but it has to be a nice and catchy line that evokes some sort of emotion. It has to take you to a place. And it has to be stronger than the lyrics, because you don't have lyrics. I've done a few instrumentals; one is called Navajo Moon, which is a tribute to Ronnie Earl and Stevie Ray Vaughan. Then, Ana's Shuffle is a hard rocking instrumental and I thought bout the best years of Albert Collins and Albert King. It was just a funky thing. It was blues, but it is so groovy--you just couldn't sit still.
Besides being a solo artist, I know you have had the opportunity to play as part of the Experience Hendrix tour. How do you like playing Jimi Hendrix music, and how much of an influence do you think his songs have been on you?
AP: Huge influence. Not only was he one with his instrument, and an incredible performer, his lyrics were right there with Bob Dylan. And then when you look at where he brought the guitar and the sound--it was something that you never heard before. It's a huge influence. And look at how he kept that trio in his hands the way he did--you don't have to be born in the 70's to get that. It's been a huge part of my playing. Being a part of the Experience Hendrix tour has been a huge deal for me also because they didn't have a whole lot of ladies on the tours. On one hand, it was a huge challenge--I could feel it on my shoulders--I needed to prove that me, and later on, other ladies could stand the heat, and stand next to these other guitar players like Eric Johnson and Dweezil Zappa or Doyle Bramhall II and Buddy Guy who were taking it very seriously. Especially when they put me in the slot right after Zakk Wylde--you knew you really had to perform.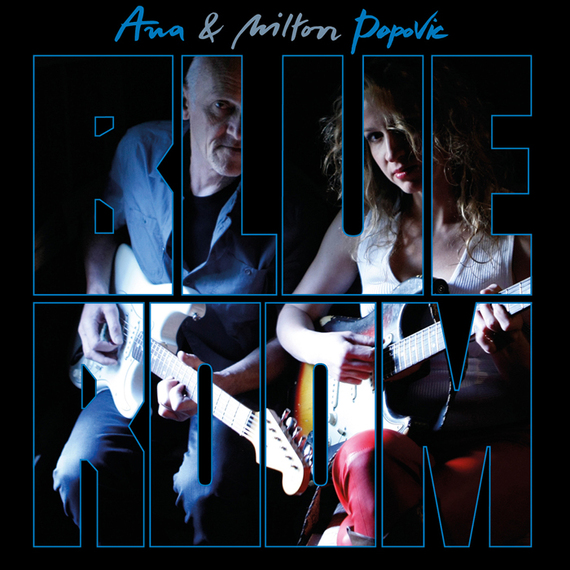 In early 2015, you released a different type of CD called Blue Room, where you teamed up with your father. That must have been a real personal experience, where your life as a musician has truly come full-circle.
AP: Absolutely. Those are the songs that I grew up with and played when I was just a kid. I really just wanted to capture how it use to be back in the day when Milton and me used to sit in our living room--we called it Blue Room, it was a little part of the living room where we kept our guitars and amps and music magazines. You know, it was funny, we never really gigged, but we would practice like we were going to a gig. All of these songs had arrangements worked out twenty years ago. The only thing I needed to do was get him in a studio--he didn't want to get into the studio for a very long time. I told him, pick any studio, any producer, and you pick the rhythm section--and he did. We had this tiny studio in the middle of Tennessee that looked like a living room and found some quality time. I wanted to capture this record for myself and my children, more than for my audience. There's something about the slow-hand players--and Milton is one of them. I think you need to be born in a different time to be able to play like that. We were born in a very fast time. The slow-hand approach is so inspiring to me that I wanted to capture it and show it to a younger audience.
Blues music has begun this reemergence throughout the world. Do you think that there are certain artists who are helping to push it forward?
AP: Oh Yeah! There are great players like Gary Clark Jr. and Joe Bonamassa and so many more that are offering their own unique vision of blues and it is gaining great audiences and its helping all of the others who came before them. It's an ongoing and inspiring form of music that goes through a renaissance every ten years or so.
I have to believe that you are your harshest critic. What have you learned about yourself through your music?
AP: You know, I always think everything I do could be much better. There's a lot of things I like and a lot of things I dislike, but I'm not harsh and beating myself. I know how hard I work to get there and that every record that I made is a statement to a certain time and a certain moment in my life. It's an imprint of my playing skills and a combination of my family life, and a combination of my background and surrounding--where I lived at the moment. I've lived in many places including Serbia, Amsterdam, New Orleans, and Memphis, and you can't compare these places, but they have had a huge print on me as an artist.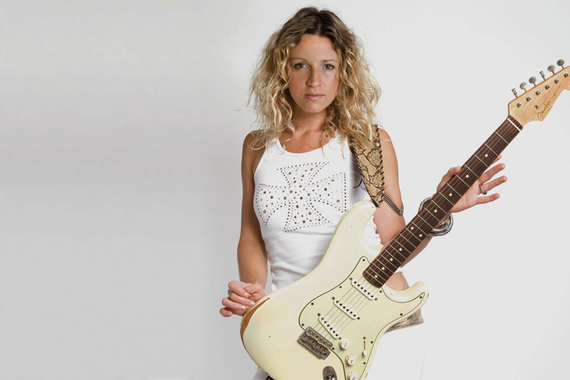 What is your best advice to up and coming guitarists trying to find their own sound and style?
AP: Change the records. Don't become the next Stevie Ray Vaughan, don't become the copy. No matter how much you like it, because it's really addictive. Listen to piano players-listen to saxophone players--they have different phrasing. The most important thing about blues players is their phrasing. Robert Cray is great for that. Ronnie Earl is recognizable because of his phrasing. Albert King, B.B. King--you don't have to be a blues fan to recognize the notes he played--that's the biggest achievement. Change your records. One day you will wake up with your own licks. It's a promise. That's how it goes.
For more information about Ana Popovic, and see her list of upcoming tour dates, including some on the 2016 Experience Hendrix tour, visit: www.anapopovic.com
Calling all HuffPost superfans!
Sign up for membership to become a founding member and help shape HuffPost's next chapter