Warning: This article contains pornographic imagery and may not be suitable for work.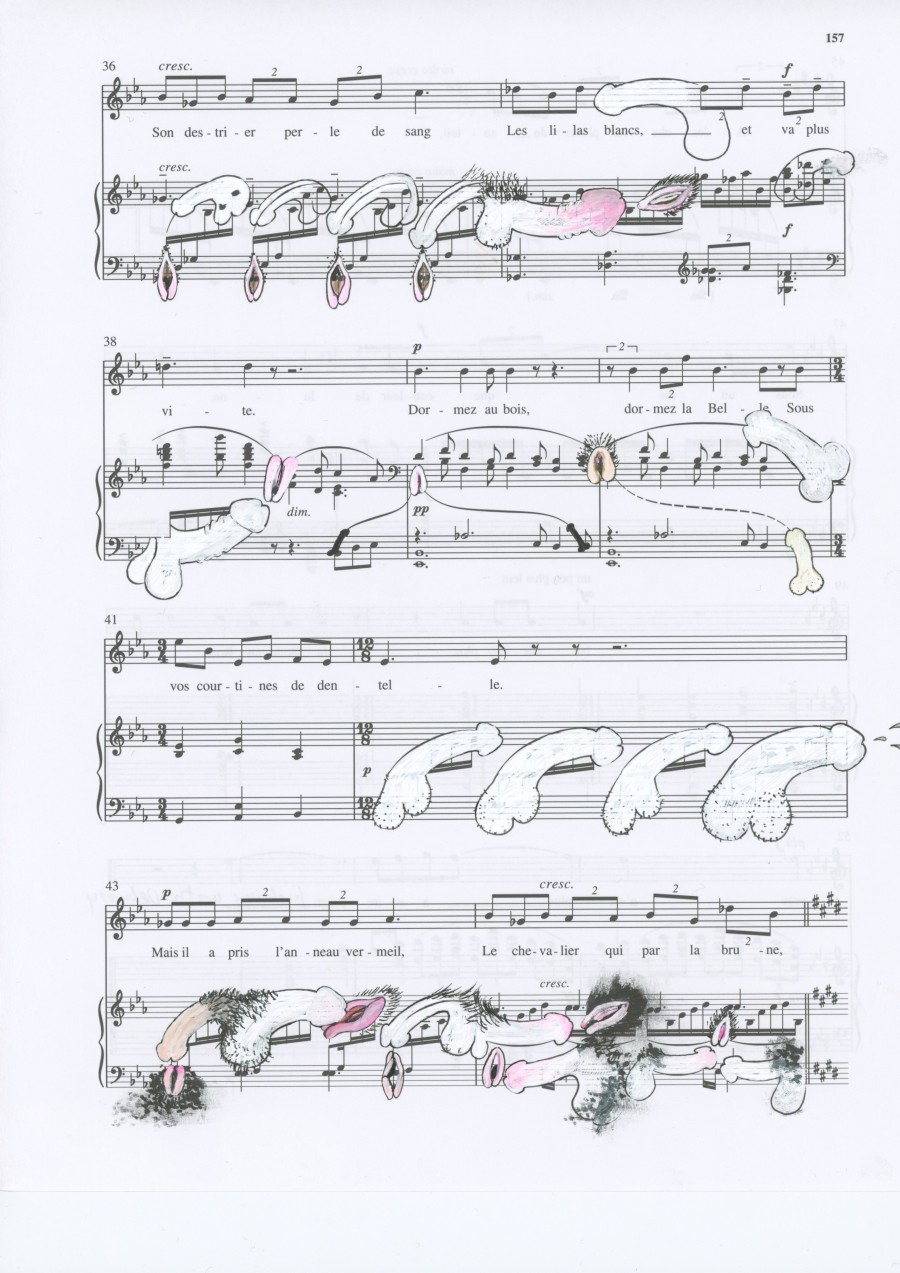 The first thing you'll see upon entering Ana Prvački's current exhibition at 1301PE Gallery is a video of a white tent, twitching wildly, accompanied by roaring classical music.
The shape of the fixture resembles a traditional camping tent, yet the usual polyester filling has been replaced with a membranous, white skin. Something is moving inside the tent, something resembling an otherworldly creature attempting to break free, its many limbs clawing wildly at the pliant fabric enclosing it.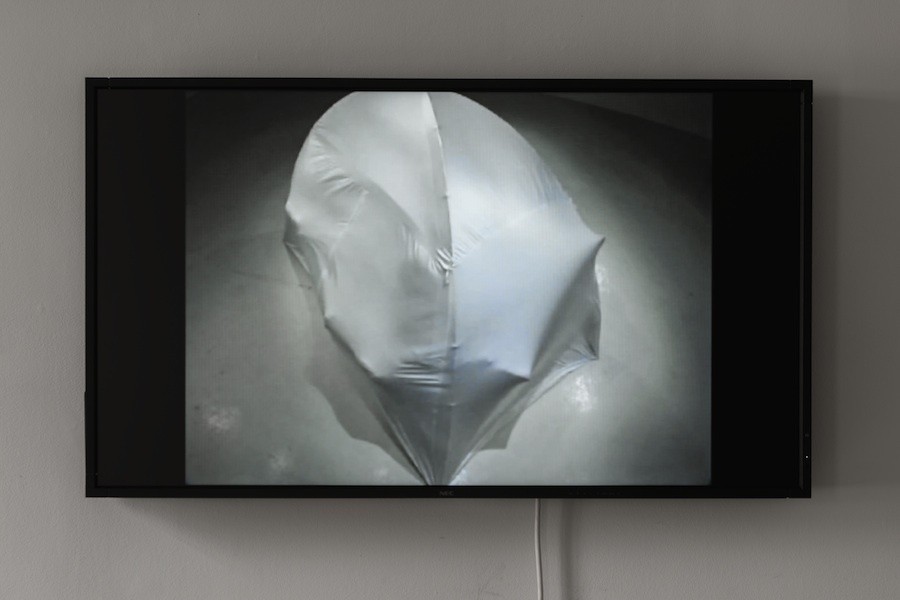 From one angle, the goings on resemble an orgy or a raucous camping trip. From another, the tent itself seems to be sentient, wiggling and poking to the beat like so much "melodious pudding," in the artist's words.
It takes a while to realize that a live quartet is playing the classical number within the tent walls, and the frantic movements visible from the outside are elbows, violin bows, violas and various undecipherable limbs jerking and jolting to the music. The gestures involved in playing an instrument are, when draped in fabric, transformed into cryptic choreography, at once sensual, alien and silly.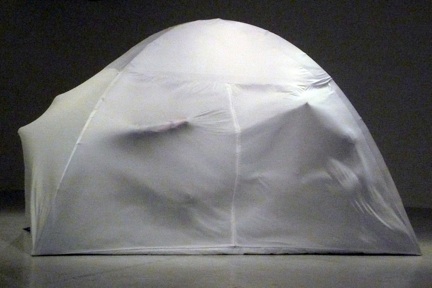 For Prvački, music is something that works over the body as much as the mind. Whether flapping your arm frantically to carve out staccato notes, or experiencing a surge shoot through your spine as Wagner lands an epic chord, sound touches you, and not just metaphorically.
More specifically, Prvački would say, sound "fucks" you.
Prvački realized the connection between eroticism and classical music at a young age. The artist was born in Yugoslavia to a Yugoslavian father and Romanian mother, and trained intensively growing up as a classical flutist. She was accepted into a classical conservatory for high school but her plans were derailed when her family relocated to Singapore just before war broke out in Yugoslavia.
"I feel Singaporian more than anything else," Prvački explained in an interview with The Huffington Post. "Yugoslavia fell apart, and Singapore is this place that stays together against all odds. It's very futuristic in many ways. It's almost like you can get a glimpse of what's to come. As an artist, for me that is really important. I'm very interested in the neuroses and the anxieties of the future. It's not just technology, but the emotional state, the way that people are. I wouldn't say it's negative or positive, it's just what's coming. It's a complicated thing. You see it in language, you see it in the way people relate to technology."
There were no music conservatories in Singapore, and before long, Prvački stopped playing flute. "When you've done something in this intensive professional way, it's hard to do it halfway. I don't play anymore because I feel like an amateur and I hate that. But I think about classical music a lot and I listen to it all the time."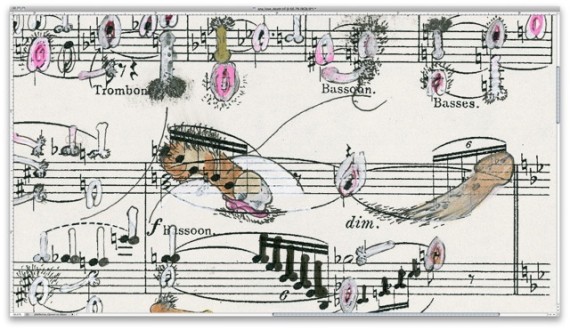 Prvački's exhibition centers around the relationship between eroticism and classical music. It's a connection she's been aware of since childhood, citing Ravel's "Boléro" as the first song she remembers stimulating her.
"I remember being a kid and being at some party and just thinking, 'Wow!' It's the visceral experience of sound," she said. "It resonates, it arouses you. I think that's why Wagner is so interesting. Thinking about the fact that he composed this chord and the moment you hear it, you're immediately put in this state. And you feel it, almost in a scientific way."
Prvački is referring to "The Tristan Chord," famous for containing within itself two dissonances that stir within the listener a piercing desire for resolution. "The chord does it for you. There is something so funny about it. You hear this thing and you're like, 'Ding!'" Prvački exaggerates the electric shock zipping through the body, bouncing to attention with a caricature of good posture, her eyes bulging, spinning saucers. Ding!
It's this combination of tradition and play, the serious, the silly and the very, very sexual, that join forces in Prvački's "Porn Scores." They're pamphlets of sheet music, splayed open and sometimes framed. Sprinkled between, and sometimes on top of, treble clefs and eighth notes are penises and vaginas, and some butts and bushes. You can practically imagine a buttoned-up conductor dropping his baton at the sight of it.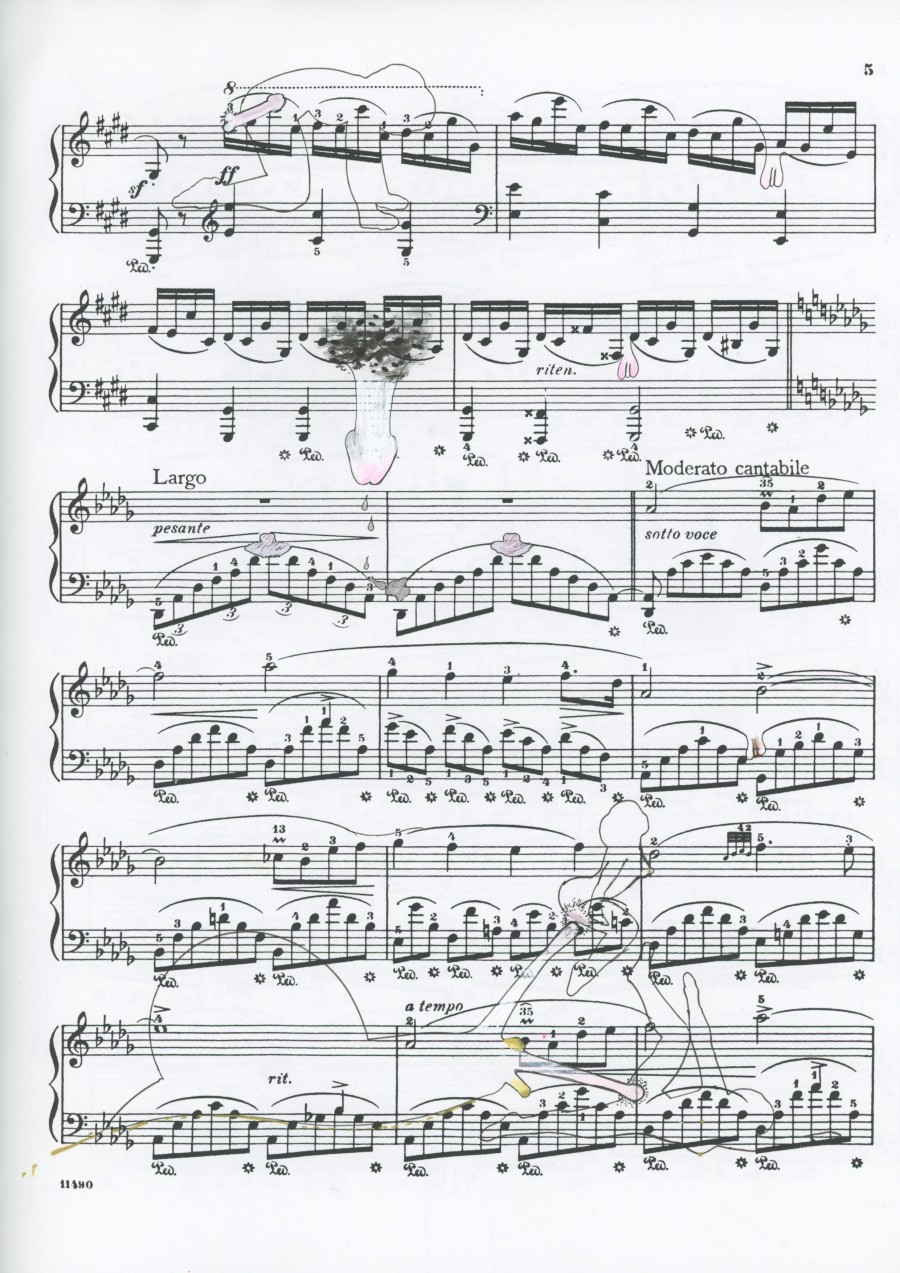 Prvački renders a genitalia "Fantasia," an erotic cartoon universe where musical annotations morph into X-rated doodles. "It's like the coral where Nemo lives," Prvački says, pointing to a reef-like configuration of penises peeking out from above the music staff. Rest your eyes and the Ps and Vs begin to shape-shift into various comic creatures, a curved penis suddenly whispering a secret into aghast labia lips.
"Drawing penises is pretty straightforward," the artist explains. "But vaginas! It's like painting clouds." Arpeggios morph into grand erections, while ties, slurs and ligatures turn into the swelling bulge of a buttocks. There are inky clumps of pubic hair and airborne drizzles of semen. In one particularly riled-up number, a giant slug penetrates two women with each of his antennae.
The latter image recalls one of art history's most iconic erotic artworks, Hokusai's 1814 woodblock print "The Dream of the Fisherman's Wife." The work, a form of Japanese erotic art known as shunga, depicts a female shell diver enveloped in the arms of two octopi, one kissing her mouth, the other performing cunnilingus.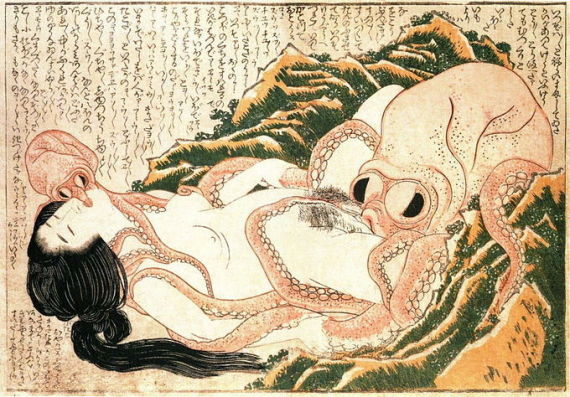 "I was sort of obsessed with the woman and the octopus," Prvački says. "I was at this big shunga show in London where they translated that piece. You know how in the background there is all that text? And the text is actually a script! The woman says 'Oh! Octopus, octopus! What are you doing?' And the octopus says, 'Slurp, slurp.' And she says 'Oh, keep going!' The shunga is -- sexy slapstick, is what I call it."
"I've been really inspired by the Japanese erotic prints," the artist continues. "The protocol is really interesting, because the book makers would bring a bunch of these shunga books to a household and the woman of the house would look at them and distribute them to the other members of the family. So you'd have erotic books for pubescent boys and women about to be married, young couples, old widows. There's a whole range: gay, straight, bestiality, masturbation. It's all covered."
"In a way, they are instructional manuals," Prvački says, illuminating another connection between shunga and sheet music. American artist Sol Lewitt often compared the instructional aspect of his wall drawings to that of music composition. Lewitt, as a conceptual artist, operates like a composer, creating a directive manual, or score -- a consistent concept that can be later executed independently by musicians and artists to come.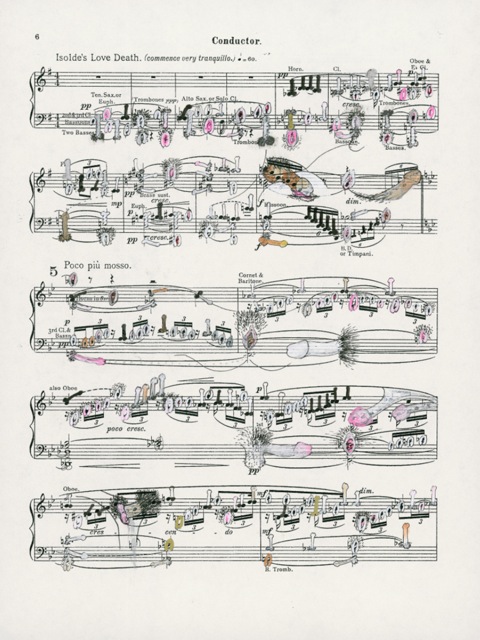 Yet mostly it's the "sexy slapstick" nature of the shunga that Prvački is consumed by. "It's the thing where you have a really, really good orgasm and afterwards you have to laugh," she said. "It's such a complete experience. The thing that really interested me about shunga is that the head and the genitals are always the same size. There is this sense of equanimity between your intellectual and spiritual practice and the realities and the pleasures of the body. These things should be balanced."
Prvački's works similarly conflate the joys of the mind and the pleasures of the flesh. Yes, music arouses the imagination and sex tickles the body, but the opposites are just as true. "Music happens in your head and ears just like sex does. It's so much about fantasy and imagination."
Music can't exist without the body. To play it, to hear it, to experience it, we need more than just brains and ears and whatever's in between. We need arms and legs and fingers and toes and breasts and butts. And yes, genitalia too.
Prvački's work is on view at 1301PE Gallery in Los Angeles until July 11, 2015. See a preview of the exhibition below.
Related
Before You Go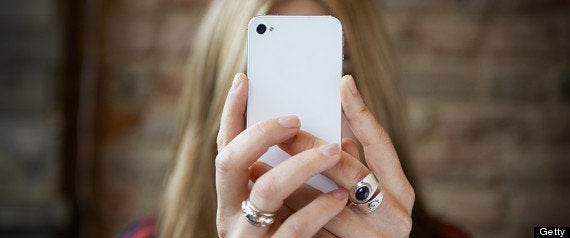 A Brief Guide To The NSFW History Of Penis Art
Popular in the Community