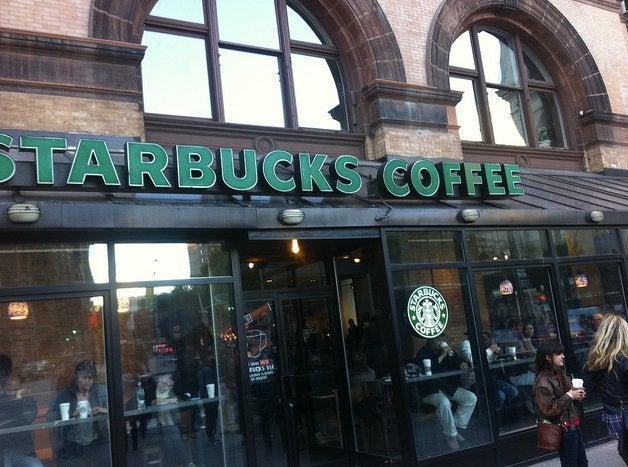 By Chelsia Rose Marcius and Tom Liddy
MANHATTAN -- Two cops were injured Saturday night when police clashed with a throng of anarchists, who attacked them with metal pipes and wreaked havoc at a NoHo Starbucks during a wild, hours-long spree, police said.
According to cops, the suspects, Eric Marchese, 23, of Brentwood, LI, Alexander Penley, 41, of the Upper West Side and Nicholas Thommen, 30 of Salem, Ore., were among a group of 25 individuals who fought with cops and tried to smash the windows of the Starbucks on Astor Place using 8-foot galvanized metal pipes around 8:45 p.m.
Earlier, members of the group, some of whom were wearing masks, had attended an anarchist book fair at Judson Memorial Church, on Washington Square South and then took to the streets around Washington Square Park, marching against traffic, chanting "f--- the NYPD," "cops are murderers" and "all pigs must die," police said.
According to cops, some members of the group of 150 tipped over garbage cans and spray-painted anarchist symbols on nearby businesses.
At Starbucks, fearful patrons took cover under tables to shield themselves from flying glass, police said.
According to cops, officers were assaulted with pipes, bottles and physical force in the struggle.
During an after-party at a community center on East 6th Street and Avenue C, cops said they were again assaulted while taking Penley into custody.
A sergeant and lieutenant suffered minor injuries in the mayhem, which died down around 11 p.m. police said.
Marchese was arrested outside the Starbucks and charged with criminal mischief and disorderly conduct, police said.
Penley and Thommen were charged with assault, menacing, obstructing governmental administration, weapons possession, inciting to riot and disorderly conduct.
Sources said that both of them used metal pipes to attack the police officers.
On Sunday, a manager at the Starbucks, who did not want to be identified, said that the incident was brief -- lasting about 10 minutes -- and that no windows were broken.
Starbucks and Judson Memorial did not immediately respond to requests for comment.
Related
Popular in the Community