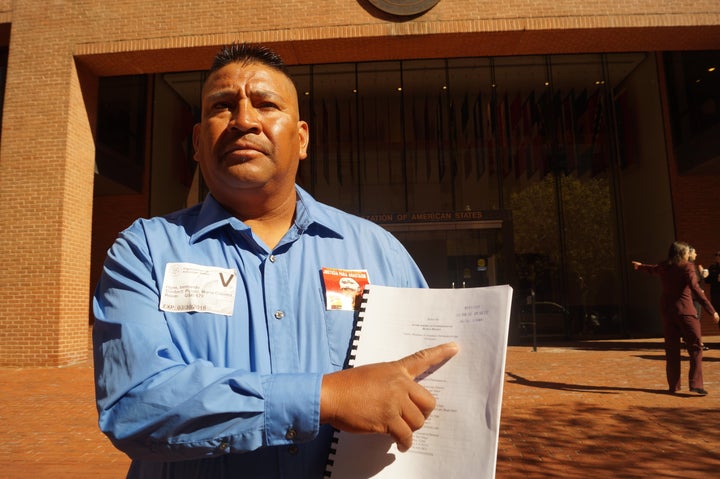 WASHINGTON -- Bernardo Hernández Rojas' brother, Anastasio, died in 2010 after border patrol agents used a Taser on him and struck him with a baton repeatedly as he cried out for help -- caught on tape by witnesses -- and took him into custody for crossing the border illegally from Mexico.
His family's efforts to get justice for his death have been unsuccessful. Their civil suit has been pending for years and in November, the Department of Justice closed its investigation without pursuing federal charges against any of the agents involved.
Now, Rojas and his family are going to the Organization of American States' body that investigates violations of human rights in the western hemisphere, in hopes that the regional organization will do what they feel the U.S. government didn't: deliver justice for Anastasio.
The family filed a complaint on Wednesday, against the U.S., with the Inter-American Commission on Human Rights, which is part of the OAS, arguing the United States had violated Anastasio Hernández Rojas' human rights, failed to adequately investigate his death and discriminated against undocumented immigrants through ineffective policies to prevent excessive use of force.
"I can't even call it the Department of Justice, it's the department of injustice. They did not dispense justice," Bernardo Hernández Rojas told reporters in Spanish. He was joined at a press conference by representatives of the International Human Rights Law Clinic at University of California, Berkeley's School of Law and the advocacy group Alliance San Diego, who submitted the petition on the family's behalf.
They hope to not only get a response to Anastasio Hernández Rojas' death, but also a call by the commission that the U.S. improve how it prevents, investigates and disciplines use of force incidents by border agents.
"Part of this effort is to expose for the first time the very serious problems in the criminal investigation," Roxanna Altholz of International Human Rights Law Clinic told reporters. "Not just the excessive use of force that ended Anastasio's life, and not just the allegations of torture, but also the problems with the way these cases are investigated."
Southern Border Communities Coalition, of which Alliance San Diego is a part, tracked more than 46 deaths since 2010 that border agents were involved in, nearly all of which resulted in no discipline, at least announced publicly, for the officers.
A panel that examined Customs and Border Protection practices found in a report released this month that although it had made strides toward minimizing use of force, it could do more, such as improving the disciplinary process and better tracking officers who frequently use force.
In 2010, border agents apprehended Anastasio Hernández Rojas, a Mexican national and father of five, after he crossed the border without authorization to reunite with his family in San Diego. Customs and Border Protection officials said then that use of force was necessary because he "became combative" as they tried to deport him and officers needed to subdue him to maintain their safety. He had a heart attack after his physical encounter with border patrol agents and died two days later after being taken off life support.
The Justice Department announced last year that prosecutors lacked sufficient evidence to make charges that agents had willfully deprived Hernández Rojas of a constitutional right, violated a federal manslaughter statute, or they "deployed the taser or restrained Hernandez-Rojas with malice."
Even the Justice Department statement tied the use of force to Hernández Rojas' death, although it did not lay the blame on officers. It stated that according to autopsies, he died of a heart attack and that "the level of physical exertion during the struggle, the electro-shocks from the taser and positional restraint were stated as contributory factors," along with pre-existing heart disease and acute methamphetamine intoxication. It added that a medical examiner said he "would not have died had there not been methamphetamine intoxication."
That's one of the many problems with the investigation, the complainants argued in their petition to the Inter-American Commission on Human Rights. They argue the prosecutors "used that opportunity to disparage Anastasio's character" to allege drug use without clear evidence, and said that there may have been issues with the blood test or other reasons for its result, such as legal mild pain medication.
They allege other problems as well, such as the mishandling of evidence and a failure to investigate border agents for destroying evidence and telling witnesses to clear the scene.
Andrea Guerrero, director of Alliance San Diego, said one concrete step they would like to see implemented is a requirement that border patrol agents wear body cameras, which they said would have ensured the agents involved in Anastasio Hernández Rojas' death would be behind bars.
Customs and Border Protection spokespersons referred questions to the Department of Justice, which did not respond to a request for comment.
There were fewer use of force incidents last fiscal year than in the previous one, according to Customs and Border Protection. The agency reported 768 use of force incidents for the 2015 fiscal year, down from 1,037 instances of use of force in the 2014 fiscal year.
Commissioner Gil Kerlikowske issued a statement in October saying the agency had made changes to use of force transparency and accountability in the past year, such as "revamping our training, standing up a new review process, and expediting the disclosure of basic incident information to the public."
"I am encouraged by the progress and dedication that CBP officers and agents have shown this year," he said in that statement. "However, there is always more that can be done, and we remain committed to strengthening our agency."
Popular in the Community