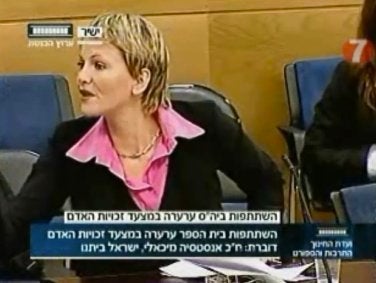 (AP) JERUSALEM — Israeli politicians often pour cold water on each other's ideas, but rarely on each other.
Anastassia Michaeli, a hawkish Israeli lawmaker, got so angry during a routine parliamentary debate Monday that she took a glass of water, tossed it at Labor Party backbencher Raleb Majadele and said "shame on you" before storming out.
It's unclear exactly what provoked the outburst. Michaeli says Majadele insulted her and that she expects "a man to be respectful toward a woman." She was unrepentant afterward, saying she hoped Majadele would "cool off" from the water.
Majadele, a Muslim MP for the Labor party, told Israel Radio after the incident that Michaeli's behavior was racist, claiming that she would have never done the same thing to a Jewish member of parliament.
According to the newspaper Haaretz, this isn't the first time Michaeli has been involved in a brawl. Last year, Michaeli reportedly blocked the parliament's microphone for another Arab MP, Hanin Zuabi. The parliament was discussing the Gaza flotilla raid.
REAL LIFE. REAL NEWS. REAL VOICES.
Help us tell more of the stories that matter from voices that too often remain unheard.