WASHINGTON ― When President Donald Trump's son, son-in-law and campaign chairman met last June with a Russian lawyer they'd been told had "incriminating" information from the Russian government about Hillary Clinton, there were other people in the room. One of the previously unidentified attendees was Anatoli Samochornov, a Russian-born American translator who previously spent years working for the U.S. government.
Samochornov would not confirm that he was in the room, citing nondisclosure agreements. But The New York Times' Ken Vogel said Friday on MSNBC that Samochornov was at the June 9 meeting in Trump Tower. The interpreter's mother-in-law also confirmed his attendance at the meeting to The Daily Beast.
Natalia Veselnitskaya, the Russian lawyer who met with the Trump team, had previously told the Times that an interpreter attended the meeting, but refused to name him. Veselnitskaya does not speak English, and Samochornov has worked with her several times over the past year, including around the time of the meeting with Trump Jr.
The Associated Press and NBC News confirmed Friday that Veselnitskaya's top U.S. lobbyist, Rinat Akhmetshin, also attended the meeting with her. Akhmetshin is a Russian-American with past ties to Russian intelligence.
Samochornov's presence at the meeting is key because he appears to be the only witness to the event who does not have close ties to either the Trump campaign or the Russian government. He wouldn't tell HuffPost whether he had been contacted by investigators probing the Trump campaign's relationship with Russia. The office of Special Counsel Robert Mueller and the House and Senate intelligence committees declined to comment.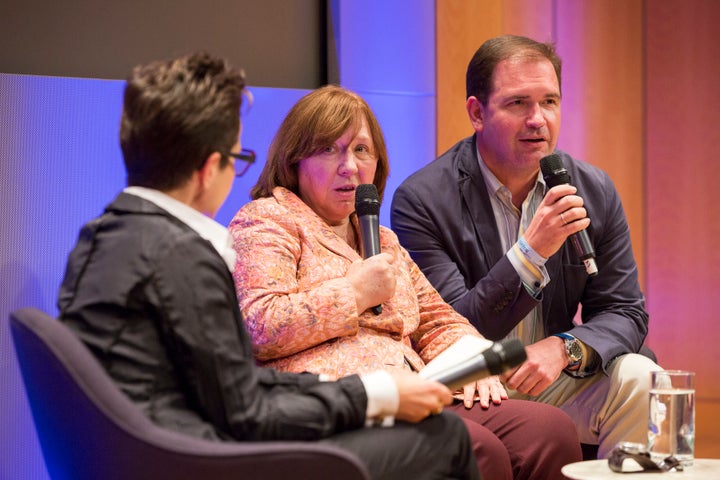 Samochornov has worked as an interpreter on dozens of government assignments, including for the U.S. State Department, Defense Department, Securities and Exchange Commission and Drug Enforcement Administration, and for a G-8 foreign ministers dinner at the United Nations, according to his resume. He helped facilitate exchange programs for the Meridian International Center, a public diplomacy nonprofit that partners with the State Department between 2001 and 2016, according to the center. He has worked with periodically with the State Department as a contract interpreter for exchange programs. His wife also works for the State Department.
Samochornov's résumé had been posted on his own business website. But the site was taken down after HuffPost contacted him with questions about his work with Veselnitskaya.
Freelance interpreters who work for government agencies often hold a security clearance so they can sit in on sensitive, high-level meetings, said Bradley P. Moss, a lawyer who has represented interpreters with government contracts. Interpreters with security clearance are in high demand. Doing jobs for a foreign government or a foreign national with ties to a foreign government could make it hard, but not necessarily impossible, to obtain such clearance, Moss noted. A spokesman for the State Department told HuffPost that all interpreters and translators, "as a rule," are required to hold at least a Moderate Risk Public Trust clearance.
Samochornov has worked on "high level [United Nations] and private sector meetings for the Secretary of State and other VIPs," according to his LinkedIn page. He did not respond to a request for comment on whether he holds a security clearance.
He has also interpreted for public events on Russian politics. More recently, he volunteered his time to interpret a panel discussion about the Chechen government's crackdown on the LGBTQ community. The event was moderated by Russian-born U.S. journalist Masha Gessen, the author of a New Yorker article on the subject.
"He is the best interpreter in New York, hands down," Gessen said.
A registered Democrat, Samochornov works with clients on all sides of American and international politics. But his own views appear to be progressive. On Facebook, he has shared clips from MSNBC host Rachel Maddow's show, labeled former Republican presidential nominee Mitt Romney and Bush-era adviser Karl Rove as losers, and posted in favor of expanded health care coverage and more restricted access to guns. When PEN, the literary and human rights organization, invited a gaggle of Russian writers critical of Russian President Vladimir Putin to New York, he became "great friends" with them, Gessen said.
He handles internet trolls on his Facebook page with grace and aplomb. When he posted an image of himself with a French flag overlay, a sign of support for the victims of the November 2015 terror attacks in Paris, a Facebook friend criticized him for not changing his picture to include the Israeli flag after attacks in that country. Samochornov engaged in a lengthy, polite discussion of why he felt personally affected by the Paris attack because of his friends and family who live there.
Samochornov has worked for Veselnitskaya since at least April 2016. At that time, she led a lobbying campaign against a U.S. law imposing sanctions on Russia for human rights abuses. The Magnitsky Act was named after Sergei Magnitsky, a lawyer and accountant who uncovered corruption in Russia and later died in prison there. Veselnitskaya ran the lobbying effort from the Human Rights Accountability Global Initiative Foundation, a U.S. nonprofit backed by powerful Russian oligarchs.
On April 26, 2016, Samochornov sought credentials for himself and Veselnitskaya from the Open Dialog Foundation to attend a screening of a film critical of Magnitsky at the European Parliament. The next day, Veselnitskaya appeared in Brussels with Samochornov in tow. But the film did not air amid pressure from Bill Browder, a formerly Russian-based hedge fund investor and ex-Magnitsky client who was the driving force behind the sanctions legislation.
When HuffPost asked Samochornov about his work for the Human Rights Accountability Global Initiative Foundation, he said, "I did not have a role at Human Rights Accountability other than offering them interpreting and translation services."
Samochornov also translated for Veselnitskaya when she appeared in court in New York earlier this year. The Justice Department had accused Russian businessman Denis Katsyv, one of her clients in Moscow, of laundering the proceeds of a Russian tax fraud scheme through high-end real estate assets in New York City. Veselnitskaya was not licensed to practice law in the U.S., but she assisted Katsyv's American legal team.
On May 1 and May 11, a lawyer for the American law firm representing Katsyv sent memos to the U.S. district judge requesting equipment for Samochornov to use in providing simultaneous interpretation of court hearings for Veselnitskaya.
"I'm a professional freelance interpreter and I can't talk about any of my clients," Samochornov told HuffPost. "I am bound by confidentiality agreements. You have to refer those questions to Mrs. Veselnitskaya."
Later, in an email, he added, "This is my livelihood and I hope you can be sympathetic to the predicament I find myself in."
Lydia Polgreen, Ryan J. Reilly and Vicky Ward contributed reporting.
Popular in the Community