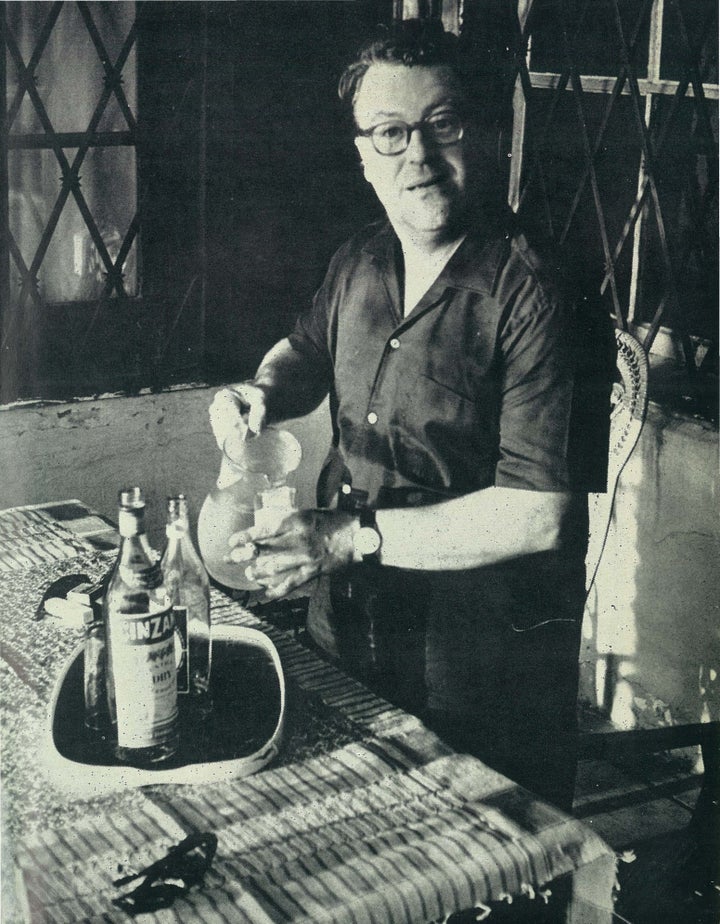 "Another piece resembled an early Bronze Age idol from Troy; [archaeologist Sedat] Alp noted that Mellaart discovered similar idols. A "disc-head" idol in Dikmen's group, Alp said, Mellaart saw in a collection from Dorak, adjacent to Troy."— Özgen Acar and Suzan Mazur, Connoisseur (1991), "The Swindles of Aydin Dikmen" (Note: Connoisseur magazine ceased operations prior to story publication).
Following my recent report on this page about the Guennol Stargazer, questions have been raised as to the authenticity of the object and other Stargazer objects from Turkey. Were the Anatolian marble idols made to stand as exhibited or to lay flat like the Cycladic marbles? If they were meant to lay flat like the Cycladic marbles, there would be no need for a tilted head to star gaze. Also, the patina on the back of the head of the Anatolian Stargazer looks particularly excessive (piece last known to be in real estate mogul Leonard Stern's collection). And there are other issues. . . .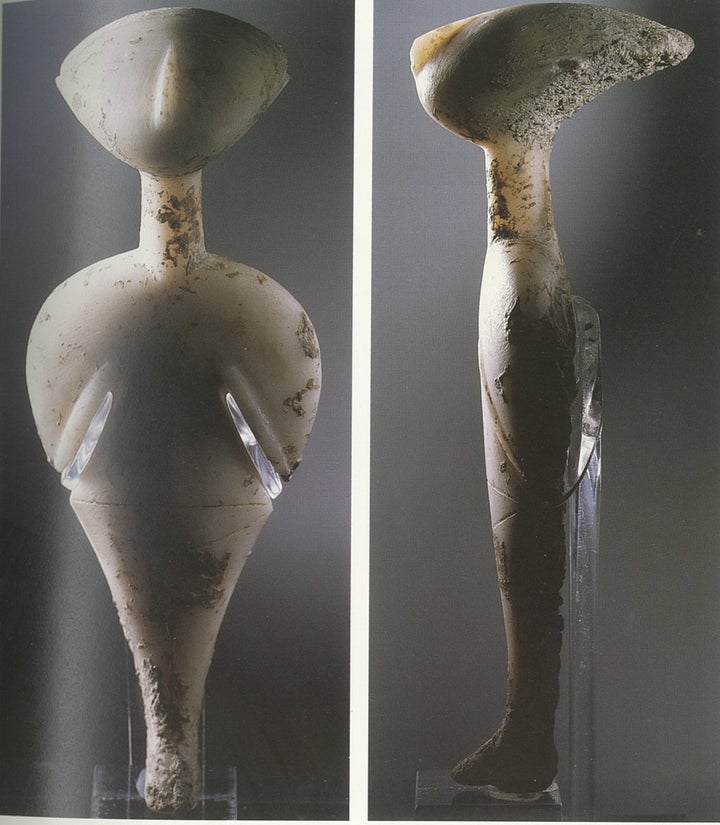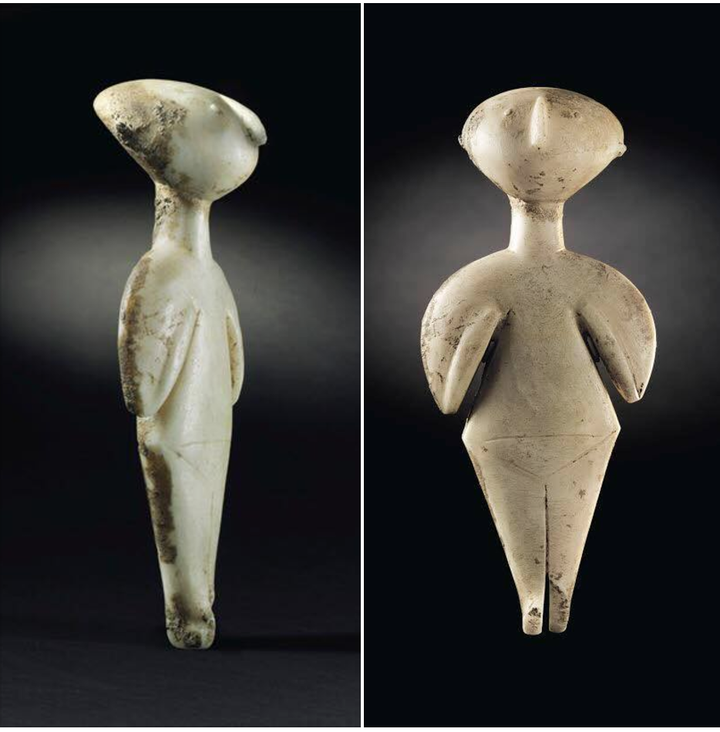 Relevant to this discussion is a story I wrote for Connoisseur magazine in 1991 with Turkish journalist Özgen Acar about Aydin Dikmen, a Turkish art dealer with a history of smuggling antiquites as well as creating them. Acar is referred to in Guennol Stargazer court documents as having filed a story in Turkey about the object in the late 1980s after having seen it displayed at the Metropolitan Museum of Art.
At the time Acar and I wrote the Dikmen piece for Connoisseur, Acar thought Aydin Dikmen and his collection were the inspiration for archaeologist James Mellart's invention of the Dorak Treasure and its owner, Anna Papastrati---a woman Mellaart said he met on the train to Izmir who he found "attractive in a tarty sort of way" and decided to spend several days with, lured by an ancient gold bracelet she was wearing that she said was part of a collection she had at home.
The Connoisseur story about Dikmen went unpublished because the magazine went out of business, but in the article Acar and I note the following:
"To massage his ego Dikmen invited a variety of antiquities experts to see his collection. Written endorsement from the right authority meant promotion for his business, meant money. In 1965, Dikmen's marble idols from southwest Anatolia, which he claimed he bought from villagers, caught the interest of Sedat Alp, a Hittite specialist and archaeologist digging two miles from Konya. Alp, an innocent man, wrote two articles about Dikmen's collection, thanking him for the opportunity to comment.
The first story focused on the idols and highlighted a long-necked, violin-type piece found in a burial jar, which reminded Alp of the mother goddess. Another piece resembled an early Bronze Age idol from Troy; Alp noted that Mellaart discovered similar idols. A "disc-head" idol in Dikmen's group, Alp said, Mellaart saw in a collection from Dorak, adjacent to Troy."
Earlier that year, 1991, I visited Fuat Üzülmez's Artemis Gallery in Munich (unannounced). Üzülmez told me over espresso that he knew Dikmen for 30 years and said, "He makes the best fakes!"
Üzülmez was also close to art dealer Bob Hecht, a central figure in the 2005 Rome antiquities conspiracy trial. Acar reported in a separate piece for Connoisseur that Hecht's daughter referred to Üzülmez as "Uncle Fuat."
In Acar's article (Tom Hoving was Connoisseur editor-in-chief at the time), Üzülmez was characterized as being part of the Munich-based "Turkish Mafia" and said to own 25% of a $10M hoard of ancient coins looted from Elmali, Turkey.
In November 1990, as I was exiting a Hesperia Arts Auction, Ltd. sale of antiquities at New York's Park Lane Hotel, Üzülmez put his arm around me and whispered in my ear: "We are going to kill him [Acar]."
Thirty years would mean the Üzülmez association with Dikmen dates to the early 60s. That is when Dikmen bought a first floor flat in Konya, turning the basement into his workshop. Acar and I note further in our Connoisseur story:
"Several former museum officials reported visiting this [Dikmen's] workshop. Equipment, they say included a small and very sophisticated turning lathe, dentist tools, welding apparatus used by goldsmiths, along with materials for producing fake artifacts from marble---several types of stone, terracotta, gold, silver, copper and different colored clays.
A museum photographer who later formed a friendship with Dikmen said he watched him "cook a clay idol on the electric grill to give the patina." An archaeologist who asked not to be named also described Dikmen's production techniques. "He copied idols from a book and generally worked in ancient marble with the turning lathe. After reaching the final form, he'd burn it on the electric oven, apply some sort of acid and bury it in soil for the patina.""
"We left the flat and followed him down to the basement. And there, in a white-washed room about sixteen feet long and eight feet wide, was his museum. The walls were covered, almost without interruption, with display cases which were packed with a dazzling variety of precious objects: Lydian gold wreaths, vases of Rome and Greece, boxes of coins. His collection, he said, contained in all about 1,900 items. They were worth at a rough estimate well over £10,000.
As beautiful as the entire exhibition was, there were several objects arranged neatly in a corner case which attracted our immediate attention. It was like homing on a radar beam. Dikmen had an obsidian mirror from Çatal Hüyük, its unmarred surface in infinitely better condition than that of the examples preserved in the Ankara museum. He also had obsidian blades and a necklace. There were other objects which he claimed came from Çatal Hüyük and were therefore Neolithic, but in fact they were early Bronze Age artifacts from a site at Can Hasan further to the south. Alongside these, Dikmen had placed several pots from Hacilar, Mellaart's other dig."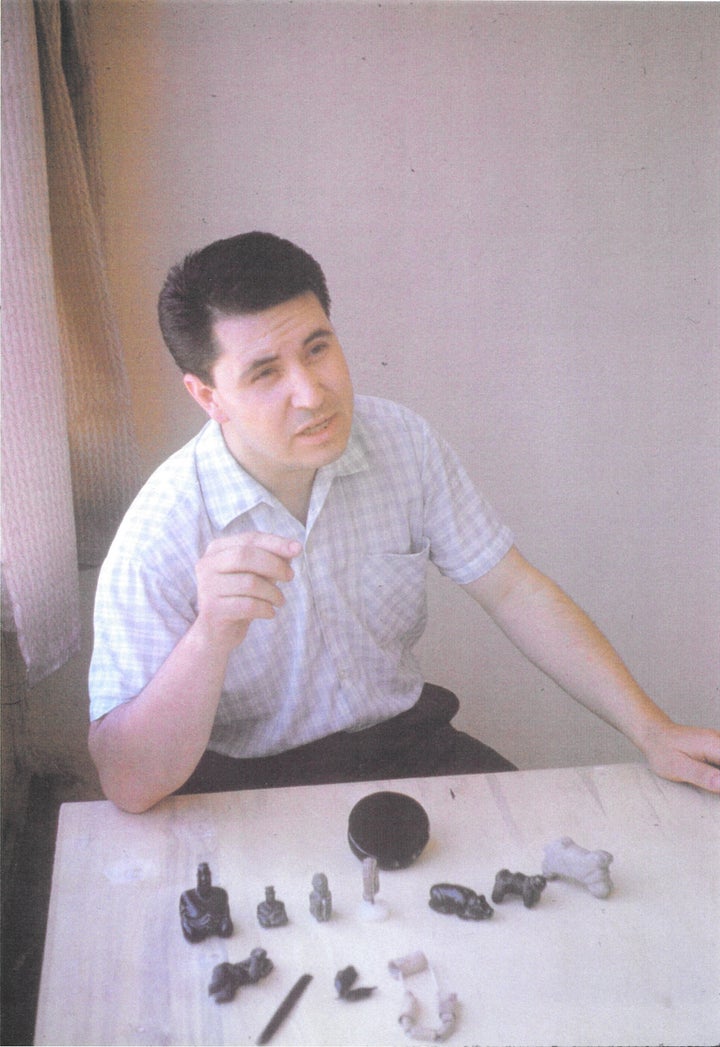 Also relevant to the current dispute over the Guennol is that in 1990 following New York art dealer Ed Merrin's purchase of the most expensive ancient sculpture ever to be sold at auction (at the time)—a $2.09M Spedos Cycladic head—subsequently in corporate raider Asher Edelman's collection---I interviewed Merrin and Edelman for The Economist magazine. I spoke with Merrin at his Fifth Avenue gallery and was particularly interested in his "Masterpieces of Cycladic Art" exhibit that included the Spedos, the Anatolian Stargazer (photo above) owned by Leonard Stern---one of 10 Stern marbles in the show---and other pieces.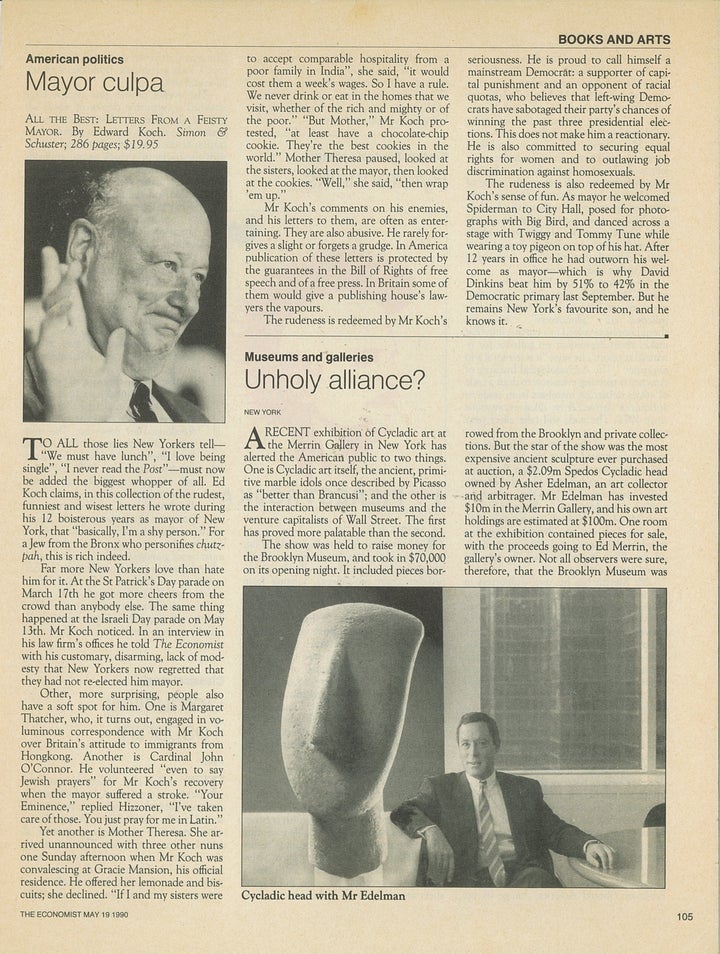 Following is a partial transcript of my April 17, 1990 interview with Ed Merrin:
Suzan Mazur: What is the importance of these Cycladic marbles?
Ed Merrin: They're very important because it's the genesis of all Western art. If you look at Diebenkorn, Picasso or Rothko that is where it began. It was interesting because when we decided to do the show---I was at the MOMA and I happened to look at the Diebenkorn Ocean Park series. And it's amazing the influence of Cycladic Art on that series of his. And, of course, you have the usual things---the Brancusi—"look alike" things and Modigliani. But Picasso and most of the great artists understood that this was the beginning---everything started from Cycladic art.
Suzan Mazur: How would you describe Cycladic art?
Ed Merrin: It's an art that limits itself to the essentials. No more. No less. And I think that's the ultimate in art. And that's what Picasso wanted to finally gain. There's no extra marble and there isn't too much marble. They just did what they had to do to make a perfect object.
Suzan Mazur: I was reading Richard Fazzini's description of the pieces being based on the isosceles triangle.
Ed Merrin: People have all sorts of theories. I think people look at some of the idols lying down, which they were supposed to be [emphasis added], and they say it also mirrors the contours of the island of Naxos. There's a group of mountains or hills and when you look at the Cycladic figure lying down, it sort of mirrors that. Whether they had that in mind or didn't have that in mind---I don't know—but it's an interesting theory. I think [Pat Getz-] Preziosi feels also that that is a possibility.
Suzan Mazur: Wasn't Cycladic art part of a greater movement? An evolution of Neolithic art also taking place in Asia Minor, Sardinia, etc.
Ed Merrin: Indeed, indeed.
Suzan Mazur: I noticed you grouped the Cycladic pieces with the pieces from Anatolia and Sardinia in the [Masterpieces of Cycladic Art] catalog itself.
Ed Merrin: The nice thing about not being a museum is the fact that Sam [Ed Merrin's son] and I can sit down and decide that we want this in our exhibit. And the purists---the museums---would not have put in the Sardinian piece and would not have put in the Anatolian piece.
They are contemporary with Cycladic Art, in many respects have the same aesthetic and for me it was important to show them. In a museum---museums are so compartmentalized. The Greek & Roman is here and the Ancient Near East is here. So the Ancient Near East does the Anatolian. The Greek & Roman does the Cycladic. I didn't want to do that. I wanted to show---since we had a great example of Anatolian, great example of Sardinian---I thought it was important to show both. . . .
And I'm glad we put in the Anatolian thing and the Sardinian thing. Because I think it will give the museums more of a breadth of what to do.
Suzan Mazur: So when you say this is the genesis of Western art, are you referring strictly to pieces found in the Cyclades Islands or to this greater movement?
Ed Merrin: The greater movement.
Suzan Mazur: The art in northern Greece and Asia Minor may have influenced the art in the Cyclades Islands?
Ed Merrin: However that worked, yes. Who influenced who is still not clear. But they traveled. But the idea of traveling from the Greek islands to Anatolia---one can do that in a rowboat with a sail. You don't need an ocean-going ship.
Suzan Mazur: Under what circumstances were these pieces found?
Ed Merrin: Don't know. These are all collections. The assumption is they were all grave objects. . . .
I'll discuss Edelman. But it must come out properly. Reporters---I'm not talking about you---have a way of getting things to prove their story. I will tell you what's happening with Asher and myself but I would like it come out the way I said it. . . .
I happen to know a real estate person who happens to invest a lot of money in a gallery that would make an Asher Edelman or anyone else look like an angel.
Ed Merrin: It doesn't make any difference. . . .