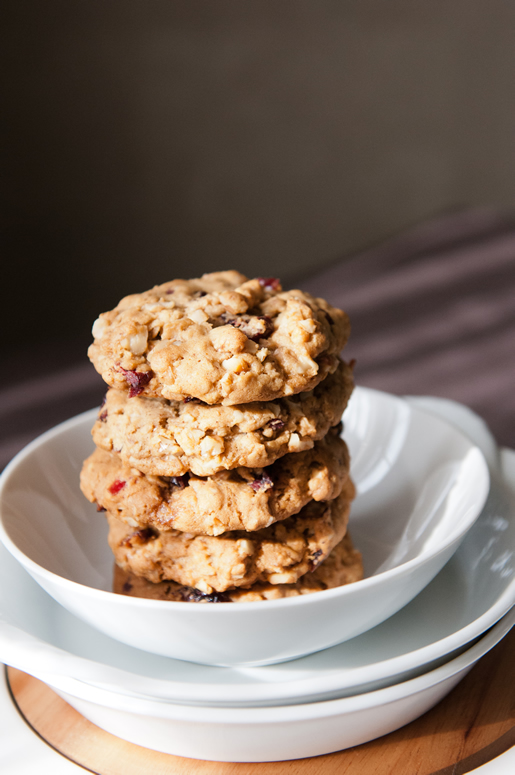 I often work on the multiple possibilities of a flavor, texture or combinations of the two. After last week's post on Maple-Walnut Cranberry Tart, I want to explore more of this same flavor profile.
For that tart, cranberry played the starring role -- walnuts and maple syrup were simply the supporting cast. While drizzling the maple syrup into the cream filling and toasting walnuts for the tart crust, the scent lingered long enough for me to think about variations.
Now, it's time for role reversal.
The caramel tones of maple syrup take the spotlight, while a chorus of brown butter harmonizes with them (as well as taking on the extra role of providing nuttiness). There's another play on caramel, and that's the pliable, chewy texture. Oatmeal can help there. To contract with the chewiness, toasted walnuts add crunch... and they add, well, more nuttiness.
While this story sounds like a direct, logical path to Chewy Maple-Walnut Cranberry Cookies, it actually took some research and testing to get the right results. Frankly, I wasn't convinced that my experiment would yield the desired result, but when I tasted the fifth batch, I knew I had something worth posting.
I hope you'll make a batch of these to share with your friends and family during this holiday season, as I have already done so.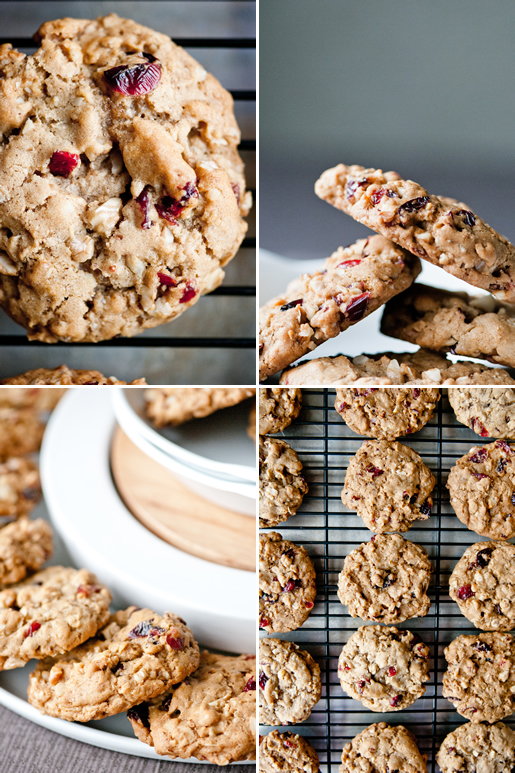 Chewy Maple-Walnut Cranberry Cookies
yield: eighteen 3-inch cookies
Ingredients
1-1/2 cups (4-1/2 ounces) old-fashioned oatmeal
1-1/3 cups (6-3/4 ounces) unbleached all-purpose flour
1/2 teaspoon fine sea salt
3/4 cup (6 ounces) packed light-brown sugar
8 tablespoons (4 ounces/1 stick) unsalted butter
6 tablespoons pure grade B maple syrup
1 teaspoon baking soda
2 tablespoons boiling water
1 teaspoon pure vanilla extract
1 cup (3-1/2 ounces) walnut pieces, toasted and chopped
1 cup dried cranberries
Directions
1. Adjust oven rack to middle position and heat oven to 300℉. Line three baking sheets with parchment, set aside.
2. In a large bowl, add oatmeal, flour, salt and sugar, whisk to combine and make sure there are no large lumps of sugar in the mixture. Set aside.
3. In a saucepan over medium heat, cook the butter until it turns golden brown, about five to eight minutes; remove from heat, stir in maple syrup and extract.
4. In a small bowl, add baking soda and boiling water, stir to fully dissolved. Immediately pour into brown butter mixture, stir to combine. Add the wet mixture to the dry ingredients, stir with rubber spatula until only a few white streaks of flour remain. Fold in walnuts and cranberries.
5. Using a 2-1/4 inch scoop or about two tablespoons of dough, form balls and place about three inches apart on prepared cookie sheets, six per sheet. Flatten each of the balls slightly.
6. Bake each sheet until golden brown and set, about 20 minutes, rotating halfway through. Transfer to wire rack to cool. Store in an airtight container up to one week.