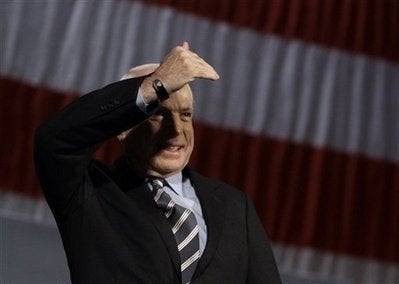 On June 16th, a day before Sen. John McCain (R-AZ) scheduled to begin a series of big donors fundraising events in Texas, the presidential candidate announced a reversal in his longstanding opposition to coastal drilling for oil.
The reversal was been met with derision by economists, energy CEOs, and environmentalists.
But, on June 17th in Houston, "[an] audience of about 400 people at a ballroom downtown in the nation's energy capital gave him two standing ovations as he called for fewer federal regulations on oil exploration," according to the Houston Chronicle.
At the time, I called McCain's reversal on off-shore drilling "a blatant pitch for donations at today's Houston fundraising events." With fresh data to analyze, I was wrong about only one thing: that pitch wasn't limited to Houston.
"Campaign contributions from oil industry executives to Sen. John McCain rose dramatically in the last half of June, after the senator from Arizona made a high-profile split with environmentalists and reversed his opposition to the federal ban on offshore drilling."
In the month of June, McCain's political committees and the Republican National Committee's joint fundraising account raised nearly $7 million from Texas donors. Twenty percent of it -- a more than $1.3 million -- came on the day of McCain's announcement, June 16, or the day immediately following it.
So who gave the money? A quick cursory look found gold -- or struck oil. Over the month of June, Texas oil and gas industry bigwigs wrote big checks to the McCain-RNC joint victory account -- a fundraising scheme employed by both McCain and Obama to evade the $2,300 contribution limits on individual donations. The joint victory fund received:
• $107,100 from Gerald J. and Kelli Ford -- Gerald is on the Board of Directors of McMoRan Exploration
• $100,000 from Jonathan and Marion Fairbanks of Bassoe Offshore
• $60,100 from Charles and Rolanette Lawrence -- Charles heads Kirby Corporation
• $28,500 from Donald and Lynne Wood -- Donald works for Permian Enterprises
• $28,500 from Autry Stephens of Endeavor Energy
• $15,000 from Clarence Cazolot, the president of Marathon Oil
• $15,000 from Barry Beal of BTA Oil Producers
• $10,000 from Tracy Krohn of W.T. & T. Offshore
And the list goes on. This is just the tip of the melting iceberg.
McCain's policy reversal reveals much about what he's apparently willing to do for the right amount of money.
The drilling plan won't produce lower gas prices for years, if at all. All it does is line the pockets of the oil industry executives - ones that found themselves a new champion in June.
"Charting the political donations of oil executives may be the best way to evaluate the industry's level of interest in a presidential candidate, said Robin West, chairman of PFC Energy, an industry adviser. [...]

And West said he thinks McCain gave energy executives what they needed to get more solidly in his corner -- a pledge to reverse a federal policy that has frustrated the industry for years.

"'I think people thought it was a sensible thing that was long due,' West said. 'I think the industry was very appreciative.'" (emphasis added)
Popular in the Community