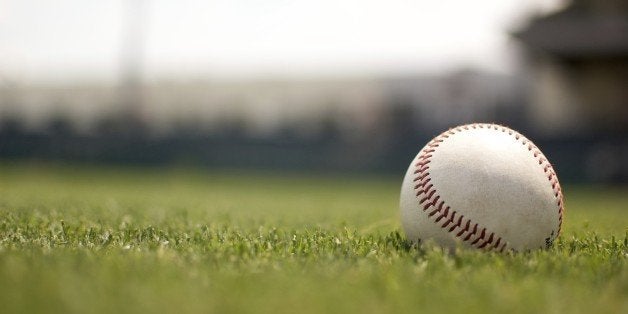 Each year Major League Baseball's Scouting Bureau holds open tryout camps to identify talented players so the 30 MLB teams can track and possibly sign them. For the players, no matter how unrealistic their chances are for being signed (as in my case), it's about holding onto their dream. The July 24th Hampton, Virginia tryout camp was held at War Memorial Stadium, a 3,750-person capacity stadium that illustrates how desperate stadiums like this are for money with a succession of ads on the centerfield wall: Monster energy drink, the YMCA, and a funeral home. Equally desperate are the 200 players sitting in the stands waiting for an opportunity to get scouted and hopefully signed to a minor league contract.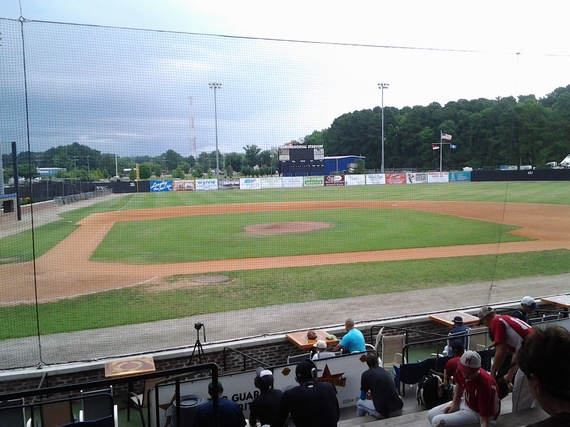 As a 32-year-old left-handed knuckleballer, I like to portray myself as a mystical creature like a unicorn. Yet, the scout working the camp saw my age on my information card and gave me an incredulous look, "You're 108, remember your number." He's just lucky I happened to forget to put down the four knee surgeries I've had under the "injuries" section. Every scout working these events looks like some version of Mark Mulder. He's in his late 30s, with a cropped hair cut, stubble, and he fills out a jersey like a former pro player. After the sign-in portion finished, the MLB scout gathered all the players in centerfield and spoke very earnestly about his expectations. My previous experience at a 2012 MLB tryout camp in Rockford, Illinois was much looser with jokes about the Disney movie The Rookie and the scout encouraging us to have a good time. But the Hampton scout was brutally honest about the type of players that will get scouted. I'm paraphrasing here:
I'm looking for guys that throw 89-91 and above. For you college guys throwing in the 80s, you're gonna be out of here quick. Average fastball velocity in the majors is 91 and that's what we're looking for. I know there are a couple of guys here in your 30s and you need to be throwing 93 or above to get a look.
After detailing his expectations, the scout separated the pitchers and the position players. As a pitcher, you get 10 pitches to show the scouts that you're worthy of their time. After pitching at two of these camps, I've observed three different divisions of players: young high school to college players looking for exposure, 22-26 year-olds ex-college players looking for one last shot, and the dreamers.
"Guys Who Should be There" Division: High School and College Players 21 and Under
The focus of an open tryout camp is to find talent that hasn't been discovered through other means, which is the role of the MLB Scouting Bureau. As I sat under the overhang, I looked around the stands looking for people "who are for real." Athletically, you can tell by the way a guy's body is put together whether scouts will be interested in them. The Rockford, Illinois scout put it plainly: "We're looking for college pitchers throwing in the upper 80s that we can send scouts out and chart their performance." Two of the seven pitchers that went before me were college students that threw in the high 80s. They definitely should be at the tryout.

"On the Waterfront" Division - Ex-College Players 22-26
The genesis of this division is a catcher that I met at the Rockford, Illinois tryout that played baseball at the University of Virginia. His story is consistent with the Marlon Brando On the Waterfront narrative, where he was stuck behind two catchers and a coach that didn't like him. His resentment was equaled by his resolve to play baseball professionally. Of all the people I met in this division of players between the two camps, he's the only one I really believed would get signed. These players are hoping for a Buster Douglas-type day where they perform at their very best.
This group could also be called, "have no business being here" and they represent the majority of players at both camps that I've attended. At the Rockford, Illinois tryout camp a mid-20s, portly man tried out barefoot with cargo shorts and a St. Paddy's Day bar crawl shirt. Certainly not all dreamers are that ridiculous, but everyone in the Dreamer category knows, in their most earnest moments, that the chance of them being signed is astronomically low. This is my division. My first pitch was a fastball and the scout looked at the gun and said, "Knuckleballer?"
At the Rockford, Illinois tryout my fastball topped out at 74 and my knuckleball at 59. I was hoping to get my knuckleball in the mid-60s. Like everyone else, I threw as hard as I could, but like most knuckleballers, I had no idea where they were going. I asked the scout, "Out of curiosity, how hard was I throwing my knuckleball?" He looked down at the information card, "69, 70."
As I walked back to my car I thought, "Damn, if I had just pulled back a little I could have focused more on throwing good knuckleballs at 65-66. He could have really seen how good it really is." These tryouts represent the enactment of the American Dream. I'm 32, I have a Ph.D and a great job as a professor and I still dream -- even if it is the most ludicrous dream -- of playing baseball professionally. For me, the American Dream is not encased in the bootstrap metaphor, but rather that one is given the opportunity to show one's greatness. Every player at the tryout camps, no matter his skill level, is living the American Dream. For me, the American Dream isn't about making it to the majors, but rather having the chance to make it. And given the information I know now, I'll be sure to pull back and throw some softer knuckleballs next year.
Support HuffPost
The Stakes Have Never Been Higher
Related
Popular in the Community